Anytime you set foot in a new country, you can expect to be surprised by the unexpected. One of the greatest things about travel is the anticipation of the unknown. On one hand, Malaysia is far more culturally different to an American than any European nation, but a big surprise were the similarities between the USA and Malaysia, which is a moderate Muslim country.  Here are some observations from American eyes:
Mega Malls and Air Conditioning
Massive mega malls dot Kuala Lumpur. Every major label you can think of is represented. Being near the equator, Malaysia is hot year round, except in the mega malls. So locals all enjoy them because they're so well air conditioned. Like the USA, the malls and other shops can be so cold that you might want to bring a sweater. Malaysia is by far more air-conditioned than the south of France, which was scorching this past summer when we visited. Malaysia's mega malls also feature massive food courts, and like the USA, they feature lots of Asian food (no bourbon chicken though!).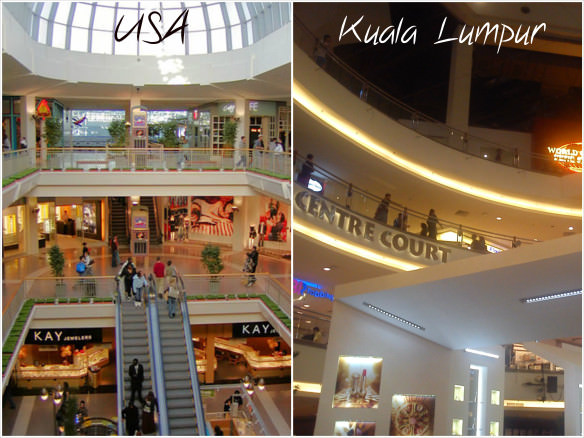 Many Chain Restaurants
This is certainly more the case in Kuala Lumpur than other parts of the country. Cities in Borneo like Kota Kinabalu and Sandakan don't have much more than McDonald's (which is pretty much everywhere in the world outside North Korea, Belarus and Cuba), and KFC, which Malaysians absolutely love given how much of the colonel's chicken dots the entire nation.  But the mega malls in Kuala Lumpur blew us away with chains- TGI Friday's, Chilli's, Tony Roma's, Auntie M's, Haagen Daz, Domino's Pizza, Subway and Kenny Roger's Roasters, just to name a few of the same ones the USA has.
Famous Amos cookie stores extended beyond the mega malls to the airports, selling not just fresh baked cookies but sporting full on gift shops with Amos teddy bears and other trinkets! Sadly we didn't see Taco Bell, but maybe we missed it. Anybody who has been to the USA knows Americans infatuation with chain food. Even some ethnic restaurants that aren't chains, are designing their establishments to resemble one.
High Rates of Diabetes
We visited Malaysia because Bell was consulting on the Malaysian study on ageing. Malaysia has one of the highest rates of diabetes in Southeast Asia- the country is a high carbohydrate consuming nation because of an abundance of rice and noodles in their diet, and also the massive amount of sugar they consume. Like many Americans, Malaysians love their coffee very sweet. They also tend to eat a lot of fruit, and while those are natural sugars, everything adds up to higher rates of diabetes. Diabetes has become so prevalent in some American areas, like Harlem, NY that it's often referenced locally as "the sweet blood."
Religious tolerance in the USA and Malaysia
Many Americans falsely associate Islam with dictatorships and repression of other religions. While Malaysia is officially a Muslim country, and alcohol is heavily taxed because Muslims aren't supposed to drink it, it's still widely available. Malaysia also has large minorities of ethnic Chinese and Indians, who are not Muslim. Additionally, Borneo has a large Filipino population, who tend to be Christian. So the country is filled with churches and Hindu and Buddhist Temples to go along with all the mosques. The constitution of the USA promises a separation of church and state, but it's important for the mindset of Americans to continue to support the ideals of religious tolerance. Just like that of Malaysians.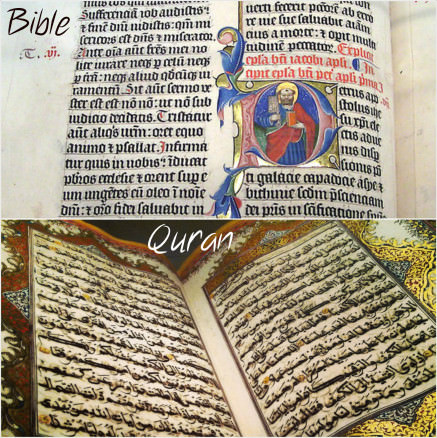 Women in the Workplace and on the Road
Once again, many Americans tend to associate Islam with oppression of women. Malaysia isn't Saudi Arabia, so you'll see plenty of Muslim women driving big cars in Kuala Lumpur. Cheap local oil equates to larger vehicles. And I'll never forget seeing a woman in a hajib working behind the counter of Haagen Daz at the mega mall. Women also hold important positions, the principle investigator of the Malaysian Study on Ageing is female. We also dealt with other women in positions of power with the tourism boards and resorts. And many ethnic Chinese girls in Malaysia are quite fond of wearing short skirts and shorts. I could blather on about freedom of women in the USA, but in a nutshell, just google "Girls Gone Wild" videos.
Recap of Similarities Between the USA and Malaysia
Our planet is filled with contradictions, but one thing that remains constant is that most of us aren't so different. It's unfortunate that these small differences lead to some bad things, like killing each other, or wanting to kill each other. And often times, it just takes a few angry and malicious powerful people to rally serious hate towards others. A fundamental bridge towards making the world more peaceful is education and breaking down misconceptions…and perhaps sitting down for some Haagen Daz.
Want to Save Money on Accommodation in Malaysia?
We often find that booking.com offers the best hotel deals, especially in Europe, but even in North America. If you'd prefer to stay in an apartment over a hotel and have never used Airbnb, sign up here and receive $55 off your first stay! Airbnb often offers better value over hotels, especially for families and groups of friends. Just be sure to only book places with consistently good reviews!
Disclaimer: This article contains affiliate links. We receive a small commission when you book or sign up through these links and it costs you nothing extra. When it suits you, please use them, as it helps us help you!