By Alex Kallimanis: Traveling this summer? Great travel photos, a peaceful night's rest and not getting your things stolen are a few important things on the road. Here are some ways to take better photos, along with increasing security and comfort on your travels! The following are all products that we personally use.
Cameras We Use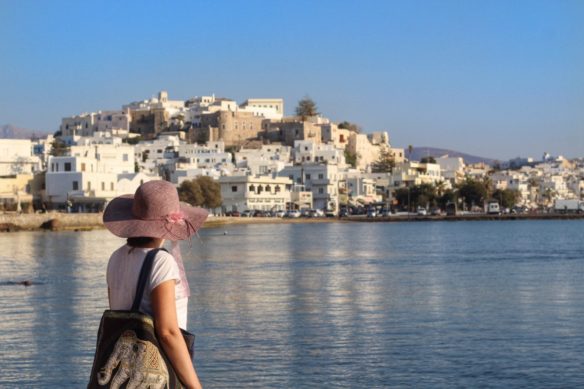 Cannon EOS Rebel Camera
The Canon EOS Rebel is the camera we usually use on trips. Phone photos are ok, but they lack the depth of DSLR photos because phones don't have proper lens'. If you want to take your travel photography to the next level, invest in a good camera. We like this camera because it's not exorbitantly expensive and it takes quality depth of field shots with good clarity, especially from afar with the Canon EF 50 mm lens. The lens' are easily interchangeable on this camera.
Settings and lighting are tricky when it comes to photography, so it might be useful to take a photography lesson before your next big trip. Laurence at Finding the Universe teamed up with Nomadic Matt's SuperStar Blogging course to create a great
online photography course
. Until you learn the settings of your camera better, you can always shoot in the auto setting.
Cannon Power Shot
Our previous camera was the Cannon Power Shot. This is a great starter DSLR camera because you don't have to worry about changing lens' and it's inexpensive for a DSLR. It also has a quality built in zoom. This is an easier camera to use compared to the Cannon EOS Rebel and we've captured some of our best travel photos with it. I took this Rock of Cashel photo below on the Cannon Power Shot while on a media trip in Ireland a few years back with Paddywagon Tours.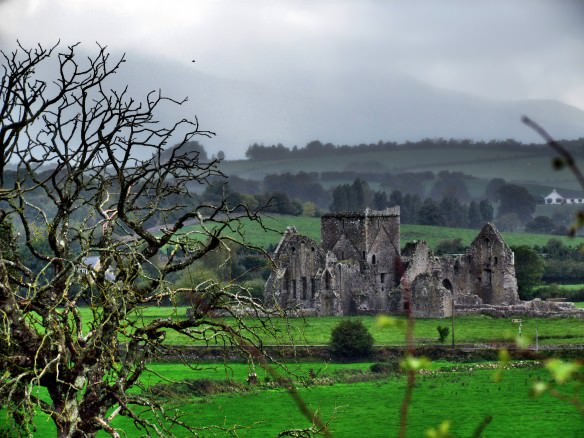 GoPro Hero 5
We also own a GoPro Hero 5. This is a great little camera that you can do a lot with. You can take it underwater on a scuba diving trip to capture great photos of fish and coral. Or strap it to your head or to a drone for overhead photos. It's fish eye setting takes great photos and the GoPro Hero 5 is an excellent deal for under $298 now that a new GoPro Hero 6 has been released.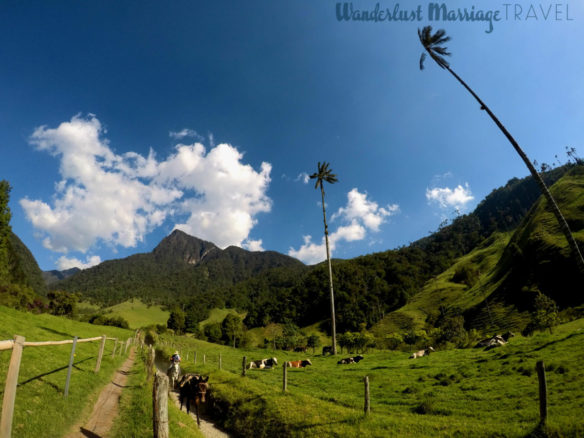 Read our tips on
How to Post Better Photos on Social Media
. That article is packed with photo editing tips.
Traveling Smiles Anti-Theft Backpack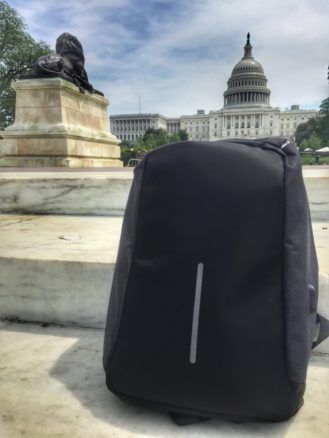 This new anti-theft backpack from Traveling Smiles is great for busy cities and crowded places. There are no exposed zippers and a flap covers the only zipper for entry into the bag. The bag has several compartments to hold devices and other belongings. It makes for a great day bag to take on crowded metros and festivals around the world. Touristy cities like Paris and Barcelona (to name a couple of many) are notorious for pickpockets. This anti-theft backpack also has an exterior USB port which can charge devices on the go when plugged into a battery pack.
I've been traveling for over 20 years and have been pretty fortunate not to have been pickpocketed yet, despite some close calls. But Bell had her wallet stolen from a club in Dublin in 2013 when we lived there. In Barcelona a few years ago, after drinks one night, an older guy stealthily threw chocolate milk on the back of my jacket and pointed to the tree above, saying a bird pooped on me. He offered to clean my jacket but luckily I'd read about the scam and hurried away from him. He was looking to "clean me" of my wallet.
You can purchase this anti-theft backpack on the Traveling Smiles website. Use our unique product code WLMFREE to receive free shipping!
*When you're in very crowded places, make sure your bags are zipped properly and your wallet is in your front pocket. I've written articles on the Most Common Scams in the World and Common Scams in Krakow and Eastern Europe. It's also a good idea to google the "dangers and annoyances" of a city you are about to visit.
Brave Era 100% Mulberry Silk Travel Sheet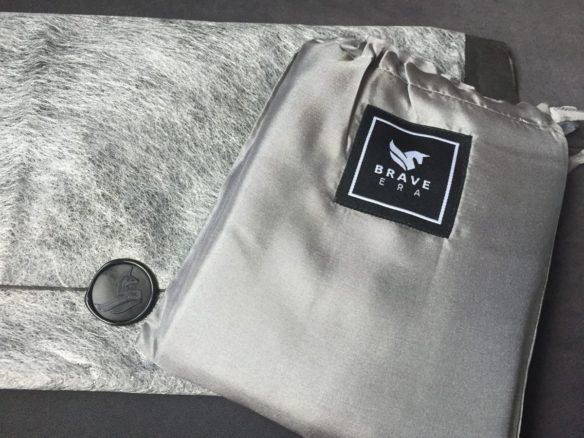 Brave Era's 100% mulberry silk travel sheet is great to take on the road because it's compact and lightweight, temperature regulating and naturally hypoallergenic. Natural silk is great for sensitive skin, offering protection against harsh detergents and potentially unclean bedding in hotels. Silk absorbs and ​releases body heat for a more comfortable sleep. And a good night's sleep is really important when you travel! The sheet is machine washable and can quickly air dry, so you can easily wash it on the road during longer trips.
If you want to purchase the sheet go to the Brave Era website. WLM10 is our exclusive promo code for 10% off this lovely silk travel sheet!
Have questions on any of these products? Leave a comment or email me at [email protected] and I'll be happy to assist!
Disclosure: This article contains affiliate links. We receive a small commission when you book or sign up through these links and it costs you nothing extra. When it suits you, please use them, as it helps us assist you with your travels! We even negotiate product codes on your behalf to save you money.