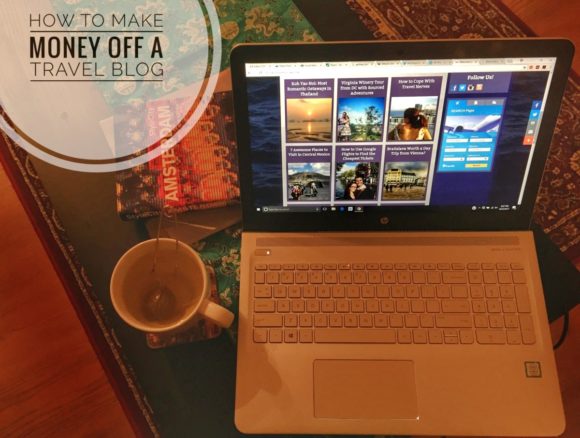 Thinking to start a blog? Wondering how to make money off your existing travel site? Or perhaps you want to learn strategies to work with brands and tourism boards? We've been running this blog seriously since 2013, and have learned the hard way with many of the tips we're sharing here. This article is going to cover affiliate marketing, paid content, press trips, how to deal with PR reps and more. So here's tips on how to travel more and make money off a travel blog!
Travel Hacking
If you haven't traveled much yet, you need to travel and start building an audience. There's a lot of ways to earn very cheap travel through travel hacking. To learn more about this, read our article on Travel Hacks to Save Big Money. We save thousands every year through travel hacks, and we're happy to share all our tips!
Tips on Starting a Blog
If you already have a blog you can skip this section. If you don't, there are a lot of hosting companies that will help you launch and maintain a website. BlueHost is great for new bloggers to kickoff a website with cheap overhead costs. They have plans starting at just $3.95 per month for web hosting. However, they are not the best for technical support.
We recently switched to Big Scoots and the team made the transition seamless. They also offer speedy and quality technical support with their online ticketing system. If you can afford the higher cost, Big Scoots is worth it because their team will save you some massive headaches.
Blogging is an investment of time and also some money if you want to do it professionally. Newbies should keep overhead costs down and save money on hosting, because there are a few other areas you need to budget for. If you use free hosting and later decide you want your own domain you will have to migrate the site. That can be challenging and may cost you more money if you don't have the tech skills to transfer the website yourself.
Building an Audience
You need a good sized audience before you'll make any money. But if you consistently produce useful, comical and/or beautiful work you'll start gaining a following. It's ok to deviate occasionally, but try to be somewhat consistent with your brand and publishing dates.
It can be painfully slow to grow an audience without spending a little money to promote yourself. After producing some quality content, sign up to a service like Social Growth Pro which will helps you gain real followers.
Don't just buy fake spammy likes (and some companies are selling that) because it does nothing for your brand long term and is just a waste of money. But an authentic social media following is important to drive traffic to your site and to advertise your products, services and affiliates. The larger your following, the more opportunities that will come your way.
Affiliate Marketing
Affiliate marketing is a multi billion dollar industry that's growing. With affiliate marketing, bloggers receive a commission from each sign up/sale. If you want to conduct honest business (and you should), only promote companies that offer good value to readers. If you promote crappy products and services you do nobody a favor, including yourself.
Some of the affiliate programs we work with:
Booking.com frequently offers the best deals on hotel rooms. We always check prices on Hotels.com and Expedia as well, but booking.com usually beats or at least matches their prices.
Create Profiles with Companies that Connect Brands, Tourism Boards and Bloggers
Social Native connects brands with influencers for social media campaigns. You don't need an insane Instagram or YouTube audience to be accepted into their campaigns, just a decent one with quality content. We've worked with both of these companies on campaigns for brands and tourism boards.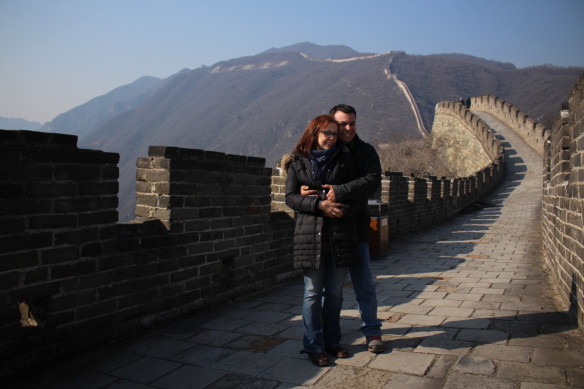 Selling Products and Services
Is there a service you're an expert on? It could be copywriting, SEO or social media services. Be sure to include this in your media kit and plug the service on social media regularly. Offer several levels of service to give clients different options to suit their budgets.
Maybe you want to sell products, trip planning services or your very best travel photos. Businesses and leisure travelers pay me to organize their trips because I help them get great bang for their buck. If you offer great value to people, they'll become repeat clients.
You could run niche tours in your town if the opportunity is there. A couple years ago I ran a special Belgium and Netherlands Tour. We previously lived in Amsterdam for three years and frequently visit Belgium, so I guided a small group to some lesser known gems. The tour was a lot of work putting together and selling. But asides from sales, it was good marketing and general life experience. If you're a talented photographer, photo tours are becoming increasingly popular as social media continues to explode.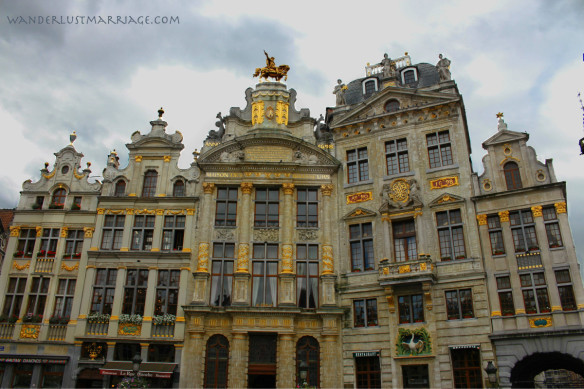 Sponsored Content: How to Make Money off a Travel Blog
After you've been up and running awhile, you'll get more sponsored content opportunities emailed straight to you. Some of them are good and some are bad for a variety of reasons. If they aren't a good fit for your brand you shouldn't take them. If you really need the cash, try and earn it another way. Giving publicity to bad products and services is a hit to your credibility and you will lose the trust of your audience. So in the long run, you'll lose more than you gain from that.
Sponsored content can be placement on social media accountants, like Instagram. Brands often try and give away just the product for a post. If you are just starting out and believe in the product, it can be worth taking. After you've been doing it awhile ask for payment. We typically ask for $150 US per Instagram post. For sponsored article placement our price starts at $175, if the article is original content written by someone else. If I write the article, I charge around $300 for around 1,000 words.
Travel Conferences and Networking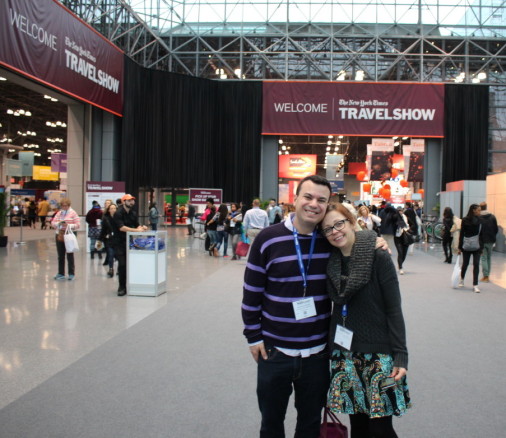 Networking is important in any line of work. Not only does it offer an opportunity for deals, but it gives you fresh ideas and a reason to leave the office. I've attended travel conferences and expos around the world including the NY Times Travel Show with a press badge, Travel Blog Exchange (TBEX) and World Travel Market in London with a press badge. Read my article on travel conferences around the world to discover one close to where you live!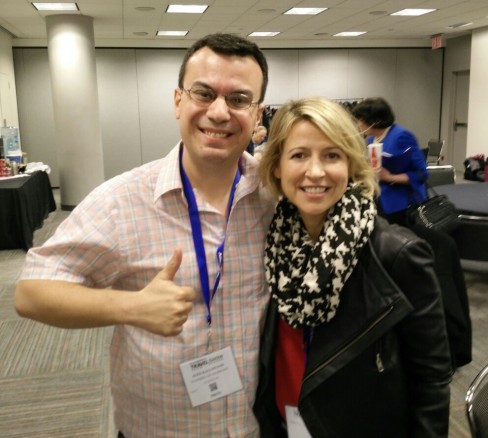 Once you're somewhat established, it's a great idea to apply to speak at events like these. It's a huge boost for your profile, resume and credibility. Due to a fear of public speaking, I haven't applied to speak at a major conference or expo yet. But I've spoken at smaller events, which is also a plus. Put yourself out there as much as you can!
Be sure to have professional business cards, a 10 second elevator pitch and a clear objective. Attend to learn as much as you attend to network. Bring copies of your media kit to give to people you really want to work with. This way they can associate a human interaction with numbers.
If you have specific questions about how to prepare or what to avoid at a convention, feel free to reach out! On a side note, the NY Times Travel Show and World Travel Market in London are great for the general public to attend to learn more about traveling to various regions.
The Pros and Cons of Press and "Fam" Trips
If a destination or brand is hosting you, there's an expectation of quality posts and professionalism in return. So remember to be nice to everyone as people don't like diva bloggers and influencers. You also need to keep your readers best interests in mind too.
Attending a conference like TBEX is a great way for new travel bloggers to get on press and familiarization trips and to network with brands and other bloggers. The host destination of a travel blogging conference like TBEX lines up a lot of local partners for hosted familiarization trips. Afterwards, you'll get more press trip opportunities when you write guest posts for big outlets. But you have to consider what's a good use of your time. Unless you have a massive audience or are a freelancer with paid assignments, press and familiarization trips are generally unpaid and have some out of pocket costs. And this bears repeating, brands and tourism boards are out for their best interests so only partner with those that align with your interests. But quality press trips can be a great way to compile quality material for your travel blog, networking and building your profile.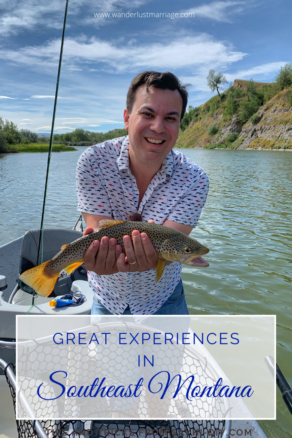 If you're traveling to a destination anyway, visit a tourism board's website and email their press or social media representative. If you're a relatively new blogger that doesn't focus on hotel reviews, don't request accommodation, but see if they can offer media passes for free entrance to attractions. This gives you a discount on your visit and allows you to produce better content, if you were going to publish it anyway. If you have some experience and its offseason, you can request that a tourism board contact their hotel partners about a stay.
Once you're more established, you can then fill out tourism board press applications to be hosted with accommodation, meals and transportation provided. Have a strong following (or assignment from a bigger outlet) and a compelling pitch because the competition is stiff.
The busier the season, the less chance your media application has of being accepted. If you're inexperienced, don't bother pitching major tourism boards in high season. We've been fully hosted (meaning transportation, hotels, private tour, attractions and some meals) by tourism boards like Quebec, during low season. Asides from social media coverage, three blog posts were promised on the application. We covered Romantic Getaway Ideas for Montreal, Tips for Visiting Montreal, and Celebrating an Anniversary at the Esterel Resort in Quebec. It was an amazing $2,000+ USD value trip to Montreal and a beautiful spa resort in the lovely Laurentides region, but also a lot of work. Again, forget that myth of free travel!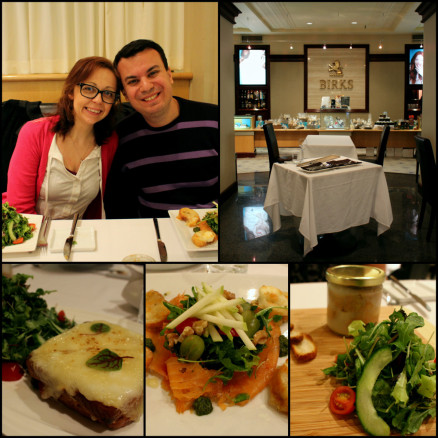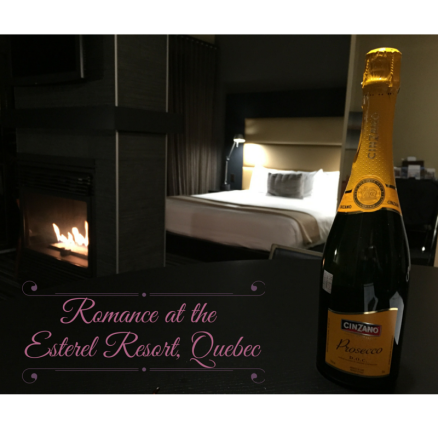 Guest Posts
If you're a new blogger, it's important to build your profile. You can do this through guest posts on bigger blogs. This also provides incoming links to your website. When you get authority links you increase your page rank, so you're site will rank higher in search engines. This means you'll grow your audience and have more legitimate opportunities being sent to you via email. Want to guest post on Wanderlust Marriage? Get in touch!
How to Deal with PR Reps?
In the travel blogging world, you'll encounter a lot of PR reps at events and via email. Usually these are quite charming people, as that's part of their job. But no matter how friendly they are, remember that they're looking for the best deals for their clients. Be friendly and professional but remember you and your readers best interests as well. Only work with PR reps when there is mutual benefit.
Some PR reps offer to send complimentary products to bloggers asking for a blog post in return. Unless you're very new and it's a pricey product you really want, you should ask them if they have a budget to promote their product. Putting together promotional material and/or contests is a lot of work, and you should be paid for that. Don't let them convince you otherwise, and often they will try. When they do offer to pay up front, try and negotiate the budget.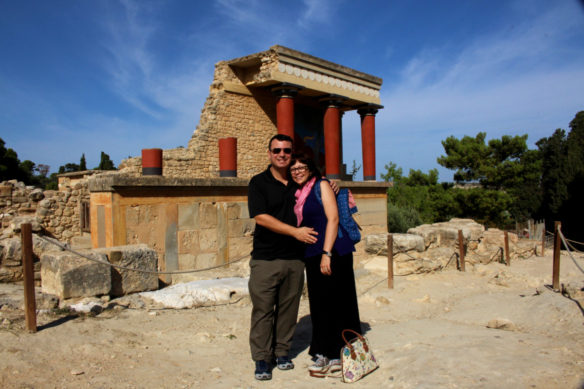 Freelance Writing
You can use a travel blog to launch a mainstream travel writing career. An important tip here is to start pitching small magazines first. Think Coastal Living over National Geographic Traveler. You should be familiar with the style of the magazine and the type of content they might be looking for before pitching. Follow some editors on Twitter and try to interact with them a little beforehand, so you're not sending a cold pitch. A great place to read a lot of tips on freelance travel writing is pitchtravelwrite and here's a list of contact details of 100 major travel publications that you can pitch to!
This is also a good read on becoming a professional travel blogger.
How to Make Money Off a Travel Blog Recap
Be honest and don't promote bad products (if it appears to be the way forward, you're following the wrong people).
Use a smart budget to promote your work.
Network professionally and wisely, remembering you and your readers interests.
Partner with quality affiliate campaigns. Affiliate marketing is a multi billion dollar industry thats growing!
Harness your strongest skills into money making services like social media campaign management, copywriting, SEO services, speaking engagements or trip planning services.
Honestly, it takes serious time and effort to make money off travel blogging. But if you're committed and you follow this advice, you have a great chance to succeed at it!
Feel free to leave a question or comment with additional tips on how to make money off a travel blog! You can also contact me at [email protected] with questions!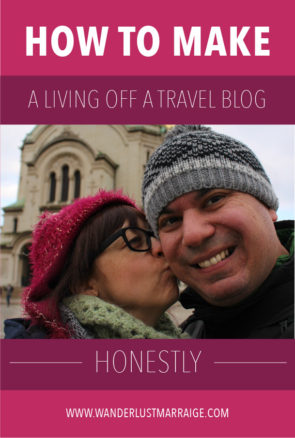 Disclosure: This article contains affiliate links. We receive a small commission when you book or sign up through these links and it costs you nothing extra. (Remember to include this disclaimer in your articles)