By Alex Kallimanis: Last month, after guiding a small group tour through Belgium and the Netherlands, and taking a week's vacation to Romania with Bell, I was left with a couple free days before flying home to Boston from Brussels. I wanted to visit France and considered Paris, but wanted to explore somewhere new. I discovered I could reach Lille in just 37 minutes from Brussels on the high speed TGV train, for around €30 ($32 US) each way. Here are some great things to do in Lille!
Train from Brussels to Lille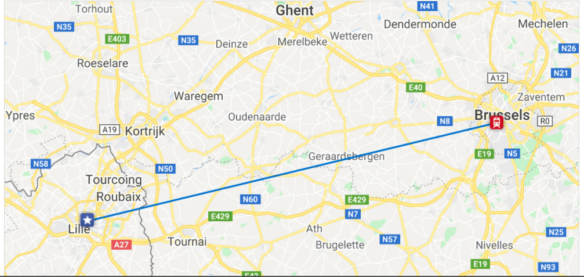 As you can see on the map, Lille is located in the northwest of France. It is just across the border from Belgium. You can check train schedules, compare prices and purchase tickets on the Rail Europe site.
Lille: French Flanders
Lille is the 5th biggest city in France and resembles a non-touristy, miniature version of Brussels, with beautiful baroque architecture and an excellent culinary scene. It's a city divided between a beer and wine culture because it's the largest city in 'French Flanders.'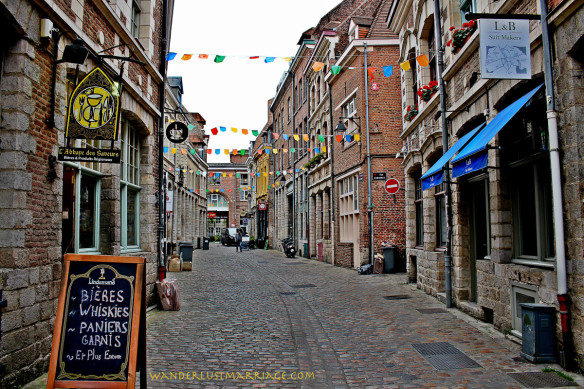 What made the 37 minute train trip even more convenient was that there was no passport check between Belgium and France, as both are Schengen countries. Lille is comfortably doable via day trip from Brussels, Paris and even London. Of course, spending a night or two like I did allows you the opportunity to get more insight into the city and enjoy a couple more delicious meals.
Where to Eat in Lille:
I stayed around the corner from Rue de Gand, which is just outside the center of Lille, but a great area to stay because it's a short walk to the center and steps from the centuries old wall that once fortified the city. Rue de Gand is lined with fantastic reasonably priced restaurants, and I chose to eat dinner there both nights, rather than dining in a touristy restaurant near the Grand Place. Lille is a great city to eat both quintessential French and Flemish dishes, with restaurants offering a range of specialities from foie gras to Flemish beef stew.
My first night, I chose a lovely restaurant on Rue de Gand called Le Domaine de Chavagnac. This was a serious duck centric restaurant, so I felt foie gras was in order. I've only eaten this dish a few times in my life, but it was the best one I've tasted, expertly prepared with sweet plums and a side of perfectly roasted potatoes and salad. The service was surprisingly unpretentious for such good food, and the house wine was also excellent. To top it off, the experience was cheaper than what I would expect to pay anywhere for similar quality, with my check totalling €20 ($22 US) for foie gras and a delicious glass of white wine. On a Sunday night it wasn't difficult to get a table, but especially on weekends, reservations here would be recommended.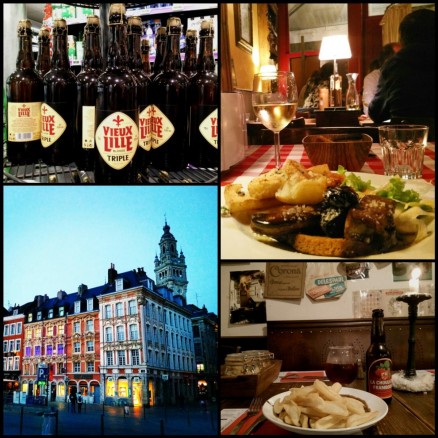 Flemish Eats in Lille
The next night I chose a packed candlelit French Flemish restaurant called Estaminet 'T Rijsel, which caters to beer aficionados with a few French varieties on tap, and a big selection in bottles. The restaurant offers a lot of local specialties like rabbit stew (pot'je vleesch), waterzooi, Flemish carbonnade and the vast majority of the sociable clientele were drinking beer instead of wine.
The dining experience was very different from Le Domaine de Chavagnac, and I enjoyed the rustic decor, service with a smile and more casual ambiance from the previous night's dinner. Food and drinks at both restaurants were good quality for lower prices than you would typically pay in a capital city like Brussels or Paris, with most mains in the neighbourhood of €14 ($15 US). I chose the carbonnade served with fries and while the beef sauce was a little too sweet, the fries were as good as any I've ever eaten. Estaminet 'T Rijsel was packed even on a Monday night, so reservations here are recommended.
Aside from being a gastronomical delight, Lille is a pretty town just to stroll its cobblestone streets without hordes of other tourists. In a sandwich shop, a fellow customer waiting in line asked where I was from. "Have a nice time here" she said as she departed the cafe. France sometimes gets an unfair reputation for being rude and pretentious (especially by Americans) but if you only visit Paris, and don't attempt to speak any French, you can't expect to feel overly welcome. Lille is more laid back because it's not the capital and some locals still view tourists as a novelty.
What to See in Lille:
The narrow and winding streets of the old quarter, Vieux-Ville, packed with shops, restaurants and bars is an area where you could easily spend hours exploring. While the Grand Place of Lille isn't as opulent as Brussels, it's still very beautiful and worth having at least a drink to relax and people watch. You could have a very enjoyable day just meandering around Lille, periodically eating and drinking, but there's also a lot of worthwhile sites and museums too.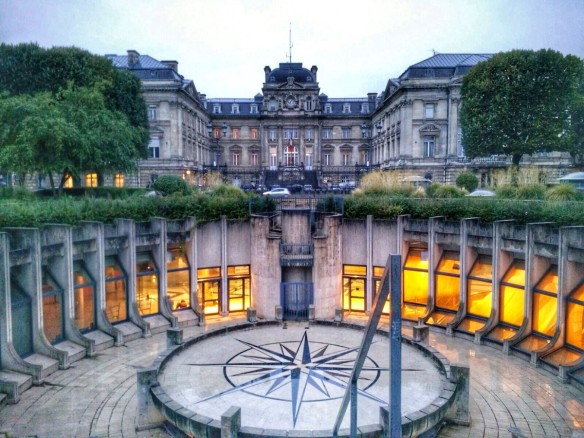 Other worthwhile attractions in Lille include the Porte de Paris. Similar to the Arc de Triumph, it was built in the late 1600's to commemorate the victories of Louis XIV. Near the Porte de Paris is the Beffroi de Lille, the town hall, and its 104 meter high belfry is a UNESCO World Heritage Site that offers a 360 degree view of the city. For museum goers, the Palais des Beaux Arts (Museum of Fine Arts) houses an impressive collection that is the largest in France outside of Paris.
Like much of Europe, Lille holds an annual outdoor Christmas market. While we haven't visited the one in Lille, several years ago we were in Brussels during their Christmas market, which was fantastic. Wooden stalls are filled with beautiful ornaments and decorated with colorful lights. And all the delicious food and drinks like mulled wine warm your body and soul in the cold temperatures.
If you're traveling from London to Brussels, you can schedule a stop in Lille on Eurostar as it's on the way. From Paris, Lille is only an hour by train on the TGV. Conveniently located near three major European capitals, Lille is a city with a lot to offer and often welcomes its guests with a smile.
For more tips on things to do in Lille, check out their visitor's page!
Have you visited Lille? If so, please share any great recommendations or suggestions in the comments!