By Alex Kallimanis: The smell of fresh waffles, topped with nutella and strawberries is bliss. Watching chocolatiers handcraft bonbons in store front windows, with prideful precision, is a masterful display worthy of attention. And lifting a tulip shaped beer glass, of a delicious golden ale you've never heard of, in a square filled with stunning buildings, will instantly make your blood pressure drop. Brussels might be the capital of Europe, bustling with bureaucrats around the parliament, but play the city right and it's also one of Europe's most enjoyable playgrounds.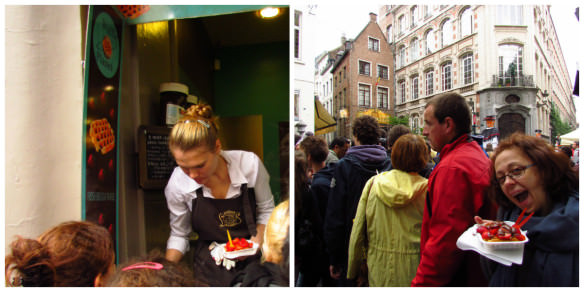 Brussels Hotels and Apartment Rentals
First you'll need a place to stay. During peak times, book quality accommodation in advance that offer free cancellation. Lock in great accommodation, then if your plans change you can always cancel or change the reservation for free later.
Families and groups or friends will probably find the best value booking apartments in Brussels. Book properties with consistently great reviews within walking distance of the famous Grand Place. Booking near a metro station also offers convenience. We find sites like booking offer quality apartments that are more professionally run than listings on other sites.
Luxury Hotels in Brussels
Brussels Marriott Hotel Grand Place offers great amenities and a wonderful central location.
Steigenberger Wiltcher's is a truly elegant hotel right off Avenue Louise, which has many of Brussels finest shops.
Mid Range Stay in Brussels
Hotel Park Inn by Radisson Brussels Midi has great rooms and a good location near Brussels Midi international train station. If you have an early international train to catch, this is a great option location wise as it's near the train station where you catch Eurostar and Thalys trains.
Budget Hotels in Brussels
Ibis City Centre has a fantastic location, just a couple minutes walk from the incredible Grand Place. Rooms are very basic but clean, and you can't beat the location.
Motel One Brussels has slightly better rooms than Ibis but it's a little further from the Grand Place. The breakfast buffet here is really good and well priced.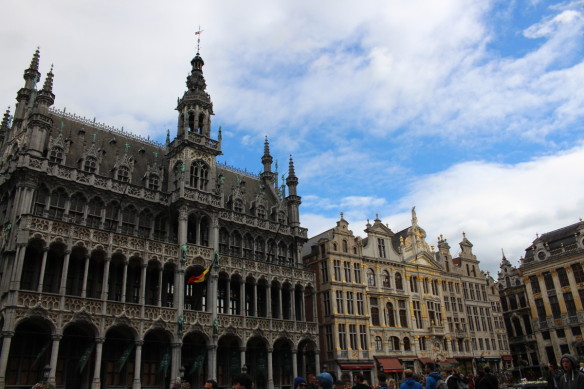 Brussels Introduction
Brussels is elegant and quirky. Like most cities, it can also be stuffy and seedy at times, but at its core is a laid back elegance, with constant quirky surprises. It's a city that enjoys good food and drinks anytime of the day on outdoor terraces, because residents are aware that life is short, and simple pleasures should be savored to the fullest. So no perfect day in Brussels is complete without indulging in either rich beer, decadent chocolate, fresh pastries, a scrumptious main in a relaxed bistro or preferably all of the above, while joining locals on a relaxed outdoor terrace.
The Grand Place (Grote Markt)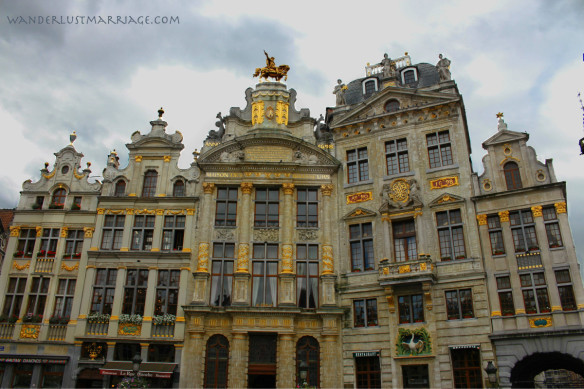 The Grand Place (Grote Markt), is a UNESCO World Heritage Site and one of the world's most beautiful squares. A perfect day in Brussels definitely involves a stroll to appreciate the intricate neo-Gothic architecture of the town hall and guild houses. Because the restaurants and cafes of the Grand Place are very touristy, it isn't necessarily the best lunch spot, but it's worth overpaying for at least one drink, to sit outside and savor this unique square, because no matter how much you travel in your life, this is a memory that will stay with you forever. Visit again at night, when the buildings are lit up, for possibly an even more dazzling experience.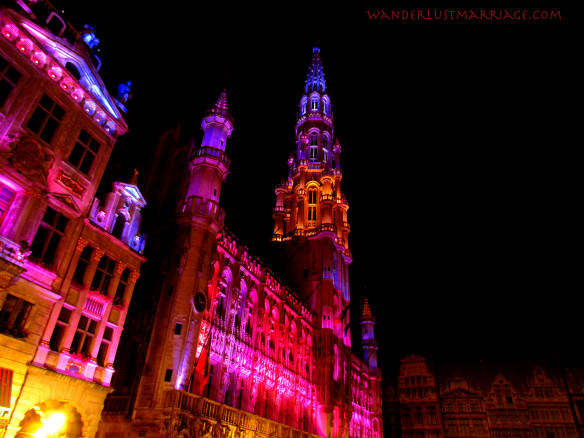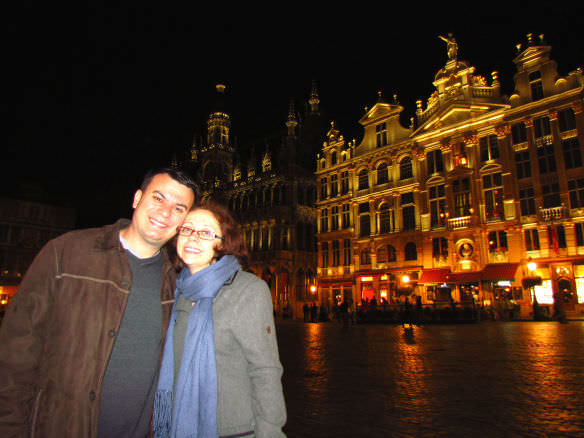 Enjoy the Shops and Treats Along Rue de l'Etuve Stoofstraat
From the Grand Place stroll down Rue de l'Etuve Stoofstraat, past an array of pastry shops making fresh waffles. Buy one and have a quick stop at Mannequin Pis, a fountain statue of a little boy peeing, which is strangely the symbol of Brussels. Legend has it that when Brussels was ablaze centuries ago, a little boy extinguished the fire with his urine.
Belgian Cartoon Murals and Museums
Brussels is the birthplace of cartoons like the Smurfs and Tin Tin. So you'll discover comic murals throughout the city. Visit the Belgium Comic Strip Center to learn more about the industry and its history.
Brussels is an enigma, and the longer you spend here the more you'll discover why surrealist artists like Rene Magritte were inspired by this city. Adding to the complexity, street signs are in both French and Flemish, making them extremely long and the city confusing to navigate at times.
Lunch at Mokafe
For lunch, sit down for a delicious meal at Mokafe. This casual restaurant doesn't offer a menu in English, which is rare, but also refreshing. Don't be intimated. Have a look at what the locals are eating and ask questions. A favorite lunch among many is Filet Americain on a fresh baguette. Filet Americain is raw beef mixed with mayonnaise, spices and served with a side of diced onions. It's not for everyone, but I know I'm not the only American who's come to appreciate this sandwich that's named after us, especially when it's served on a fresh, perfectly crusty baguette, possibly the best you've eaten in your life. If that doesn't sound appealing, the Croque Monsieur is a great choice (basically an amazing ham and cheese sandwich).
European Parliament
Political buffs should visit the European Parliament. And while I've visited in the past and found it to be a unique experience, it's somehow hard to write EU parliament and perfect day in Brussels in the same sentence. But if you're a political junkie, this is one of world's most important venues.
Royal Palace (Palais Royal de Bruxelles)
Like neighboring Netherlands, Belgium is a monarchy and a stroll past the lovely Royal Palace (Palais Royal de Bruxelles) and adjacent Brussels Park should definitely be part of a perfect day in Brussels. Parallel to the Grand Place, along Rue Marche aux Herbes Grasmarkt, there's lots of chocolate and pastry shops to satisfy the most discerning sweet tooths of all budgets. If you have any issues with dairy, like myself (tragic in Belgium) seek out fresh meringue from one of many fantastic patiseries, it's delicious and one of the few local treats that's dairy free.
Dinner at La Villete
For dinner we love the bistro La Villete. It's both lively and laid back, with white and red checker clothed tables and a rustic feel, it's quintessential Belgium. You can't go wrong with ordering mussels, steak, beef stew or rabbit simmered in lambic beer sauce. The Belgians love to cook with their delicious beers and the perfect day in Brussels should involve ordering one of these dishes.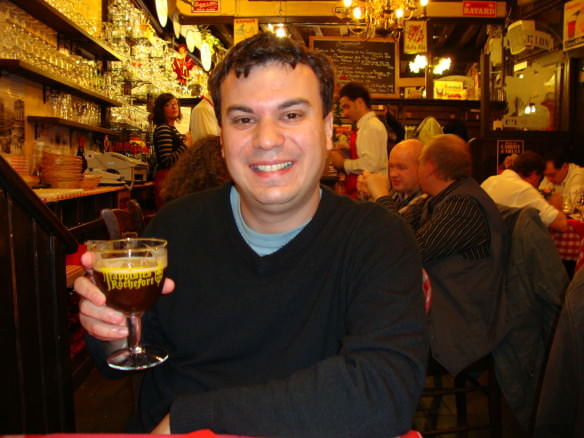 For after dinner drinks, you could head to the Delirium Cafe, which holds the world record for largest beer selection, with over 2,000 choices. But for something that's laid back, quirky and has a plenty large enough beer selection, check out
Poechenellekelder
, right across the street from Mannequin Pis (don't sit outside here during the day though, as Mannequin Pis draws big crowds). We visited last September, on a pleasant Saturday night, and there were still plenty of tables on the outdoor terrace and inside, where the decor is a spectacle. Their beer list is fantastic and if you've never visited Belgium before, they'll surely have lots of great options you've never tried before. Beer advocate gives them a score of 91 out of 100, ranking the establishment "outstanding."
Visiting Brussels as a College Kid
"Brussels was the most boring city we visited" said my early twenty-something best friend Brian, after our two-week Christmas vacation during college took us to London, Brussels, Amsterdam, Berlin and Prague. And many 22 year olds might agree with the sentiment we felt at that time, partly because we only stopped in Brussels briefly, because it was on the way from London to Amsterdam.
Brussels doesn't have Buckingham Palace, Europe's biggest ferris wheel or the same wealth of museums as London. It doesn't have marijuana hazed "coffee shops," a massive red light district, and an intricate canal network like Amsterdam has, while falling short of the raucous nightlife, edgy bar scene and infamous history of Berlin. And Brussels is more expensive than Prague, which is more conducive to a college kid's budget. But fast forward a few years and several trips later, and Brussels transformed into one of Europe's best cities to hang out in, because it's paradoxically both a little bit more mature, yet simultaneously childish compared to any other city we've visited.
Recap on Brussels
Brussels is great for a romantic and fun couples getaway. It is smaller than Paris, so it offers opportunities to experience more of the city in a shorter time. Like Paris, foodies will delight over all the delicious eats at restaurants, cafes, bakeries and patisseries. Thanks to the Christmas markets, Brussels is also one of the most romantic places to travel for Christmas.
During the past year alone, I've had the opportunity to re-visit Brussels, Amsterdam, London and Berlin, 4 out of the 5 cities from the raucous college trip I enjoyed with my buddy. And since Bell and I previously lived in Amsterdam for 3 and 1/2 years, we've had the opportunity to get to know this region well. My opinion now is drastically different from my 22 year old self. I prefer spending time in Brussels over London and Berlin (albeit they're all great to visit).
Read my article on a great one week itinerary for London, Brussels and Amsterdam. I also put together another great one week itinerary for Paris, London and Amsterdam.
Have questions about planning a trip Brussels? Email me at al[email protected] and I'll be happy to assist you!
Disclosure: This article contains affiliate links. If you use them, we receive a small commission at no extra cost to you. Thanks for using them!