Orlando is the theme park capital of the world and the planet's most visited city, with an estimated 60 million visitors annually! But most visitors skip downtown Orlando and spend all their time at the theme parks and touristy International Drive and Kissimmee. And with so many fun parks, you can't blame many visitors, especially those with kids. But as someone who grew up in Orlando (and even worked at Disney as a teenager), I know the city has great places to eat and drink. Anybody who bags Orlando for not being cultural, hip, beautiful or historic hasn't spent enough time there to get to know it better.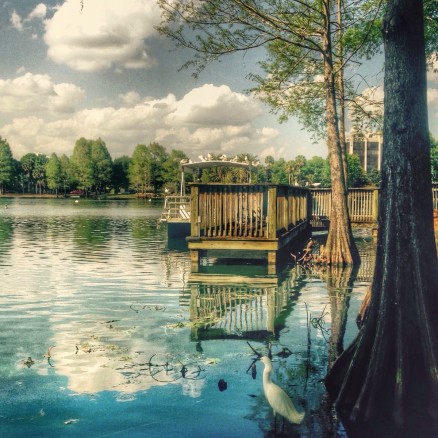 Linda's La Cantina
Established in 1947, Linda's La Cantina is Orlando's oldest restaurant and a reliable spot for a good meal. Just be sure to make reservations, especially on weekends. This is an old school style steakhouse that offers delicious free baked bread.
Lake Eola
Relax Grill
Lake Eola is beautiful for a relaxing afternoon stroll and a nice meal. You can even rent swan paddle boats! A great place to eat on Lake Eola is Relax Grill. Surrounded by palm trees, you can easily imagine yourself on the beach…in downtown Orlando! The food is good, with excellent burgers and mahi mahi sandwiches among their diverse menu choices.
World of Beer
For beer aficionados swing by World of Beer to drink pretty much anything your mind can conjure up, with a huge selection of craft beers from the US, Belgium and elsewhere.
Stardust Lounge
If you're looking for a tasty cocktail at a hip venue, head to Stardust Lounge. They even have a monthly burlesque show! We visited once with friends and watched a bachelorette become pretty red in the face during the burlesque show.
Winter Park
Fiddlers Green
If you visit one suburb of Orlando it should be beautiful Winter Park. Winter Park is home to one of the best Irish pubs you'll visit outside the Emerald Island. Even though we lived in Dublin for 2 and ½ years, we still enjoy Fiddler's Green and love the authentic décor, ambiance and some excellent menu choices. You probably won't leave disappointed if you order the fish n' chips or shepard's pie. And sure you can order a Guiness, but red ales are also quite popular in Ireland, so Orlando Brewing's Red Ale is a good choice. Drink local when you can because that's often what's best!
Cask & Larder
Another great place to eat and drink is right across the street from Fiddler's Green at Cask & Larder. Cask & Larder brews a great range of beers like a delicious hoppy brown ale, red ale, milk stout, wheat, IPA and more. They also serve good food that's a little more high end than Fiddler's Green, but you can still just order a burger and fries, which is what I ate.
Ravenous Pig
You can also find Cask & Larder's tasty beers at their sister restaurant in Winter Park called The Ravenous Pig. Ravenous Pig cooks up a whole pig roast on the first Saturday of every month!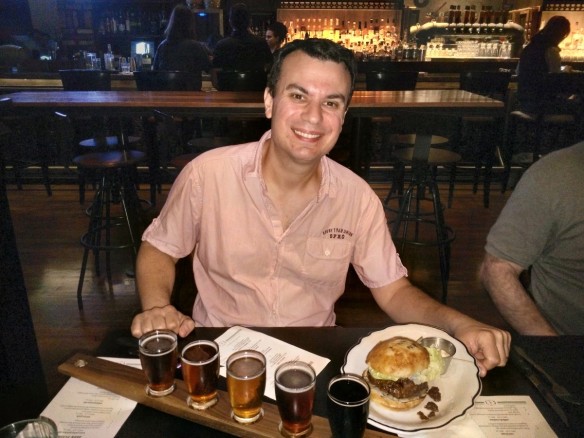 Hawkers Asian Street Fare
Hawkers Asian Street Fare is another Orlando gem that meshes the best of Asia, from Singapore to Japan, and a lot in between. Start with the popular Malaysian fried bread with curry dip (roti canai) and navigate your way from there depending on what you're in the mood for. You'd be hard pressed to get better bang for your buck than this place, with delicious meals starting at $8, and they also serve some great beers with an excellent weekday happy hour from 4pm-7pm.
Pom Pom's Teahouse and Sandwicheria
Pom Pom's Teahouse and Sandwicheria was recently introduced to me by an old high school friend that's also traveled around the world. Located in Orlando's 'Milk District,' Pom Pom's is an excellent choice for delicious and unique sandwhiches and tasty desserts. I thoroughly enjoyed their Fu Man Chu sandwich, which is Asian pulled pork, watercress, goat cheese and ginger cranberry chutney. Pom Pom's is even open 24 hours on weekends!
Pig Floyd's
Pig Floyd's is good ole fashioned southern barbeque with a twist. In addition to delicious brisket, pulled pork and ribs, you can also get tasty barbeque tacos and Vietnamese Ban Minh sandwhiches stuffed with pulled pork. If you want to try southern American and Asian fusion, head to Pig Floyd's!
Historic Downtown Sanford
The Imperial
Just north of Orlando on Lake Monroe, downtown Sanford has several awesome hangouts and cool art galleries within a short walk from each other. The Imperial (which also has a location in downtown Orlando) has a great selection of beers, whiskeys and cocktails in an antique store!
Hollerbach's Willow Tree
Hollerbach's Willow Tree is a great German beer hall that cooks as good a schnitzel as you'll find outside of Germany, with live German music on weekends. I have to credit my good friends Jerry and Kelly for introducing me to both of these places as I'd never hung out in downtown Sanford previously and I was really impressed by those two establishments.
Buster's Bistro
There's even a Belgian beer bar called Buster's Bistro in downtown Sanford! Look for the huge Belgian flag out the front. Inside is sure to satiate any Belgian beer cravings you may have.
My father is 87 and I've visited Orlando three times in the past year. I'm re-discovering the town I grew up in, from middle school through university days at UCF, by trying some of the best new establishments, along with re-visiting places that have been Orlando institutions for decades, with family and great friends. Look forward to more great local recommendations and tips on visiting the world's most touristy city in the future!
Great Orlando Hotels
There are fantastic hotels and resorts to stay all over Orlando. For couples that want a romantic getaway, stay in historic Winter Park at The Alfond Inn. If you want to be close to downtown Orlando's bars and nightclubs and the Amway Center, stay at the Grand Bohemian. The Victorian themed Grand Floridian Resort & Spa is a stone's throw from Magic Kingdom and among the best of the areas fantastic resorts. The Hyatt Regency Grand Cypress is a fantastic golf resort, featuring 45 holes designed by Jack Nicklaus and a world class swimming pool.
Have a question about an upcoming visit to Orlando? Let us know in the comments and we'll be happy to try and help you have the best time!