We've made the trip between Boston and Washington D.C. many times. Bell's company's home office is located in Bethesda, Maryland. Bethesda is conveniently connected to Washington, D.C. via a short 20 minute Red Line metro ride. The first two trips we flew. This time I saved some money off a last minute plane ticket by booking an Amtrak train instead. That turned out to be a disaster due to a February snow storm. Here's pros and cons of all travel options from Boston to Washington, D.C.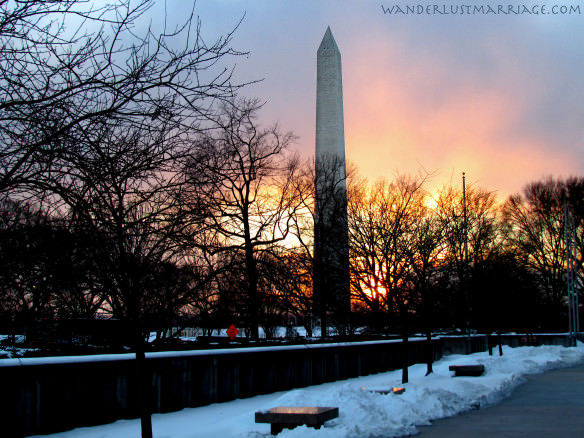 Flying From Boston to Washington, DC
Washington, DC Airports and Nonstop Flights
There are a lot of flight options between Boston Logan Airport and Washington, DC. Washington, DC is served by three major airports. The three options to fly into are Reagan National Airport (DCA), Dulles International Airport (IAD) and Baltimore/Washington International Thurgood Marshall Airport (BWI). Nonstop flights between Washington, DC and Boston are offered by Delta, jetBlue, American Airlines, United, Southwest and Spirit. National Airport is typically the best airport for flying into Washington, DC because it's the closest airport to downtown Washington and easily accessible by metro.
JetBlue is a Great Flying from Boston to DC
If you fly between Boston and Washington, DC, jetBlue is a great choice as it often ranks as the nations best airline for customer service. Delta and jetBlue are the top two American airlines so those are your best choices.
We enjoy flying jetBlue between D.C. and Boston as they're our favorite American airline for service, complimentary in-flight entertainment and gourmet snacks. They have direct flights to both Dulles, Reagan National Airport and Baltimore Airport, which is only around 30 miles from D.C. From Dulles you'll need to catch a shuttle if you don't want to fork out for a pricy Uber or cab ride. Baltimore airport is connected to Washington D.C. via train to Union Station.
We've seen jetBlue run $50 one way promotional fares between Boston and D.C. Obviously prices are usually quite a bit higher and last minute this can be an expensive route. So if the flight between Boston and Washington, DC is expensive, should you catch the train?
Amtrak Train From Boston to DC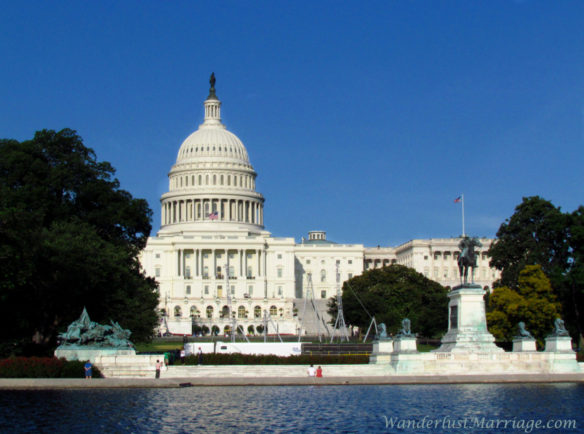 Train Station and Amtrak Food
If you're booking relatively last minute and have the time, Amtrak is OK as one of the travel options between Boston and D.C. You can even use the time to work on the train. Amtrak's dining car won't blow your socks off, but it offers a break from what are already comfortable and spacious seats on the train. Unfortunately, the food isn't very good so don't board starving! Train travel in the US is generally not as good as western Europe or Japan. Boston's South Station and D.C.'s Union Station both have better food options than the train. Amtrak train food is basically just microwave food. Take a pass.
Train Delays Can Happen
I had some bad luck taking the train from Boston to Washington, D.C last week. What should have been an 8 hour train ride took 13 hours. First, the train departed 2 and 1/2 hours late. Then the journey took an additional 2 and 1/2 hours due to the snow storm. So instead of arriving at 8:40pm, in time to catch the Washington metro to my hotel, I arrived at 1:40am, exhausted and frustrated. I then needed to wait over an hour for a taxi, part of which was outside in temperatures well below freezing at Union Station.
On the return, Bell joined me on Amtrak for the trip to Boston and we had much better luck. Several inches of snow had already fallen in D.C. before our train was meant to depart. Many flights out of D.C were cancelled. That left some of Bell's colleagues stuck for another night. We were dubious about the train but it departed on time and while we arrived in Boston 1.5 hours late, weather conditions were bad enough that we were lucky just to get home.
The verdict on American train travel: It's hit and miss, but when it's a miss the delays can be major. Then again, you can experience major flight delays too.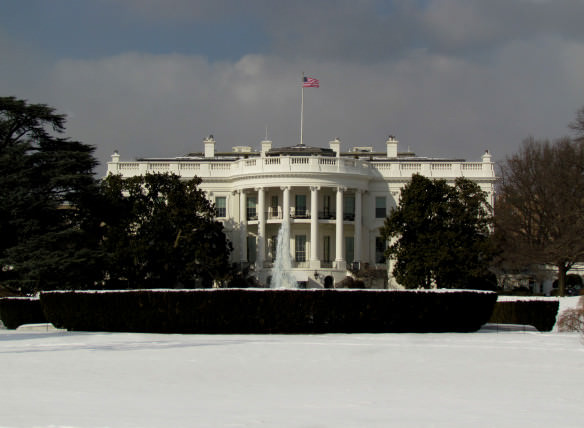 Bus From Boston to DC
A lot of buses offer service between Boston and Washington, DC. But unless the flights are expensive and you're a budget traveler, this is not an ideal option.
I considered buying a bus ticket from Boston to D.C. because the ticket was only $57 and the ride only took a little longer than the non-express train, clocking in at 9+ hours. We've traveled roundtrip from Boston to New York City by bus and would do it again, but that ride only takes 3.5 – 4.5 hours, depending on traffic. That's a big difference compared to over 9 hours on a potentially packed bus. On the train you can move around more and there's the dining car to escape to. If you're sitting next to someone you don't like on a bus, you might not have anywhere else to go! This is important to keep in mind when weighing your travel decision between a bus and a train.
All major buses have free WiFi so you can also work or play on the bus. Wanderu is a great site to check out to view many of the bus options between Boston and Washington, or anywhere else in the United States.
Driving Between Boston and Washington D.C.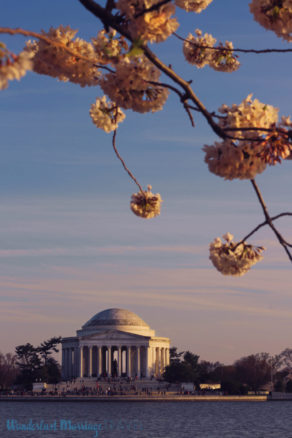 If you own a car and are traveling for leisure, driving can be a good option, especially if you want to do some day trips to interesting Washington, DC area attractions like Mount Vernon or nearby wineries in Virginia. Renting a car could also be a good option, but it depends what your priorities are. If you're visiting D.C for to tour museums and attractions, you may want to leave the car at home. Be careful with rental quotes because insuring a car can cost significantly more than the rate you found if you need to purchase insurance. You can buy third party insurance through third party sites like Hotwire. But you may not be covered for incidentals like loss of revenue for the rental car company while the car is being repaired.
Washington, DC also has some of the worst traffic in the country. You may also encounter heavy traffic along Interstate-95 as it's often busy. Another downside is high parking fees in Washington, DC – like many cities. But if you do drive, you can stay outside Washington, DC. It is often significantly less, especially when you factor in free overnight parking.
Distance from Boston to Washington, DC
The distance from Boston to D.C. is 440 miles (708 km) and will take a minimum of around 7 hours with no traffic or stops at a sane driving speed. You also won't be able to get any work done if you're driving either. Though for some, the drive itself is an excuse not to be working!
What do you think of the travel options between Boston and D.C.? If you have stories to share, let us know in the comments!