We've become semi-regular travelers between our current home of Boston and Washington D.C, making this trip 3 times in the past 9 months. Bell's company's home office is located in Bethesda, Maryland which is conveniently connected to Washington, D.C. via a short 20 minute metro ride. The first two times we flew but this time Alex decided to shave some money off a last minute plane ticket and booked an Amtrak train instead. Here's some pros and cons of the travel options between Boston and Washington, DC.
1) Plane
Bell has flown jetBlue  on all 3 visits to D.C. from Boston and they're our favorite American airline for service, complimentary in-flight entertainment and a modern fleet. They have direct flights to both Dulles, Reagan National Airport and Baltimore Airport, which is only around 30 miles from D.C. Reagan National is the most convenient airport for flying into D.C as it's connected to Virginia, D.C. and Maryland via metro. From Dulles you'll need to catch a shuttle if you don't want to fork out for an expensive cab ride. Baltimore airport is connected to Washington D.C. via train to Union Station.
We've seen jetBlue run $50 one way promotional fares between Boston and D.C. It's an especially fantastic deal since one checked bag is included in their prices. Obviously prices are usually quite a bit higher and last minute this can be an expensive route. If you don't have status with an airline you should probably choose jetBlue or Southwest Airlines over Delta, United, US Airways or American Airlines if the ticket price is the same because the former airlines include a complimentary checked bag, while the latter airlines charge around $25 each way.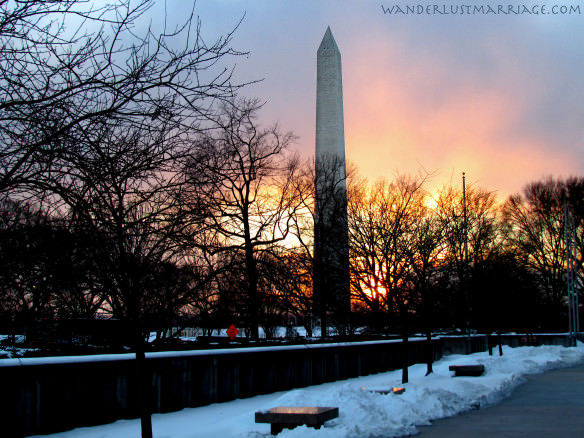 2) Train
If you're booking relatively last minute and have the time, Amtrak can be a great option, especially if you want to work on the train. Amtrak's dining car offers a comfortable break from what are already comfy and spacious seats (though the food isn't that great so try not to board starving if possible). Boston's South Station and D.C.'s Union Station both have way better food options than what you can purchase aboard the train (basically microwave food).
I had some bad luck taking the train from Boston to Washington, D.C last week. What should have been an 8 hour train ride took 13 hours because the train departed 2 and 1/2 hours late and the journey took an additional 2 and 1/2 hours due to a snow storm and a backlog of snow and ice chaos in Boston. So instead of arriving at 8:40pm, in time to catch the Washington metro to the hotel in Bethesda, I arrived at 1:40am, exhausted and frustrated, and needed to wait over an hour for a taxi, part of which was outside in temperatures well below freezing at Union Station.
On the return, Bell joined me on Amtrak for the trip to Boston and we had far better luck. Several inches of snow had already fallen in D.C. before our train was meant to depart and many flights out of D.C were cancelled, leaving some of Bell's colleagues stuck for another night. We were dubious about the train but it departed on time and while we arrived in Boston 1 and 1/2 hours late, weather conditions were bad enough that we were lucky just to get home.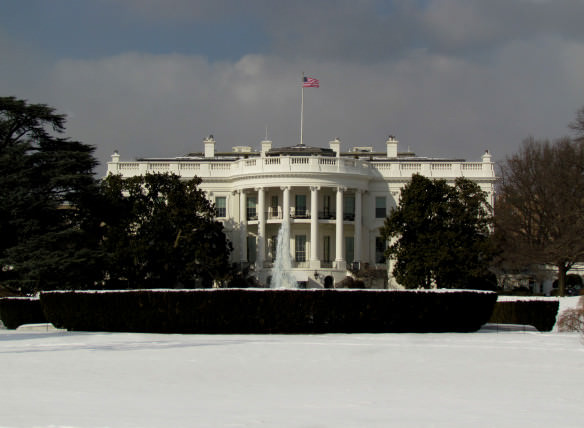 3) Bus
I considered buying a bus ticket from Boston to D.C. because the ticket was only $57 and the ride only took a little longer than the non-express train, clocking in at 9+ hours. We've traveled roundtrip from Boston to New York City by bus and would do it again, but that ride only takes 3 and 1/2- 4 and 1/2 hours, depending on traffic. That's a big difference compared to over 9 hours on a bus. On the train you can move around more and there's the dining car to escape to. If you're sitting next to someone you don't like on a bus, you might not have anywhere to escape! This is important to keep in mind when weighing the decision between a bus and a train.
But all major buses have free WiFi so you can also work or play on the bus. Wanderu is a great site to check out to view all the bus options between Boston and Washington, or anywhere else in the United States.
4) Car 
If you own a car and are traveling for leisure, driving is obviously a good option, especially if you want to do some day trips to beautiful sites like Mount Vernon. Renting a car could also be a good option, but it depends what your priorities are. If you're visiting D.C for several days primarily to see museums, the Capitol building and White House, you might want to leave the car at home. For carless city dwellers like us, be careful with rental quotes because insuring a car can cost double the great rate you found, and if you buy third party insurance you may not be covered for incidentals like loss of revenue for the rental car company while the car is being repaired.
The downside with driving, asides from D.C. having some of the worst traffic in the nation is parking fees. But if you do decide to drive you can stay outside the city at a cheaper rate, which would also offer free overnight parking. The distance from Boston to D.C. is 440 miles (708 km) and will take around 7 hours with minimal traffic and a sane driving speed- and you probably won't be able to get much work done either.
Which way do you prefer to travel in the northeast? Any additional tips to share? Please let us know in the comments.