Spring, summer and early fall are fantastic for experiencing an abundance of great activities in New England. A couple weeks ago we made our first visit to the Pioneer Valley of Western Massachusetts. Less than a two hour drive from Boston, Pioneer Valley impressed us with world class attractions like Six Flags New England and the Basketball Hall of Fame. It's also the birthplace of Dr. Seuss and Emily Dickinson! Here are great tips for visiting western Massachusetts!
Naismith Memorial Basketball Hall of Fame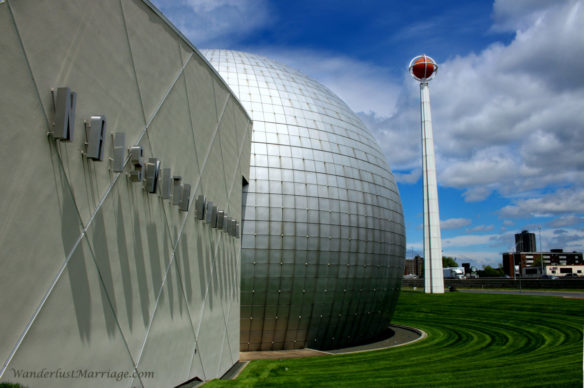 Avid sports fans should visit the Naismith Memorial Basketball Hall of Fame. The Hoop Hall is named after the founder of basketball, Dr. James Naismith, who created the sport in 1891. The hall features basketball memorabilia spanning more than a century, with fun and inspiring quotes scattered throughout. One great quote by legendary Indiana coach Bob Knight states:
"The will to win is grossly overrated. The will to prepare is far more important."
Last year we visited the Pro Football Hall of Fame in Canton, Ohio which is also special for sports fans. But we like that the Basketball Hall of Fame is more interactive than the Pro Football Hall of Fame. The exhibition hall features arcade style basketball machines included in the price of admission, and it's always fun to compete against others and even yourself. In the middle of the Basketball Hall of Fame is a regulation basketball court with racks of balls for visitors to shoot around. You can even practice shooting on every basket ever used in the game, including the original hoop, which was a peach basket. We both enjoyed shooting hoops and comparing our measurements to NBA stars!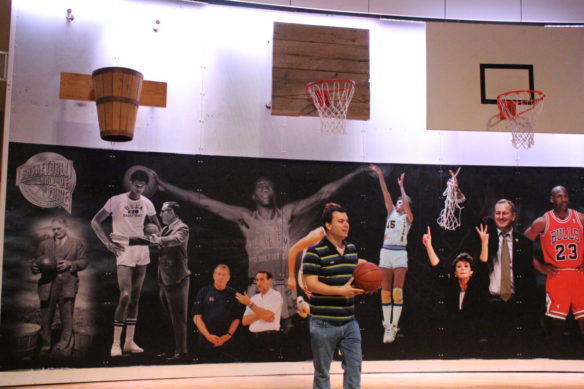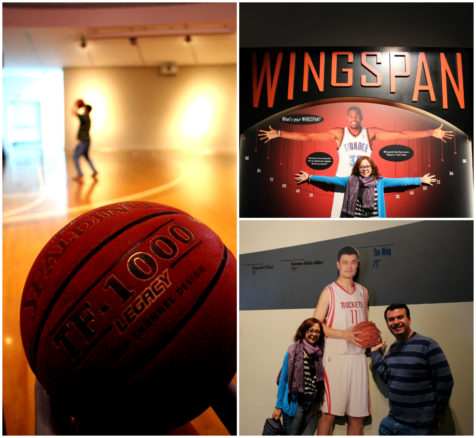 Six Flags New England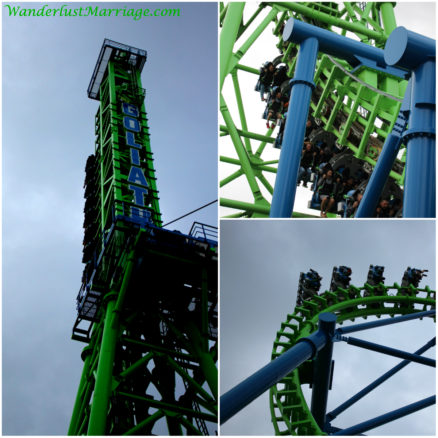 Six Flags Rollercoasters
Six Flags is famous for its roller coasters and thrill rides. Situated next to the picturesque Connecticut River, Six Flags New England dates back to the late 1800's and is the oldest park in the Six Flags franchise. The amusement park features 13 roller coasters and an entire water park, in addition to a wide variety of other attractions totalling over 60 rides.
Skyscreamer: World's Tallest Swing Ride
In 2014, Six Flags New England debuted the world's tallest swing ride, the Skyscreamer. The Skyscreamer towers over 400 feet in the air and offers fantastic views of Pioneer Valley for those brave enough to ride it…Neither of us could muster the courage, so we dare you!
Goliath: An Inverted Supercoaster
We enjoyed a variety of other rides, including the inverted super coaster, Goliath. Check your pulse, because if a 180 foot, 90 degree drop at 60 miles per hour, both forwards and backwards, doesn't get your heart racing, we don't know what will!
Looney Tunes Shows
We also enjoyed watching the Looney Tunes show and getting some photos with characters like Bugs Bunny and Daffy Duck. Yes, even without kids! Six Flags is a really fun time for couples as there's something for everyone here, including a carousel that dates back to 1909.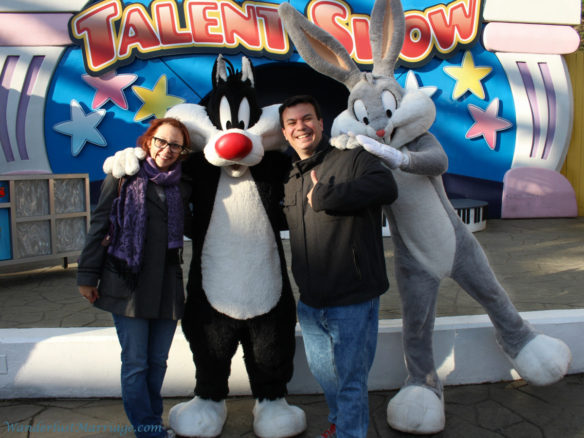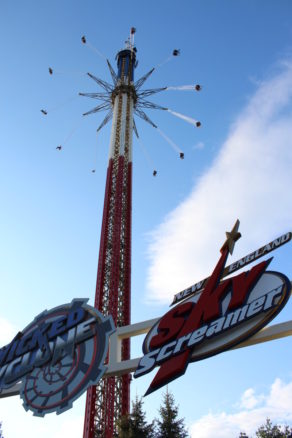 Springfield Museums: Four Museums in One Complex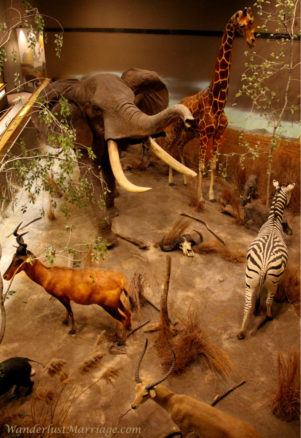 The Springfield Museums complex surprised us with its huge collection. Four museums are housed in one location- Art, History, Science and the new Dr. Seuss Sculpture Garden. Oh the places you will go here…We've never been on an African safari but the natural history wing *almost* made us feel like we were on one.
Dr Seuss was Born in Springfield!
Dr. Seuss was born in Springfield and the sculpture gallery is a fitting tribute to his life. Great works such as The Cat in the Hat and Green Eggs and Ham are depicted in beautiful outdoor sculptures. A fitting Dr. Seuss quote for the Springfield Museums complex is "the more that you read, the more things you will know. The more that you learn, the more places you'll go."
Part of the science wing of Springfield Museums is the Seymour Planetarium. The Seymour Planetarium is the oldest planetarium in the United States and you can view more than 7,000 stars there. That's a lot of places to go!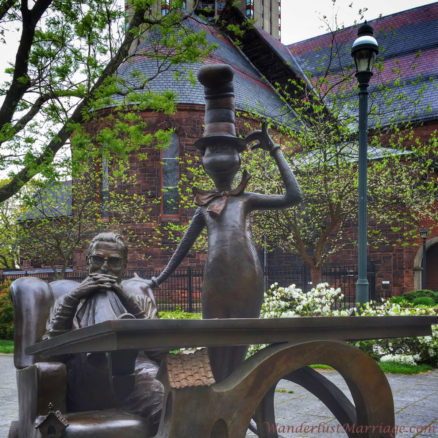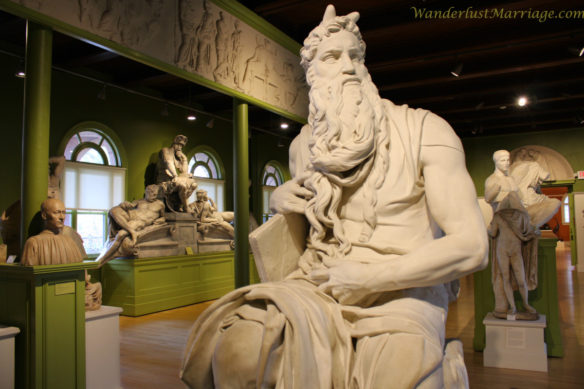 Forest Park in Springfield, Western Massachusetts
Western Massachusetts is dotted with picturesque rolling hills that are particularly amazing from spring and culminating with the dramatic colors of autumn foliage. We really enjoyed a visit to beautiful Forest Park in Springfield. This is the perfect place to take a picnic and enjoy the colourful flowers, lakes and birds. There's even a small zoo in this very large park.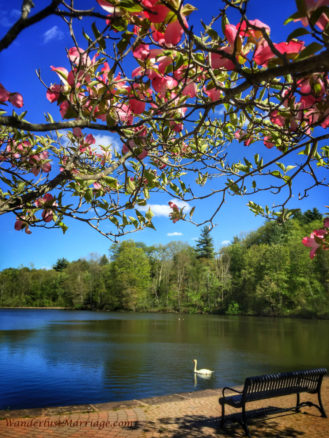 There's a lot of postcard worthy spots in Pioneer Valley and we look forward to returning to experience more of them. We loved the view of the valley from the Log Cabin-Delaney House in Holyoke.
More Reasons to Visit Western Massachusetts
Springfield Armory
The Springfield Armory was the nation's first armory. For almost 200 years, industry and the American military looked to the Springfield armory for innovative engineering in firearms. Now run by the National Park Service, the museum preserves and documents the USA's largest collection of military guns.
Norman Rockwell Museum
About 50 miles west of Springfield is the lovely town of Stockbridge. This is the former home of one of America's most iconic 20th-century artists, Norman Rockwell. Rockwell was a master at depicting ordinary American life in his Saturday Evening Post covers. Housed on a picturesque piece of land, the Norman Rockwell Museum features 574 original Rockwell pieces in addition to archives containing more than 100,000 artifacts relating to his life.
Eric Carle Museum of Picture Book Art
The Eric Carle Museum of Picture Book Art is devoted to picture books, particularly children books. Eric Carle had a spectacular 50-year career where he illustrated 70 books. The Eric Carle Museum of Picture Book Art is located 35 miles north of Springfield in Amherst.
Emily Dickinson Museum
Amherst is also home to the Emily Dickinson Museum. The Emily Dickinson Museum consists of two historic houses in the center of Amherst, Massachusetts. They're associated with the famed poet and members of her family during the nineteenth and early twentieth centuries.
The Homestead was the birthplace and home of Emily Dickinson. The Evergreens, next door, was home to her brother Austin, his wife Susan, and their three children.
Yankee Candle
Yankee Candle is one of the United State's most popular candle companies. The Yankee Candle store in South Deerfield, Massachusetts is one of two flagship locations, in addition to Williamsburg, Virginia. You can even make your own candles, in a year-round Christmas setting!
Where to Stay in the Pioneer Valley of Western Massachusetts
There's great accommodation to suit all budgets and preferences in Western Massachusetts, from charming bed and breakfasts to resorts. We stayed at the Hampton Inn Springfield South Enfield, in Connecticut, just a few miles south of Springfield. The property features an indoor pool, fitness center and 32-inch flat screen TV's in comfortable and spacious rooms.
We were guests of the Massachusetts Office of Travel and Tourism and the Explore Western Mass and thank them for providing us the opportunity to highlight this wonderful area of New England. However, all opinions and photos in this article are our own.