Budapest, Hungary is coined 'Spa City' as it is home to more medicinal thermal baths than any other capital city in the world. The impressive Hungarian capital rests atop 123 thermal springs. Roman settlers built the first spa baths, and the tradition continued through the Ottoman occupation. Budapest is home to 9 bath houses and an abundance of massage houses. Four of the most popular baths are Szechenyi, Rudas, Gellert and Kiraly. There are pros and cons to each of them, and which one you enjoy most will depend on your personal preferences. If you only have time to visit one Budapest spa, this article should help you pick which is best suited for you. Here are tips for visiting spas in Budapest!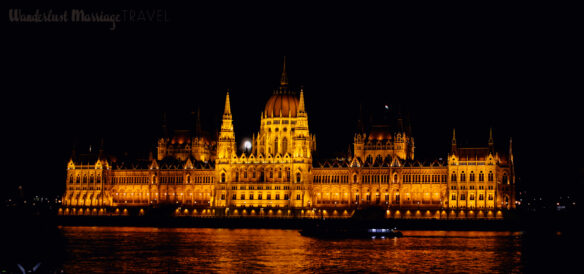 Topics included:
Which Spa in Budapest Should You Visit?
Bell and I have visited Budapest a few times together, and on separate visits dating back to 2002. The striking Hungarian capital is one of our favorite cities, in part because of its impressive and affordable wellness spas. We've enjoyed visiting Szechenyi, Rudas and Gellert baths and can recommend all of them for different reasons. Kiraly is currently closed for renovations. Budapest is a historic thermal town, and a designated Cultural Route of the Council of Europe.
Gellert Thermal Bath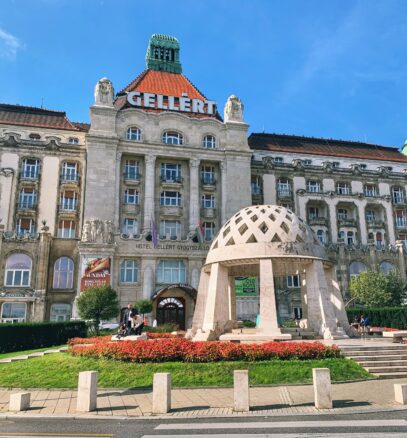 Situated along the Danube, Gellert Spa dates to 1918 and is attached to the Gellert Hotel. We visited beautiful Gellert Spa on our most recent trip, after our 8 day Danube Delight river cruise with Emerald Cruises. It is the most centrally located of Budapest's baths, just across the bridge from Central Market. It's only around a 10 minute walk from where the river cruises dock, meaning you can also conveniently visit the baths after exploring Budapest on a river cruise.
If you want to avoid crowds, visit Gellert Spa on a weekday when it's less busy. The admission price at Gellert is just slightly higher than Szechenyi, making it a little less popular with locals and therefore less crowded.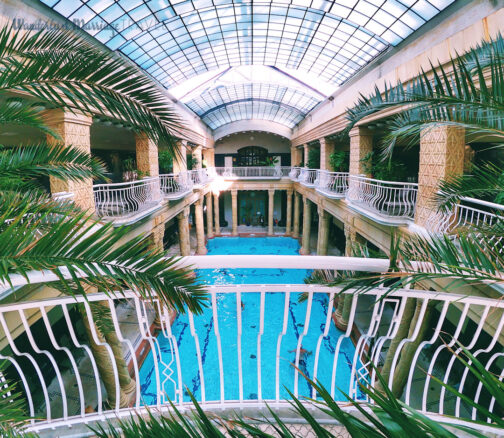 Gellert Spa also offers a private bath for couples or a group of friends. A 90 minute rental of the private bath includes a nice fruit bowl and a bottle of sparkling wine. This can be romantic treat for couples or fun for friends.
Gellert Thermal Baths are open daily from 9am -7pm.
Szechenyi Baths
Szechenyi Spa Baths are the largest and most famous baths in Budapest. The Neo-baroque palace was built specifically for hosting the Szechenyi Baths in 1913. There are 18 medicinal natural hot spring pools, 10 saunas/steam cabins, several massage therapies, facial treatments, and even a Thermal Beer Spa. There are two thermal beer spas where you can soak in tubs while enjoying frothy brews.
Szechenyi Spa Baths are one of the most popular attractions in Budapest. So they can be extremely crowded on weekends. If you want to avoid crowds, visiting on a weekday, or go to one of the other baths.
Admission to Szechenyi Baths costs 5,900 Hungarian Forints ($15 USD) on weekdays and 6,200 FT ($16 USD) on weekends. Szechenyi Baths are open daily from 7pm – 7am.
Rudas Thermal Bath
Rudas Thermal Bath is one of the oldest bath houses in Budapest, dating back over 450 years. The baths were built during the Ottoman Empire, when Turkish pashas reigned over the city. Rudas offers both traditional Turkish baths and a thermal wellness facilities.
The wellness spa at Rudas Thermal Baths are co-ed everyday. Bell and I recently visited and really enjoyed the facilities. We especially loved the rooftop thermal pool with spectacular views overlooking Budapest and the Danube River. Amenities include hot and cold thermal pools, saunas, a steam room (Hammam), sitting areas and an indoor Olympic sized pool (shower caps are required in the large pool). Rudas Bistro, which serves delicious cuisine overlooking Budapest, is attached to the wellness facilities.
Rudas Thermal Baths also offer traditional single sex Turkish style thermal baths on weekdays. The traditional thermal baths are open to all genders on weekends. Rudas offers the cheapest prices of the major baths on weekdays, but is more expensive than the others on weekends.
You can purchase a daily thermal ticket starting at 4,500 FT ($11 USD) on weekdays. But on the weekends, the price jumps to 6,900 FT ($17 USD). Daily tickets to all zones cost 6,500 FT ($16 USD) on weekdays and 8,500 FT ($21 USD) on weekends.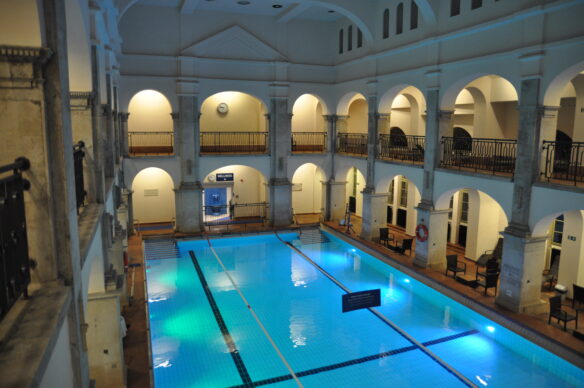 All day Monday, Wednesday, Thursday and until 12:45 Friday, Rudas is reserved for men only.
Tuesday the baths are only open for women. Friday from 1 pm, Saturday and Sunday are co-ed.
Co-ed times at Rudas requires visitors to wear swimsuits. But on the male and female only days, swimsuits are not a requirement. Loin clothes are optional. So keep this in mind if you plan on visiting! I've visited Rudas traditional bath on a male only day and with Bell on a co-ed weekend day. I prefer the co-ed day, but that's personal preference.
Rudas Baths are open daily from 8am – 8pm.
Items to Bring to the Spa
Hungarian baths are typically co-ed and require you to wear swimsuits. This is different from some countries in Europe, like the Netherlands, Germany and Finland, wear co-ed nude spas are common. So you either have to bring a swimsuit or buy one from the spa shop. Or you can visit Rudas on male or female only day, where you can opt to wear a loin cloth or go au natural.
Visitors are also required to have a towel and flip-flops. When we visited, we purchased one towel as a souvenir, and brought one towel from our Airbnb apartment rental. We had already purchased enough items for gifts, and didn't need a second towel.
Gellert Baths, attached to the Gellert Hotel, is especially strict on rules. They also require visitors to have a swimming cap in the main pool. We saw a couple people jump in the main pool without a swimming cap, and the employee watching them loudly blew their whistle! Follow the rules, so you don't get loudly whistled at.
Tips on Visiting the Baths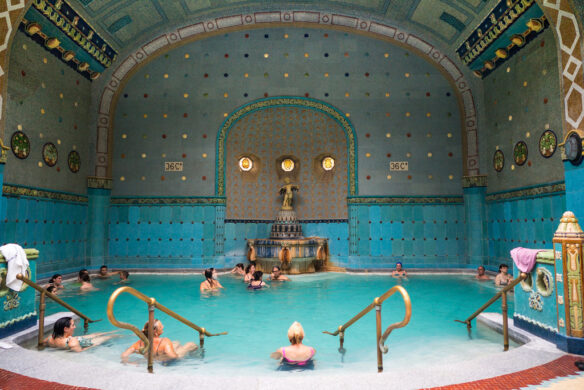 Most of the thermal spas in Budapest are heated to temperatures of around 34-42 celsius. That equates to around 93-107 degrees Fahrenheit. Depending on the temperature, signs are posted with recommended times that you should spend in the warm pools. Afterward, you can jump in one of the cold pools and then return to the warm thermal pool. Repeat that a few times. It's great for blood circulation and ailments like anxiety and insomnia. The baths are truly a relaxing and therapeutic experience.
Lunch and a drink at the Baths in Budapest
Time permitting, you should plan to spend several hours relaxing at the baths. Rudas Bistro, at Rudas Spa, has a great terrace with fantastic views overlooking Budapest and the Danube River. Their internationally inspired menu features dishes like spicy roasted lamb with tabouleh, rib-eye steak, salmon, Thai curry with shrimp and some Hungarian classics. I enjoyed a tasty risotto with porcini mushrooms and parmesan cheese there. The pappardelle pasta with venison casserole, that the table next to me were eating looked excellent.
Gellert Spa has a cafe where on a nice day you can enjoy the outdoor terrace over a beer, wine, coffee or soft drink. You can also enjoy a casual lunch like a Schnitzel sandwich or goulash soup. We visited on a warm enough day in early October where several groups of friends and couples were enjoying the outdoor deck over beers. The Schnitzel sandwich was not the greatest thing I ate in Budapest, but it hit the spot for enjoying the afternoon.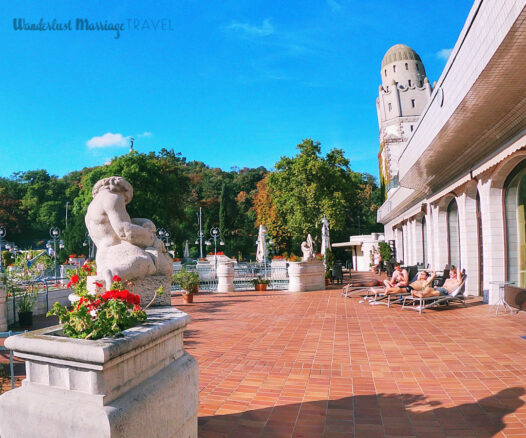 Massages at the Spas and Around Budapest
Massages are available at all the spas in Budapest. The cost for a massage at a Budapest spa is typically around 16,000 Forints for 30 minutes or 32,000 Forints for one hour. That translates to around $51 USD for 30 minutes or $102 for an hour. 20 minute massages are also available if you're short on time. Couples massages are also available around Budapest.
Thai Massages in Budapest
Thai massage salons are ubiquitous in Budapest. They generally offer quality massages for much lower prices than the bath houses. Bell and I chose to book a 90 minute couples at Kesorn Thai Massage. The total cost of that massage was around 25,000 FT, or around $80 USD. That's a significant savings over booking massages at the big spas. We visited Gellert Spa on a Friday afternoon and booked the Thai massage in the evening before a scrumptious Hungarian dinner. That was a great date day! Some Thai massage parlors offer great couples packages, so check a few of their websites and read reviews to find what you're specifically looking for.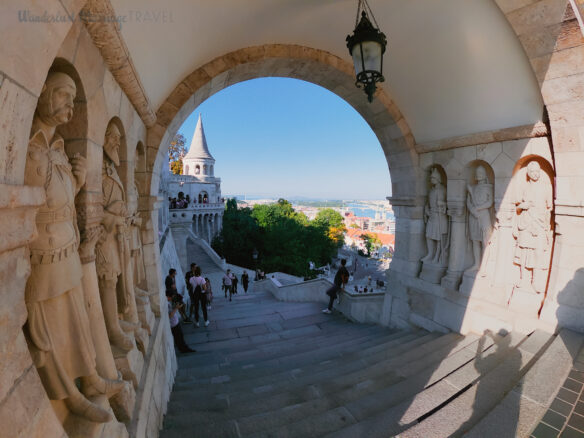 Where to Stay in Budapest?
We enjoyed a comfortable and chic stay at the Radisson Blu Beke Hotel, Budapest. It's centrally located, just 1,000 feet from the Nyugati Train Station and just 1,650 feet from Andrássy Avenue, dotted with boutique shops. All rooms are air-conditioned, and include Nespresso coffee machines, and large flat screen TV's with satellite cable. Well appointed bathrooms feature a spacious shower, plush towels, hairdryer and complimentary boutique toiletries.
We highly recommend staying at Radisson Blu Beke Hotel, Budapest because its comfortable, close to public transportation and walking distance from many of Budapest's attractions. We also enjoyed a great day trip to the charming town of Vac, Hungary from nearby Nyugati Train Station.
About the Writer and this Website
Alex Kallimanis is a UCF graduate who grew up in the Orlando, Florida area before living in destinations like Australia, the Netherlands, Ireland and east coast USA destinations like Boston, Washington, DC and the Tampa, Florida area. As a travel journalist and travel consultant, I enjoy assisting readers with getting amazing experiences and value from their trips. I've visited around 60 countries and counting.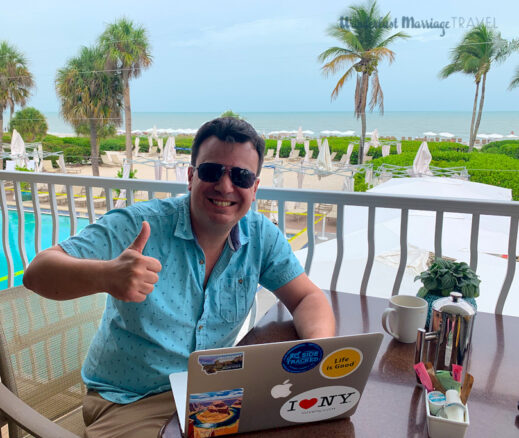 I'm also a Greek citizen that has made around 15 trips to Greece. If you enjoy taking spa trips, read my article on historic Greek spa towns. My wife of nearly 17 years, Bell, is an Australian scientist working in cancer research. We first met in a hostel in Brugge, Belgium while backpacking Europe solo after college. You can read more about this story in our about page if you're interested.
I encourage you to browse some of the other destinations we've covered for helpful tips. I also share advice in our resources page that could save you thousands on travel costs!
Disclosure: This article contains some affiliate links. We earn a small commission when you book through them at no extra cost to you. Thanks for supporting independent travel journalism during a very challenging time for the industry.