One thing that I've always wanted to witness in life is a day with no real night. That means no vampires right? And if you're in Stockholm, Sweden close to the summer solstice like we were, you'll never see the sky become dark. Stockholm is in the eastern part of the Central European Time zone so its official sunset isn't insanely late per se (around 10:20pm at summer solstice), but if you're looking to the north, this is the light you'll see from around 11:30pm-2:30am. At around 2:30am it starts getting lighter because sunrise begins at 3:30am. Rise and shine sleepy heads because there is 24 hours of light in Stockholm, Sweden.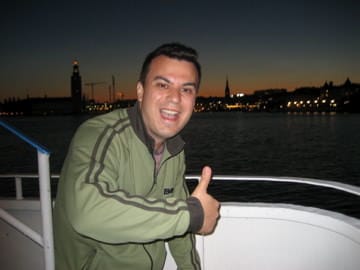 When we were in Stockholm we were there from July 2nd-4th, 11-13 days after summer solstice. You have at least a month total, 2 weeks before and 2 weeks after summer solstice to witness this unique event. If you are in Stockholm in summer be sure to bring your eye mask!
Stockholm is around the same latitude as Anchorage, Alaska, so if you're bothered by perpetual light at night, make sure there are good drapes where you are staying, or improvise like we did. On the boat we stayed on there was only one small window, but for god knows what reason, the curtain was just a white flimsy thing. So I took a black t-shirt of mine and hung it over the worthless curtain, which helped immensely.
Seeing light around the clock is a pretty surreal experience, and if you get the chance, we highly recommend checking it out somewhere in the world. Staying up and drinking on the deck of your small boat hotel, gazing out at beautiful and tranquil Stockholm, is highly recommended.
Like most cool things, the pictures don't it justice.