The Randstand, the name given to the most densely populated part of the Netherlands, is where most tourists traveling to the Netherlands spend their time. Of course, Amsterdam is usually top of the list and if they make it out of there perhaps it is to visit the rival city of Rotterdam or a short day trip to Den Haag (The Hague) to check out the international criminal court. The east of the Netherlands is less populated with locals and tourists and is peaceful to visit. Deventer and Zwolle are cute Dutch towns that make for good day trips from Amsterdam. The Western Frisian Islands are also less populated and make for a great weekend getaway!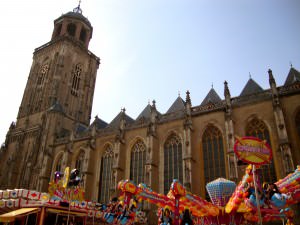 Deventer: Day Trip from Amsterdam
We took a day trip to the Dutch province of Overijssel and spent time in both Deventer and Zwolle. Often on day trips we would have some bread to feed ducks, so when we arrived in Deventer we found a canal, baby swans (cygnets if you want to be correct!) and of course ducks. One duck was handicapped. His foot was injured, but he was particularly keen to get the bread, so he jumped out and started catching the crumbs. He was such a clever duck! We randomly decided to call him Bert, and he made us feel very welcome in Deventer. We still wonder what Bert is up to these days.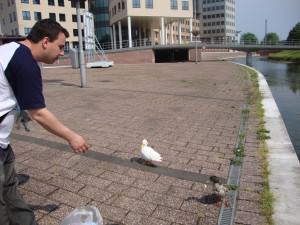 Deventer is about an hour and a half on the train from Amsterdam. Situated on the river IJssel, it was founded around 768. We ate sandwiches on the bank of the IJssel and walked around the medieval streets. We also visited De Waag, which is the Historical Museum for the area. Admission to De Waag costs 5 euros and it's closed Mondays. It's nice to look at, but don't rush out of your way to visit!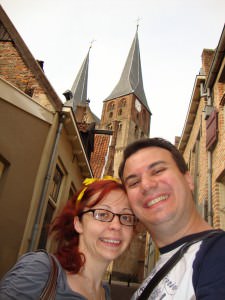 Zwolle
Next, we caught the train for about 20 minutes to Zwolle, by the time we arrived it was early evening, but in the Netherlands in summer this means you still have hours of light left. The tourist sights were closed, so we walked around the quiet town's canals, and enjoyed ice cream in the Grote Kerkplein (large church square) before the sunset. We then headed home to Amsterdam.
If you want to get there for the day, you can check times and prices here. The trains can be a little pricey, most Dutch citizens/residents have purchased a travel card that allows them and two others to travel at a discounted price. If you are at the train station you can ask people if they are traveling to the same location as you and if so, whether you can travel with them and obtain the 40% discounted price. The other option is to check a store called Kruidvat (one located near Rembrandtplein) which is a pharmacy/beauty store. Sometimes they have all day train passes for around 12 euros. These allow you to travel on the train anywhere in the Netherlands for the day.
Have other tips or suggestions for saving money on trains in Europe or any cute animal stories? Leave a comment below!