The closest Cyclades island to Athens' port of Rafina, Andros is the first stop on a ferry route that also connects Tinos and Mykonos. It is the second largest Cyclades island after Naxos, another Greek island especially popular with local tourists. Andros is a wonderful island to visit for breathtaking scenery and outdoor activities like swimming, hiking, sailing and rock climbing. Charming seaside restaurants offer delicious Greek cuisine, mouth watering sweets and pure local wine and spirits.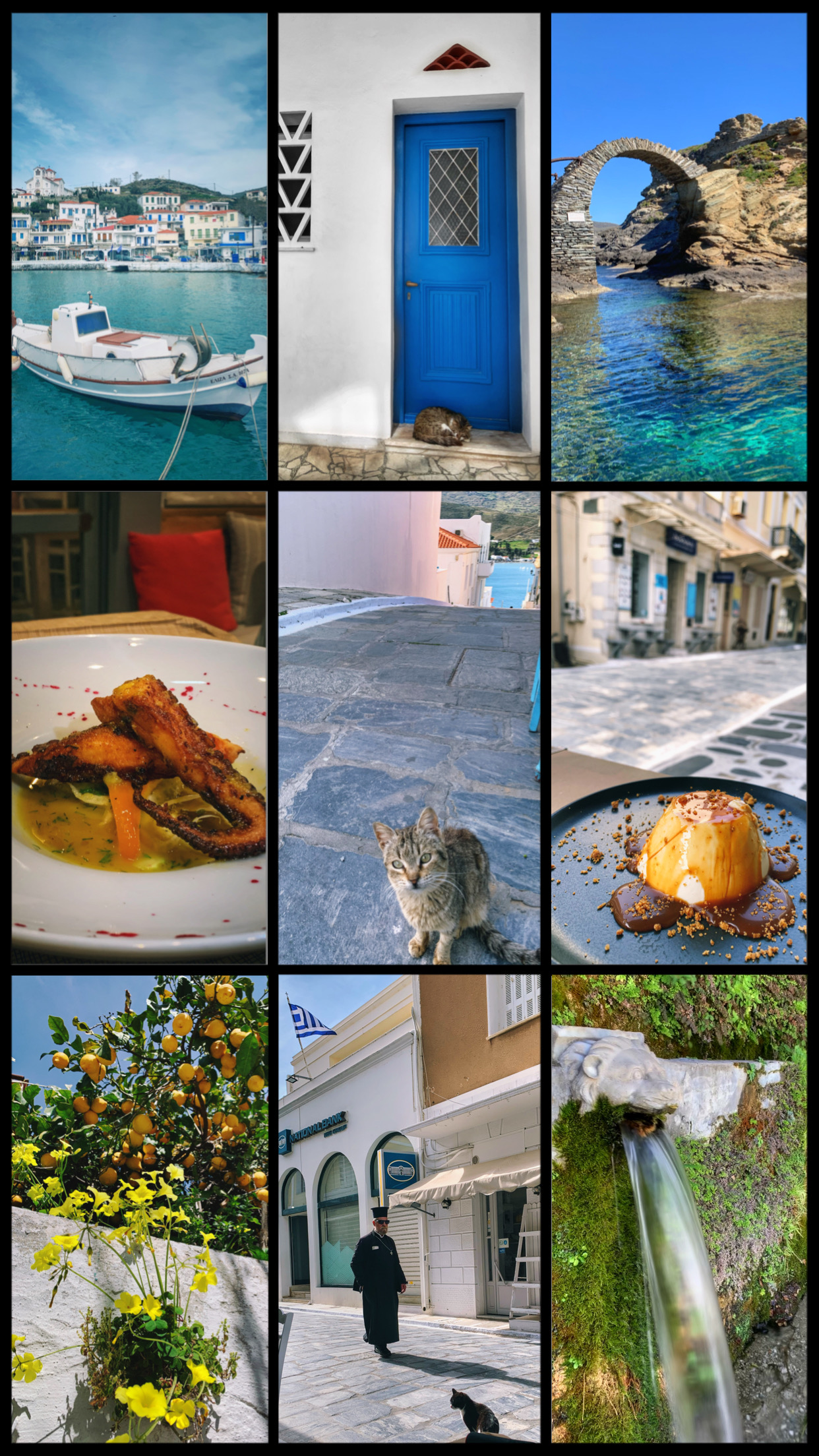 The majority of tourists in Andros are Greeks, but the island is set up well for international visitors. What this means for you is that it is a generally a more authentic Greek experience compared to islands like Mykonos and Santorini. When you sit down for a meal in Mykonos or Santorini, chances are you'll be sitting next to Americans and a variety of nationalities.
When you sit down to eat in Andros, you will most likely be dining among a majority of Greek patrons. Asides from having a more authentic Greek experience, you'll get better value for your money compared to Greece's two most expensive islands- which we also recently re-visited after traveling to Andros. Andros may cost less outside the busy summer season, but it doesn't skimp on beauty!
How to Reach Andros
Ferry to Andros
Andros does not have an airport. This contributes to its authenticity as there isn't a streamline of international flights arriving from London, Paris, Frankfurt, Stockholm, Tel Aviv and elsewhere. So there are far less international visitors to Andros compared to Greek islands like Santorini, Mykonos, Rhodes, Crete, Paros and even Naxos (an island our family loves). All those islands have international airports with direct flights from around Europe. That's great for package tourism, but if you're looking for an authentic Greek experience, Andros is a fantastic destination!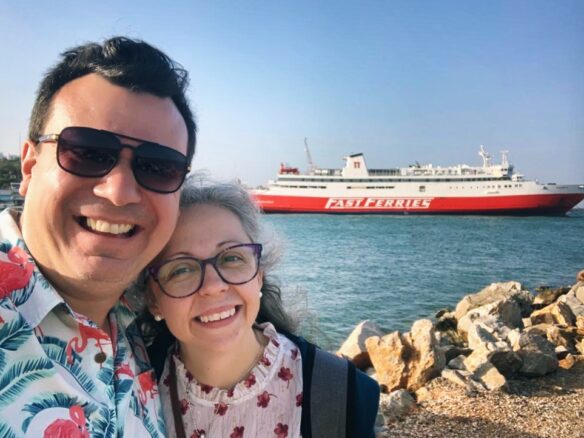 Visitors can catch the ferry to Andros from Athens' port of Rafina. Rafina is only 20 minutes from Athens International Airport. Rafina is significantly closer to Athens Airport than the busier port of Piraeus. Check the timetables on Ferry Scanner.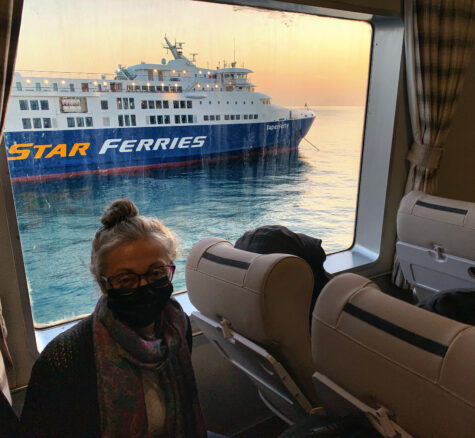 For scheduling reasons, if you need to stay a night in a Rafina, Avra Hotel is a great choice. Their comfortable rooms offer views of the Aegean Sea and town. They also offer free shuttle service from Athens International Airport. Avra Hotel is just a 5 minute walk to the Rafina ferry port. It's perfect if you have to catch a very early 7:30am ferry to Andros like we did.
Fly into Mykonos
Visitors can also reach Andros by ferry from Mykonos, which has an international airport. So you can also plan to fly directly to Mykonos, enjoy that island, then catch the ferry to Andros. You can then return home from either Mykonos or Athens Airport.
Combining Mykonos and Andros is ideal for those that want a mix of Greek island experiences. Mykonos is a party island, with some iconic spots like "Little Venice." The tall and rugged mountains of Andros arguably offer more dramatic natural beauty compared to Mykonos, which is flatter. Andros nightlife is also quieter compared to Mykonos, so its ideal for families and couples looking to relax.
Fly into Athens
Combine Athens and Andros for an authentic Greek city and island experience. Athens is fantastic for a city getaway, offering exquisite dining, nightlife, beaches and thousands of years of history. Read our tips for visiting Athens, if you plan to also visit Greece's dynamic capital.
Where to Stay in Andros with Sea Views?
We stayed at Hotel Perrakis in Kypri. The seaside views from the balconies of this small family resort hotel are gorgeous. Their friendly staff, including Rena, who is Greek-American, make guests feel very comfortable. All 44 of their rooms overlook the Aegean Sea, offering the perfect setting for couples to relax while watching the sunset. Guests can also unwind by their scenic pool, over drinks from the Pool Bar. Hotel Perrakis' on-site restaurant, Cyclades Restaurant, also offers room service.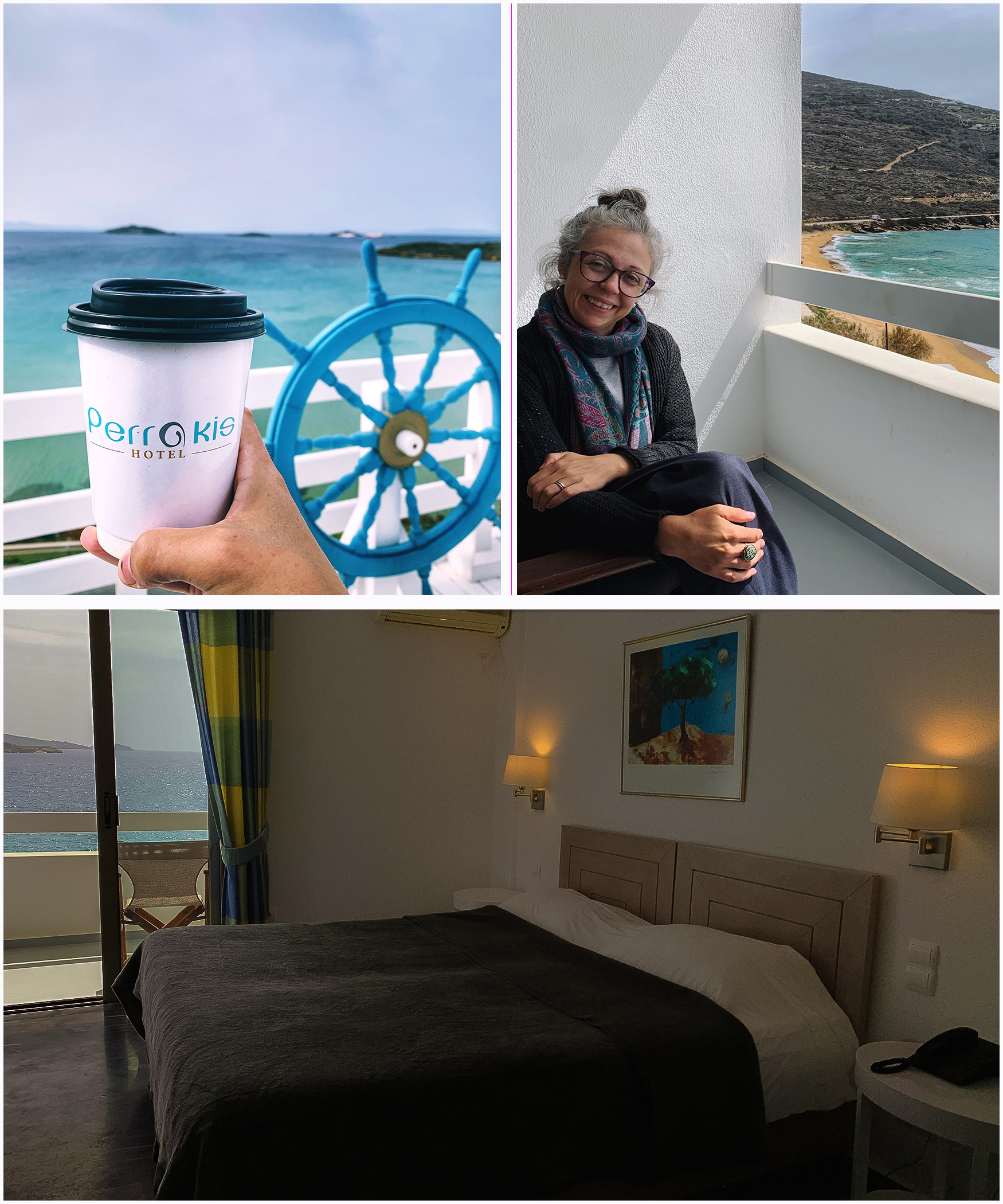 Kypri is a good choice to stay because it's a short drive from the ferry port of Gavrio as well as the village Batsi. That means you have a choice of many restaurants within a short drive. If you stay for a while, we highly recommend having a meal at Hot Spot Pizza Bar. Their pizzas and salads are delicious, paired with warm service, reasonable prices and seaside views.
Who is Andros For?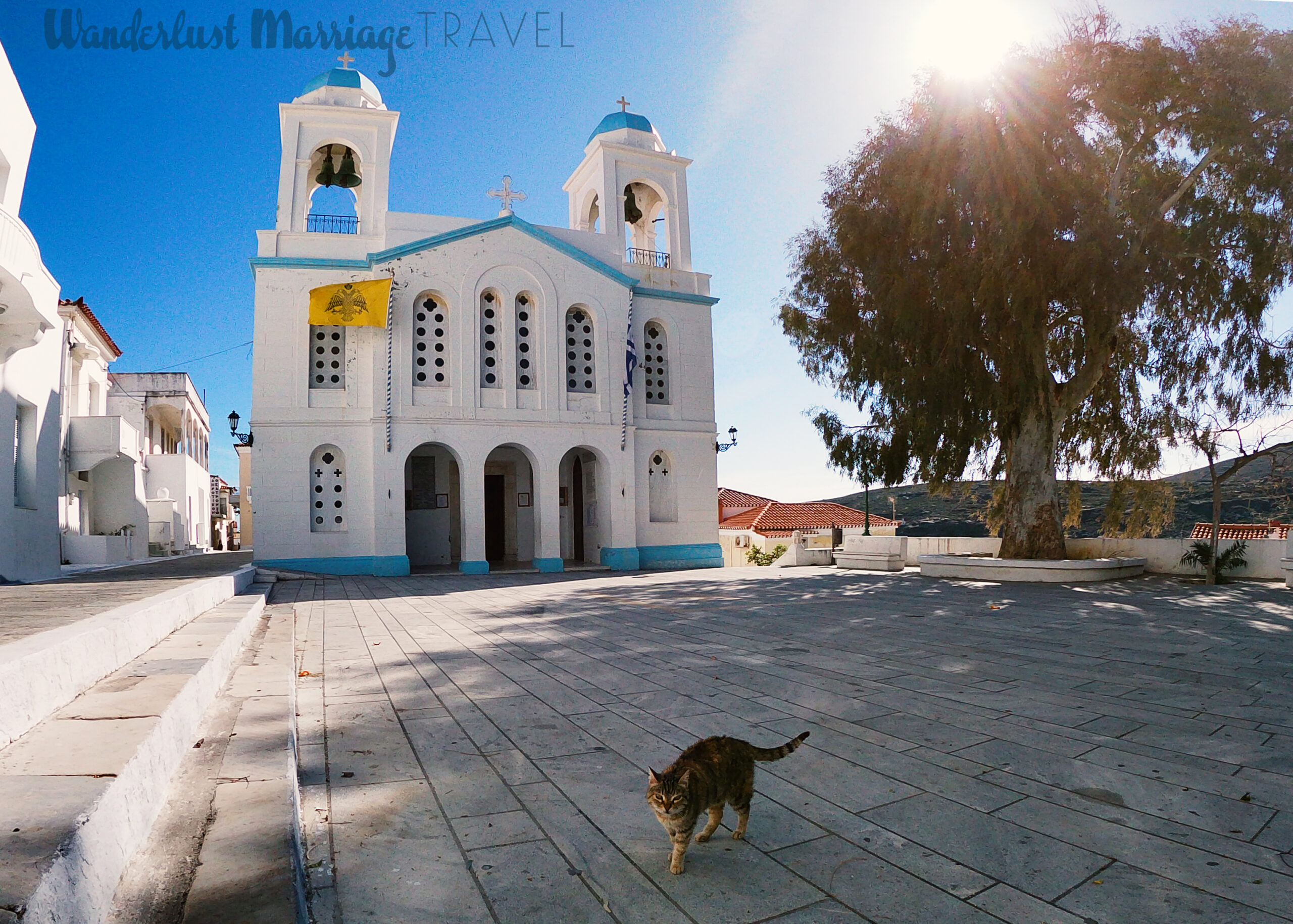 Andros is well worth it for couples and families that want a vacation or adventure away from huge throngs of international tourists. It's also handy for Greek island hopping, given visitors can easily continue on to nearby Tinos and Mykonos. And from Mykonos, you can change ferry lines to travel to a variety of other beautiful islands, including Naxos, Paros, Syros, Ios, Milos, Santorini and many more. Greece has 227 inhabited islands!
A great Greek island hopping honeymoon itinerary can include Andros and a variety of other islands, depending on your interests. If you want to avoid throngs of fellow international tourists, combine Andros with Tinos. If you want a mix of local and international, combine Andros with Paros, Naxos, Milos or Santorini. Visitors can easily relax on Andros for a week and have plenty to do across the island.
Who is Andros Not For?
Andros is not a party island like Mykonos, Ios, Zakythnos and some others. So if you're looking to go clubbing until 4am, you'll be disappointed with Andros. But if you want to detox a little after partying in Mykonos, Andros is an ideal destination for that.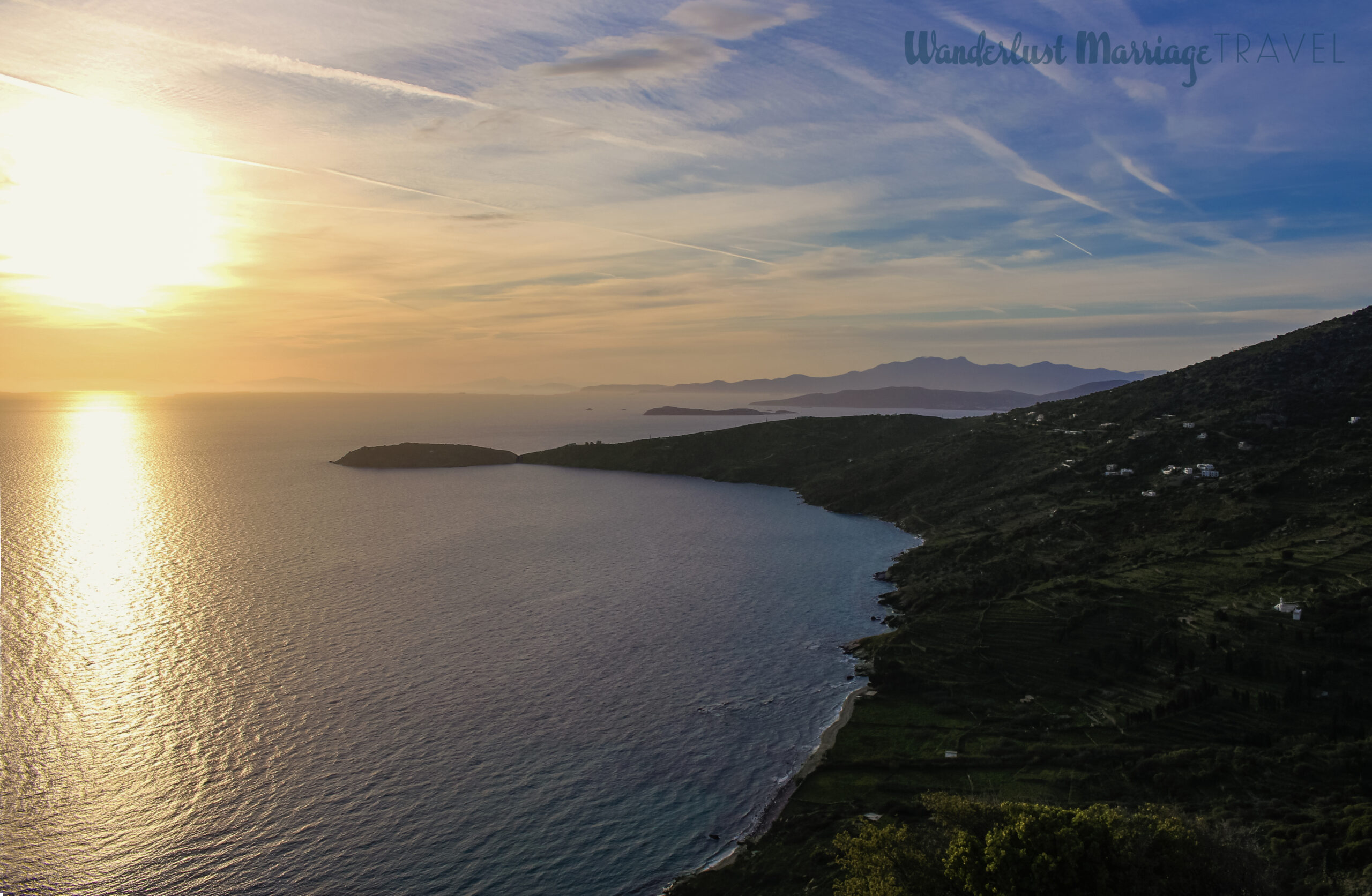 Gavrio – the Port of Andros that will be your Introduction to the Island
Gavrio is the main port of the Andros, located 30 km from the capital of Andros Chora. Ferry companies like Fast Ferries arrive here. You can choose to pick up a rental car there. You can also arrange a private pick up at the port through the accommodation you book.
Gavrio has a lot of restaurants and cafes near the ferry port. So there are several nice spots to enjoy a cappuccino or Freddo Espresso in town. If you want a quick lunch, you can grab a gyro pita or some kalamaki (meat skewers).
Where to Eat in Gavrio
A great restaurant to eat in Gavrio is Karavostasi Taverna. The Saturday night we dined there was bustling with local tables. A couple tasty dishes we enjoyed were the octopus cooked in orange sauce and fisherman's spaghetti – topped with shrimp, mussels and calamari. There was a child's birthday party and we were fortunate to see the children showcase some impressive Greek dancing over lively Greek music.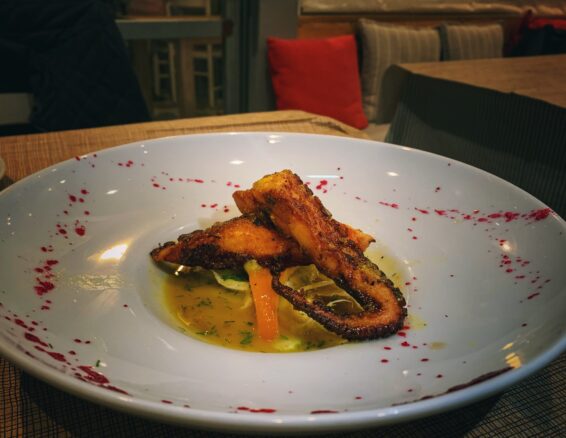 Renting a Car in Andros
Andros is an incredibly scenic destination to explore by car. Its coastal and interior drives are dramatically beautiful. We were truly awe-struck as we winded along the Aegean Sea and explored lovely villages and towns throughout the island.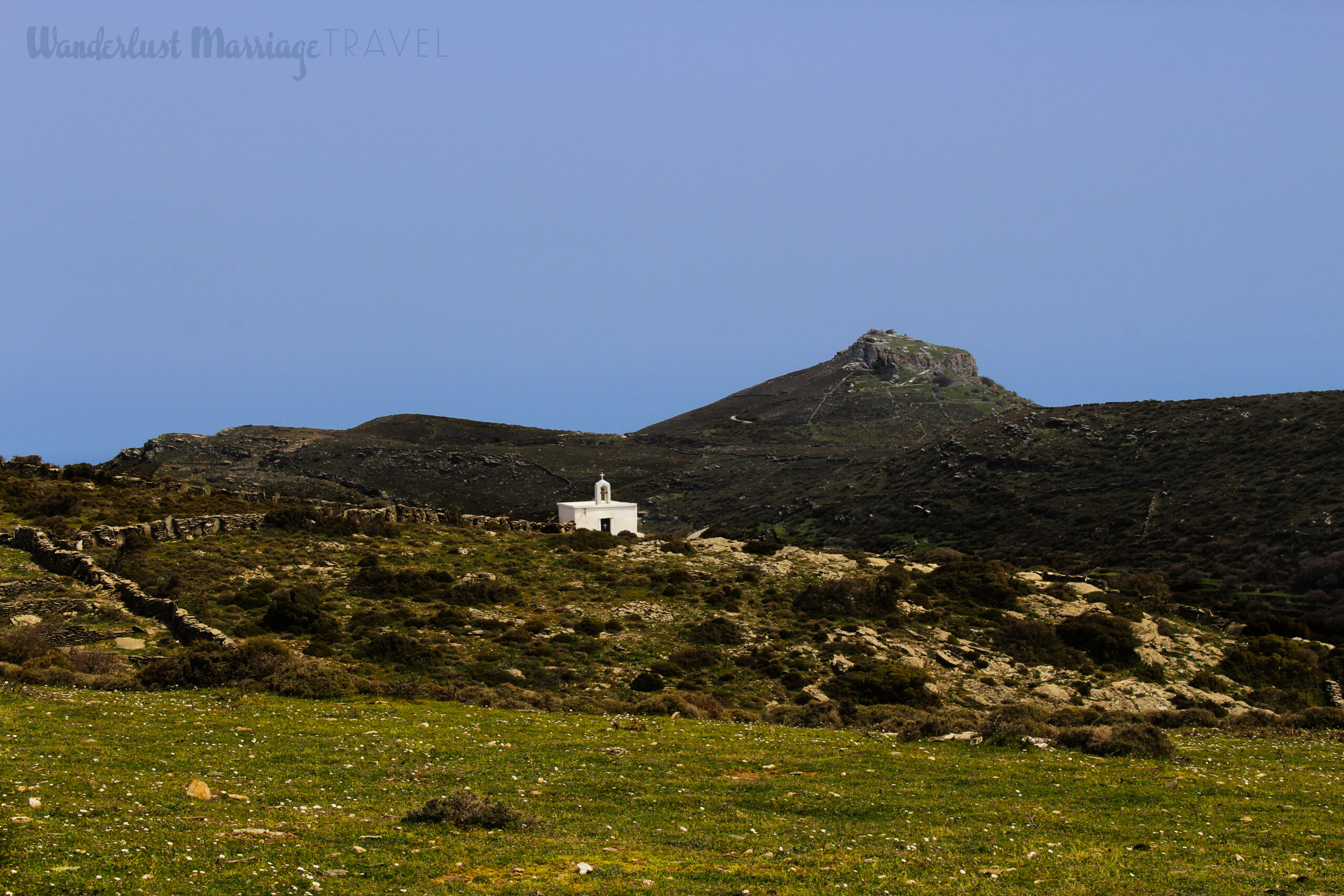 We picked up a manual shift car from Avance car rental in Gavrio, which we had for the duration of our 4 days in Andros.
Some visitors choose to book a car rental for a portion of their stay on the island, which is also a good option – particularly if you choose to stay in Batsi or Andros Chora. If you base yourself in one of those towns, you can enjoy 2-3 days without a car, and 2-3 days exploring the island with a car.
The roads in Andros are often quite narrow and winding. So stick to the main roads if you're not used to driving in Europe. Most rental cars have manual gears, but you can also book an automatic vehicle (just check ahead with rental car companies on the island if you require an automatic vehicle).
What's the Best Time of Year to Visit Andros?
May and September are probably the two best months to visit Andros. In July and August, the island is busy with Greek tourists since many companies in Athens close for an entire month in summer. This forces many Greeks, as well as others, to take their vacations simultaneously.
So if you visit Andros in July or August, hotel prices will be at least double compared to less busy months. These months also mean restaurants and cafes will be more crowded. Alternatively, visitors will experience a more relaxed pace outside the busiest months.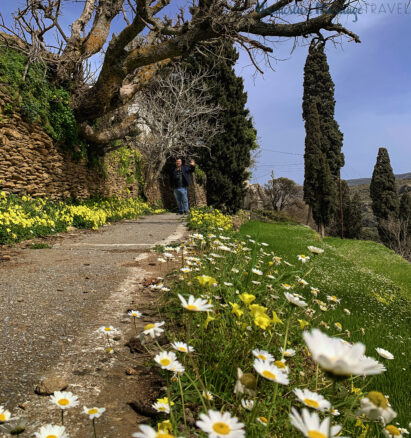 If you enjoy hiking then May and September will make for more enjoyable hikes as Andros has 300km (186 miles) of trails for all levels. In Spring you can enjoy identifying all the beautiful wildflowers!
Andros Chora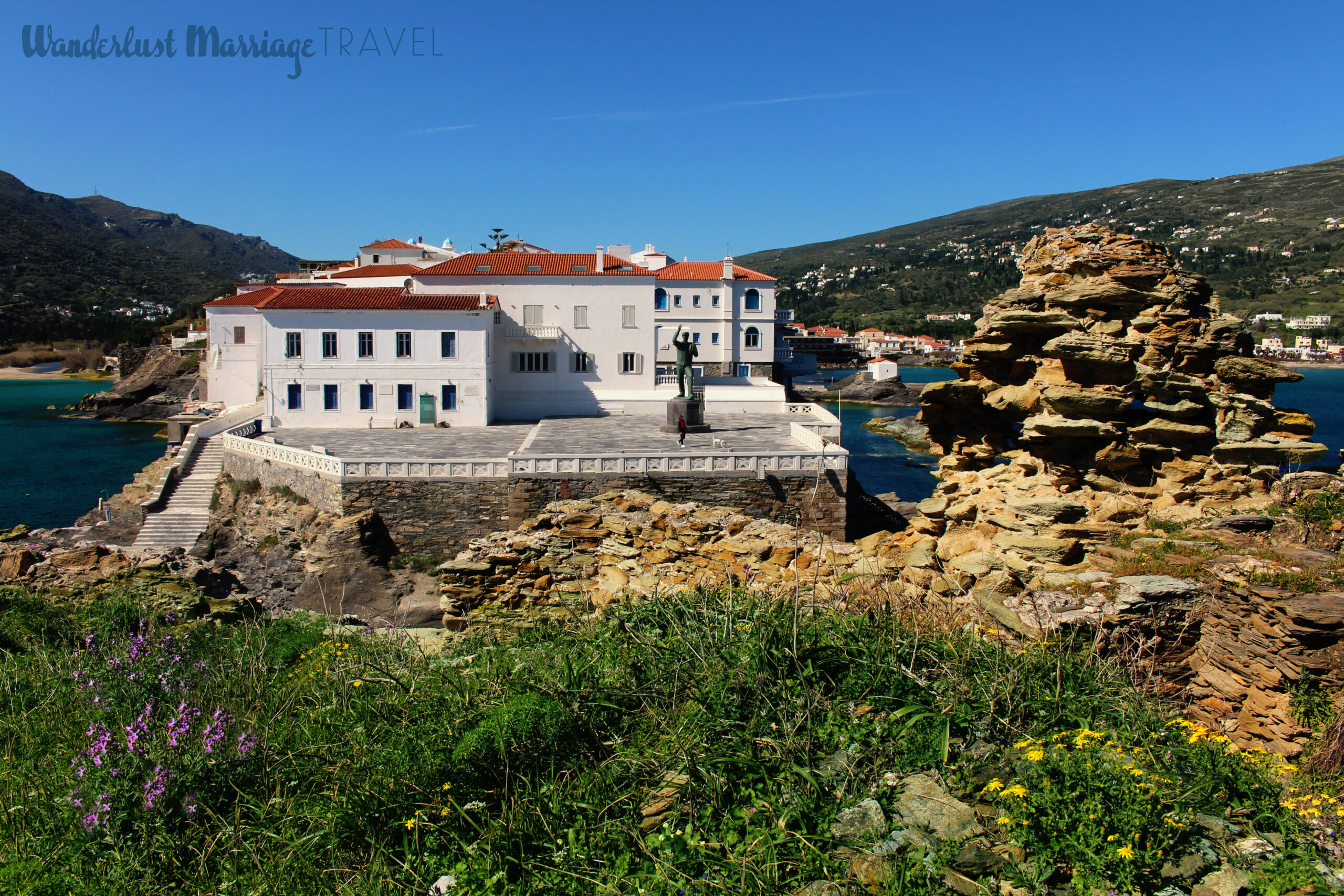 Andros Chora is the capital of Andros. Its neoclassical architecture makes it one of the most charming towns in the Greek islands. Stroll its Pedestrian Street, lined with great restaurants, cafes, boutique shops and delicious patisseries.
What to See in and Around Andros Chora
Climb over the old Venetian Bridge for Sweeping Views of Tourlitis Lighthouse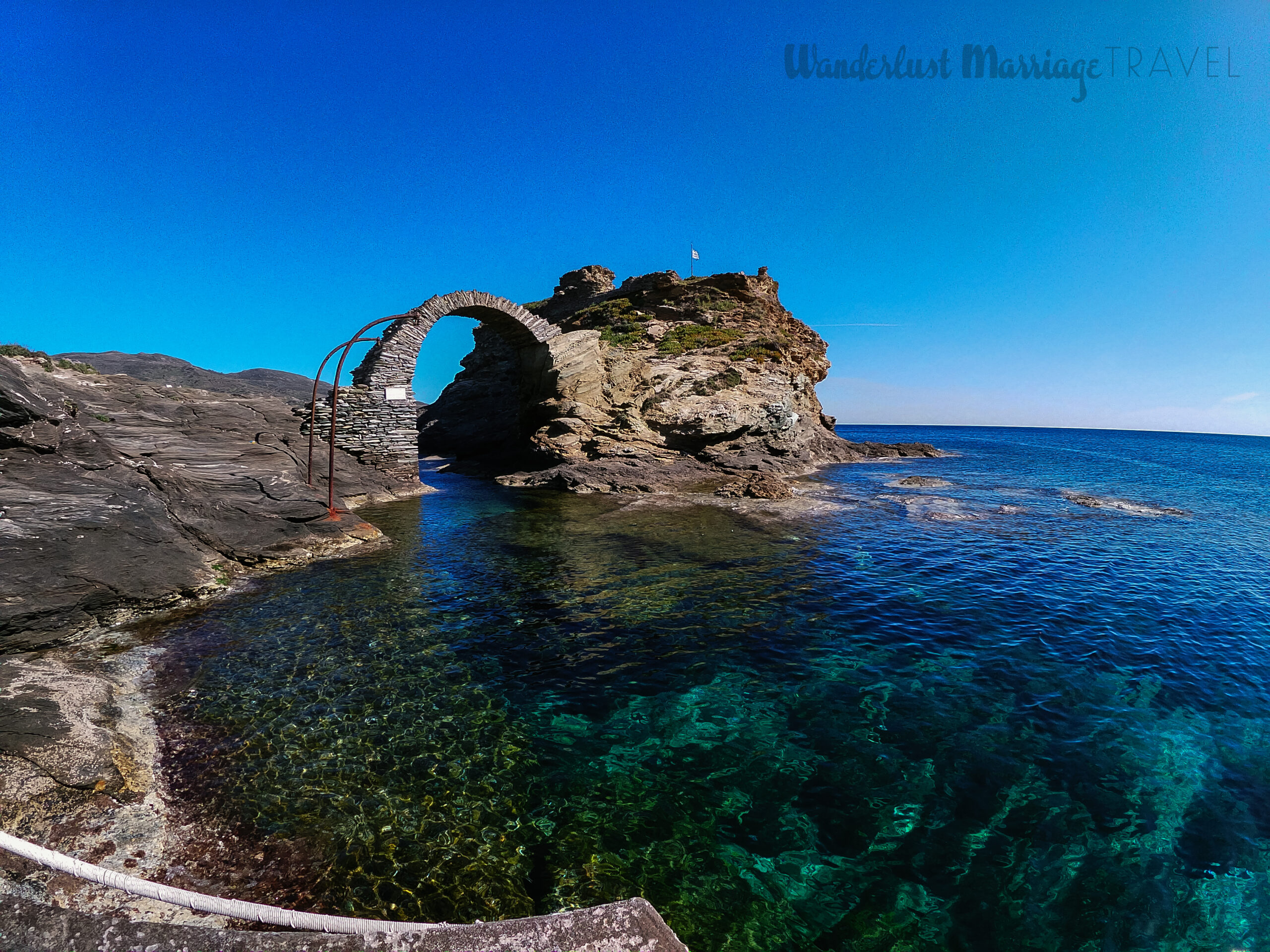 Tourlitis Lighthouse was built in 1897 atop a tiny rock island. It's a whimsical lighthouse with winding stairs winding up to the base of the tower. Climb the old Venetian bridge, part of a Venetian Castle that was bombed during World War II. The sweeping views of Andros Chora and Tourlitis Lighthouse from the small island over the Venetian Bridge are fantastic.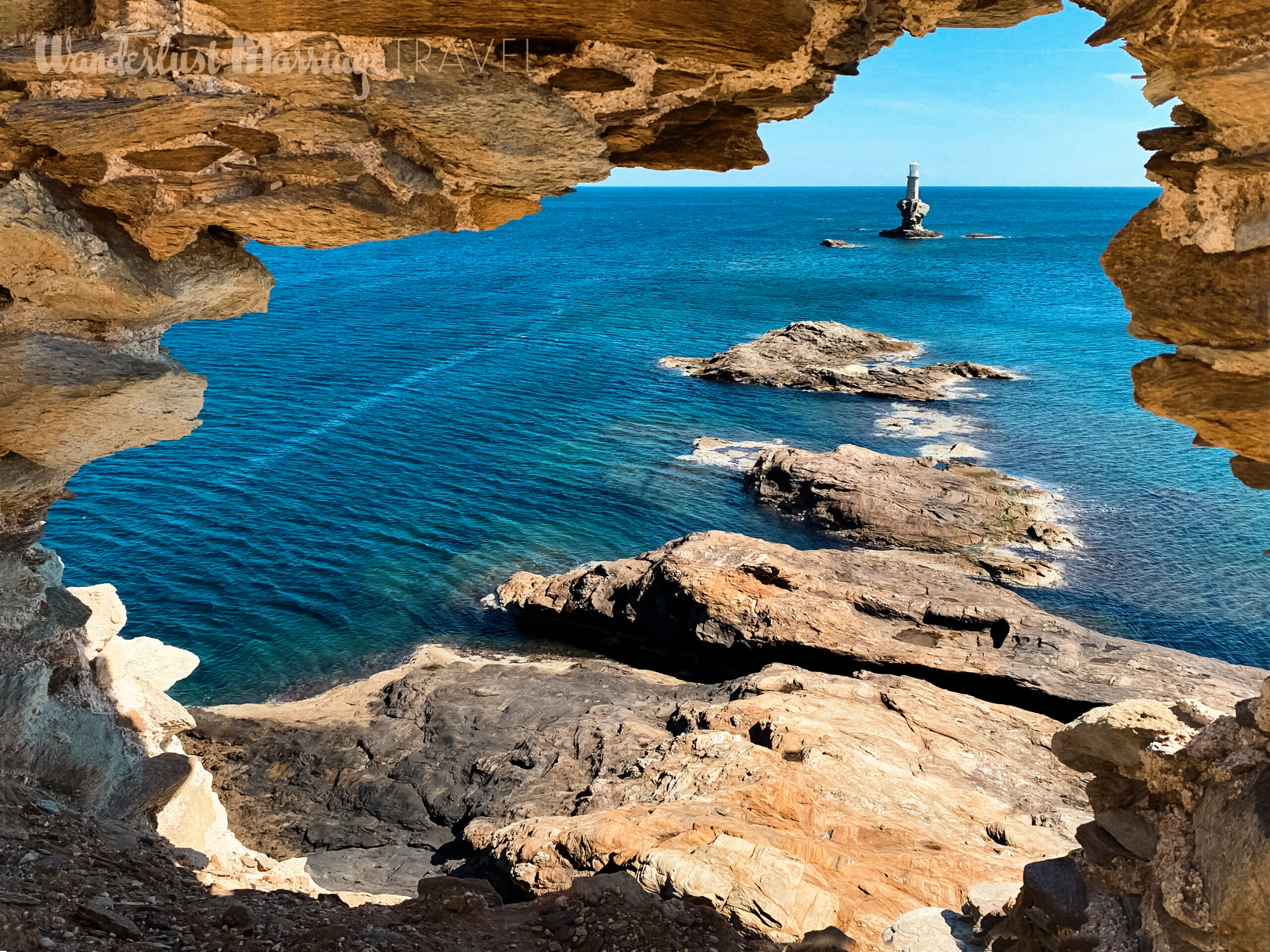 Pithara Waterfalls
Andros is popular with hikers thanks to a variety of well-marked paths along its picturesque mountains. One of the most popular hikes is Pithara Waterfalls. The waterfalls are located a few kilometers uphill, just outside Andros Chora. The best way to reach them from Chora is by car, then it is a short relatively flat hike. We visited them on an organized tour with Explore Andros, in a comfortable Mercedes van.
Stenies
Stenies is adjacent to Andros Chora. The town slopes along the mountain and is dotted with neoclassical mansions and impressive architecture. This charming village is where many ship captains and wealthy sea merchants have chosen to build their homes. The homes are a little reminiscent of impressive villas in picturesque Tuscany.
Episkopeio
Wander around the pedestrian village of Episkopeio and make your way to the so-called Bridge of Love. Make sure to follow the arrows! We had this lush green oasis to ourselves when we visited. It reminded us of places in Ireland, like the medieval settlement of Glendalough, just outside Dublin. We previously resided in Dublin for over two years and appreciated that several places in Andros reminded us of Ireland!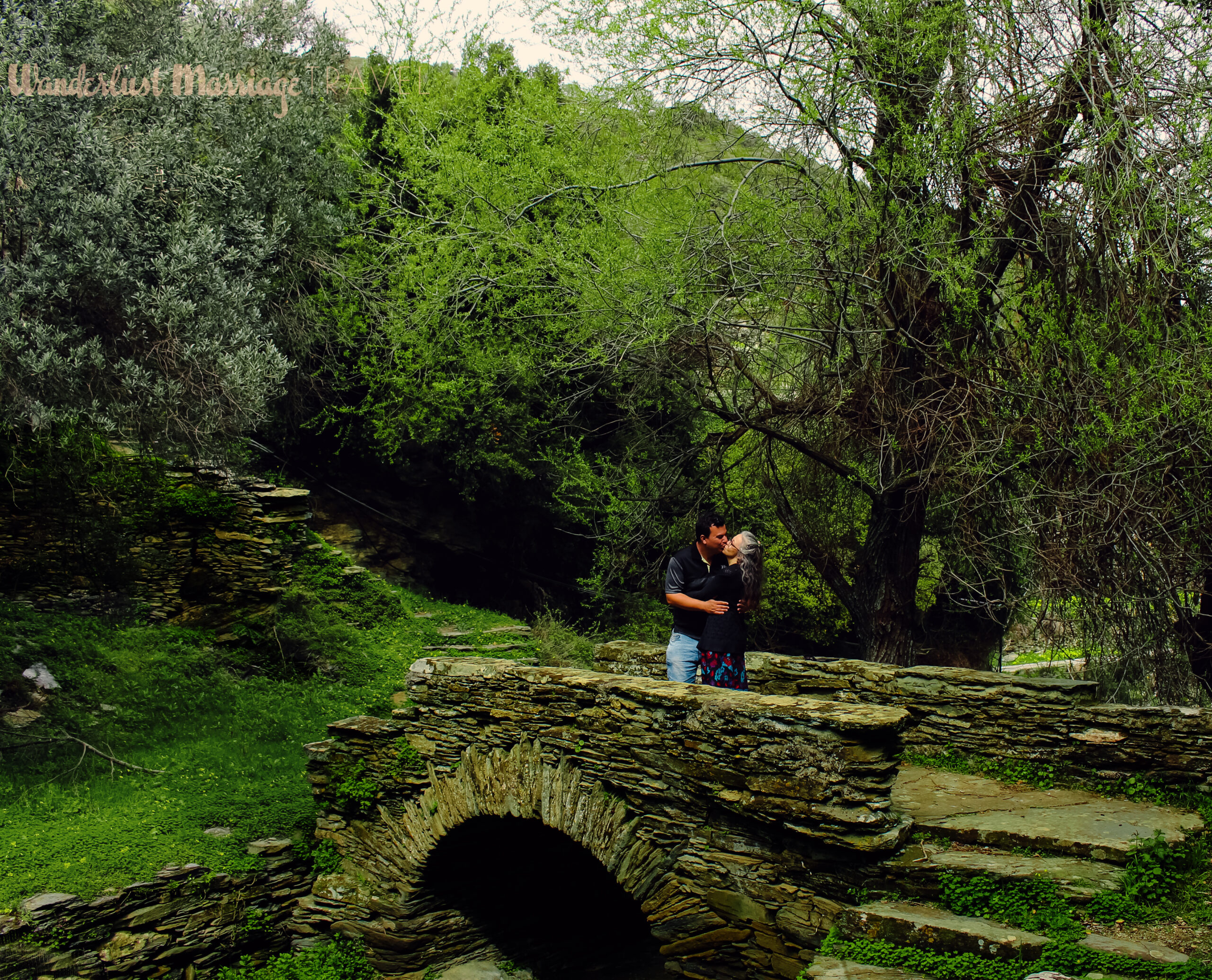 Archeological Museum of Andros
The Archeological Museum of Andros opened in 1981. It was designed by Greek-American architect Stamos Papadakis. Exhibits offer glimpses of life on Andros from Neolithic through Byzantine times. Highlights include Hermes of Andros, headless Kouros and the torso of Artemis.
Andros Chora Restaurants
Endochora
Endochora is a wonderful restaurant on the Pedestrian Street of Andros Chora. We loved sitting outside along Andros' Pedestrian Street. Their dining room is also lovely and perfect for a romantic couples or family dinner.
We loved the lamb, village pasta and flan we ate there. Endochora is a great spot mouth-watering traditional and modern Greek dishes. Enjoy tasty local wine or try tsipouro (raki) – a ubiquitous Greek spirit, which is basically ouzo without anise.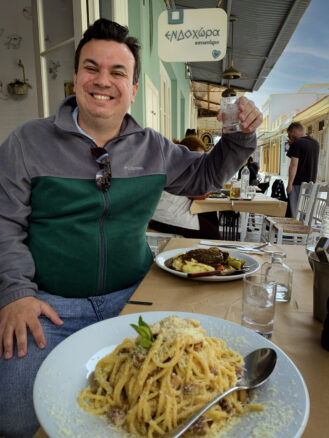 Endochora address: Empeirikos str, Andros 845 00. Telephone number: +30 2282 023207
Fresco Juice & Salad Bar
Fresco Juice & Salad Bar is great for delicious fresh-made juices, wraps, sandwiches and coffees. They have a huge selection of fruits to blend smoothies made to order. This is a good spot for a quick, inexpensive and healthy lunch like a salmon wrap or sliced bananas and almond butter atop bread. We also enjoyed their espresso-based coffees like cappuccinos and espresso freddo (layered iced coffee ubiquitous throughout Greece).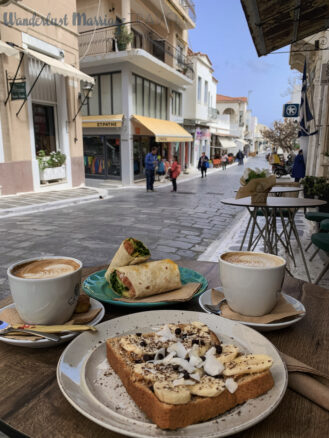 Fresco Juice Bar Address: Pedestrian Street, Andros 845 00. Telephone number: +30 698 983 1128
Zairis Patisserie
Zairis Patisserie was founded in 1961 after its co-founder had previously worked in Galanos Pastry Shop in Andros Town. This fantastic pastry shop is wonderful for traditional Greek pastries, modern Greek sweets, chocolates and homemade ice cream. We really enjoyed unique ice cream flavors like mastic, a popular Greek flavor traditionally from the island of Chios. But be careful because it will leave all other ice cream you've previously eaten in the past in the dust and you will crave more!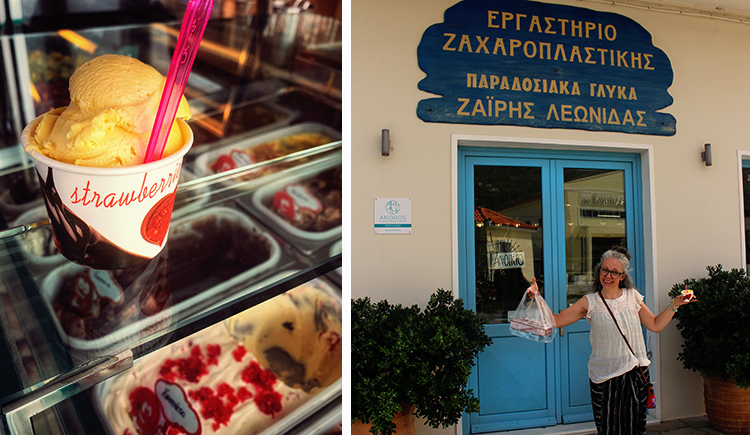 Zairis uses high-quality local ingredients in their products like fresh butter, milk and nuts. They import fantastic Callebaut chocolate from Belgium. It's the perfect shop to pick up delicious gifts to take home, like a box of amigdalota (almond sweets with powdered sugar) or kalsounia (sweets stuffed with walnuts, pine nuts, thyme honey, fine handmade phyllo pastry, rose water and icing sugar). You can also pick up a jar of delicious spoon sweets – fruit preserves popular throughout Greece since Byzantine times.
Zairis Address:
Phone: +30 22820 22926
Email:[email protected]
Batsi
Batsi is a relaxed seaside village built along a sloping mountain. It has tiny laneways typical of other Cyclades island towns like Mykonos, Tinos, Naxos and Paros. Its marina is lined with authentic Greek restaurants and cafes. Batsi, along with Andros Chora are the two most popular towns to base yourself during a visit.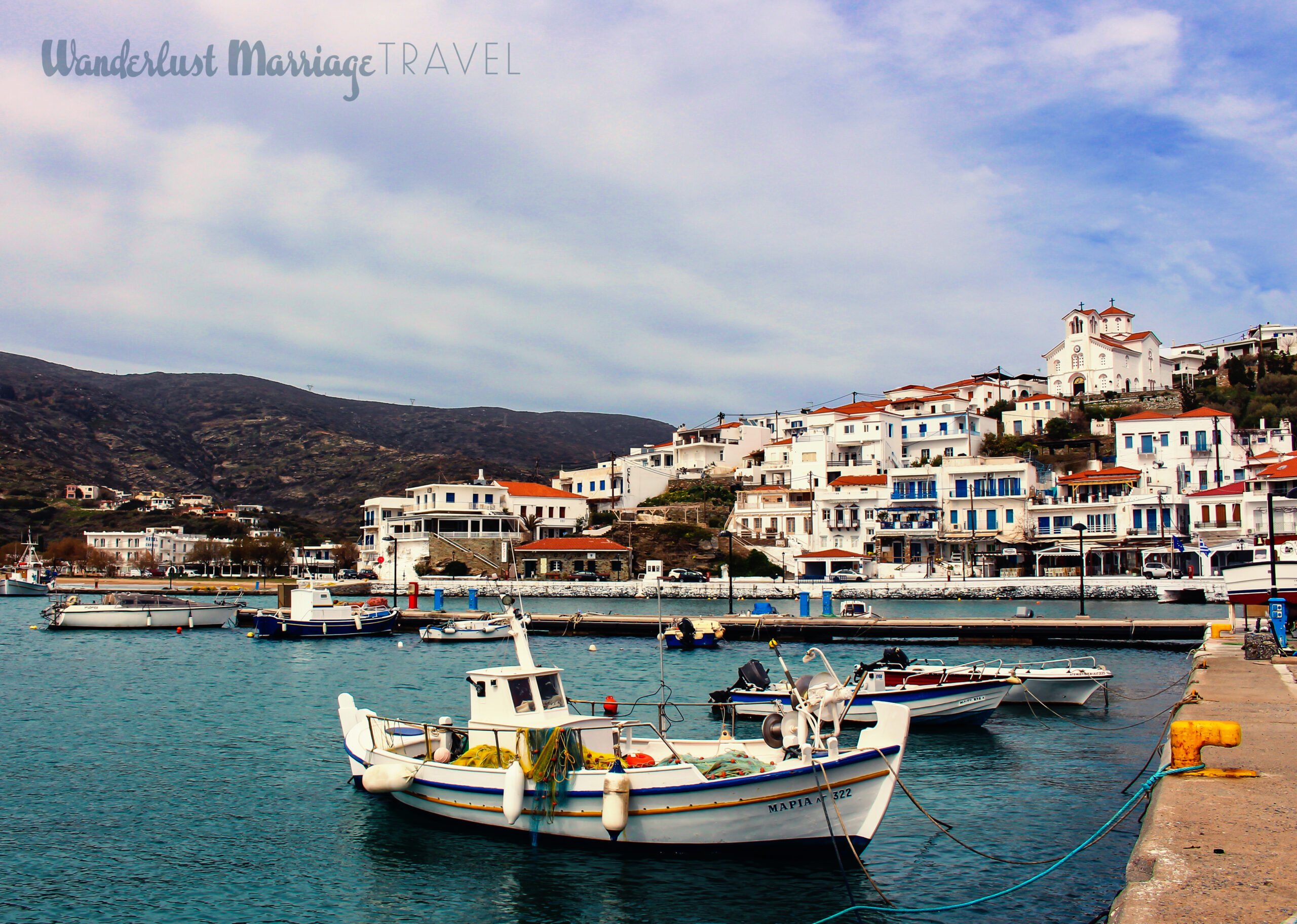 Batsi Beach is a nice spot to lounge and swim in the sea. A nice choice of authentic tavernas and cafes offer a variety of delicious and authentic eats. We enjoyed one of the best omelets we've ever eaten along the marina, made with farm fresh eggs, fresh vegetables and topped with a generous portion of creamy feta cheese.
Where to Eat in Batsi
A great restaurant to eat in Andros is Stamatis Taverna. The family-run tavern has been in operation since 1965, and was previously a lemon orchard. We enjoyed the lovely views of Batsi's marina along with a great selection of traditional and modern Greek dishes.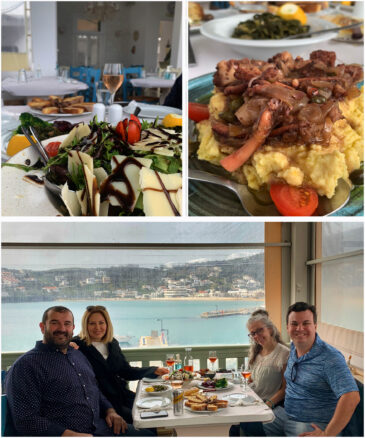 We were fortunate to dine with the Deputy Mayor of Andros, Mr. Nikos Moustakas and his wife, Chris, while at Stamatis Taverna. We especially loved their saganaki (fried cheese encased in filo pastry and drizzled with honey), local wine, fresh salad and fresh fish. This is an ideal place to enjoy a feast!
Stamatis Tavern address: Batsi Town. Stamatis Tavern phone number: +30 2282 041283
Swimming Beaches: Andros Island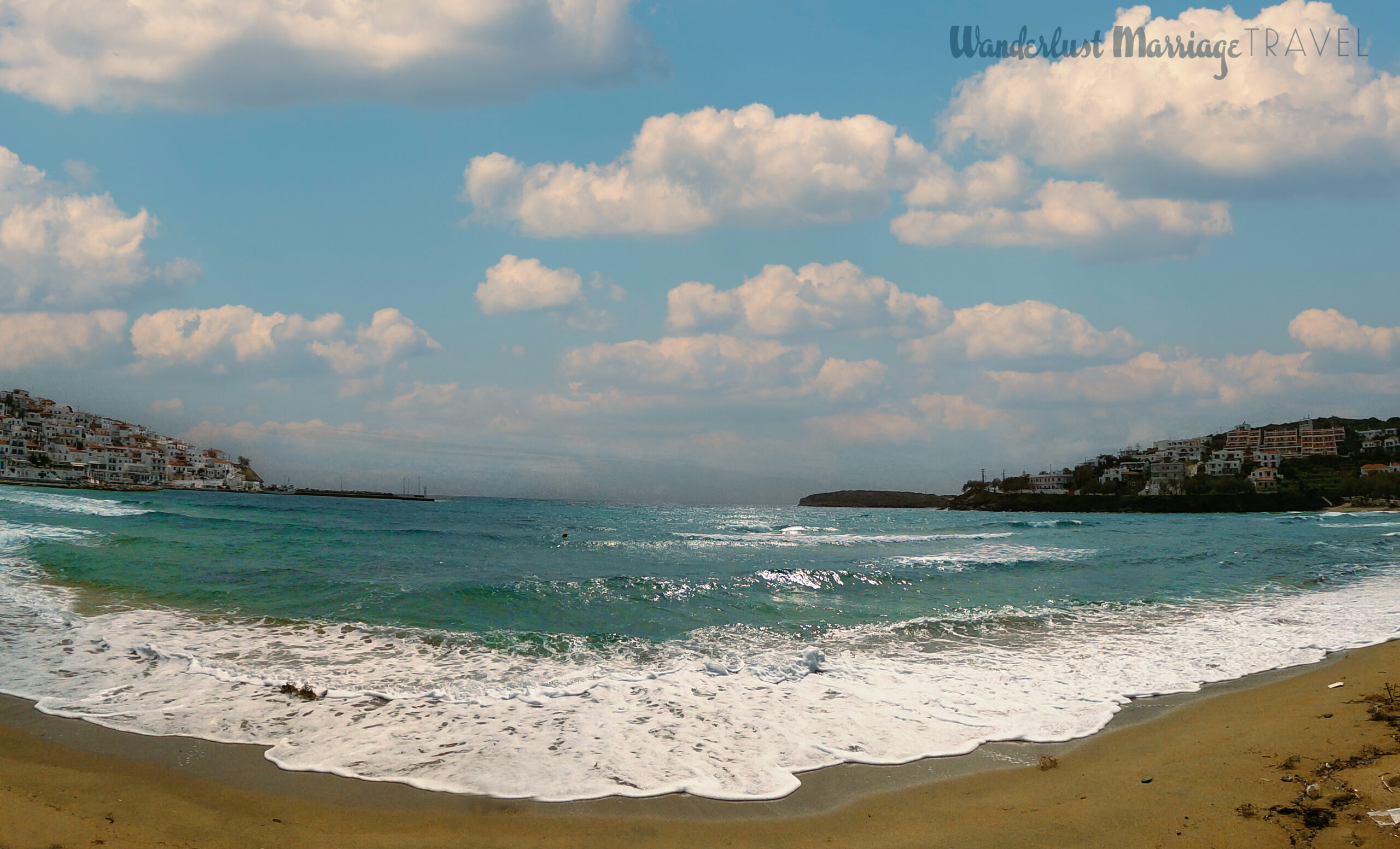 Summer vacations in Greece are a great time to enjoy the sand and sea. September is an ideal month to enjoy the beach in Greece because the sea temperatures are still warmer, but crowds are thinner compared to July and August. These are some of the best beaches in Andros.
Batsi Beach
Grias Pidima Beach
Kypri Beach
Golden Sand Beach (Chrissi Ammos Beach)
Achla Beach
St Peter's Beach (Agios Petros Beach)
Paraporti Beach
Zorkos Beach
Vitali Beach
Panachrantou Monastery – One of the Most Beautiful Monasteries in Greece
Panachrantou Monastery rests on the northern side of Mount Gerakones in Andros. It offers sweeping views of the area, including Andros Chora and the Aegean Sea. Like a fortress perched atop the mountain, it is like a Greek Shangri-la, and is one of the most beautiful monasteries in Greece.
The original chapel at Panachrantou Monastery dates to 960 AD. During a short tour with one of the priests, he pointed out the rounded marble in the doorway. He informed us that it is worn into the curve from over 1,000 years of visiting footsteps.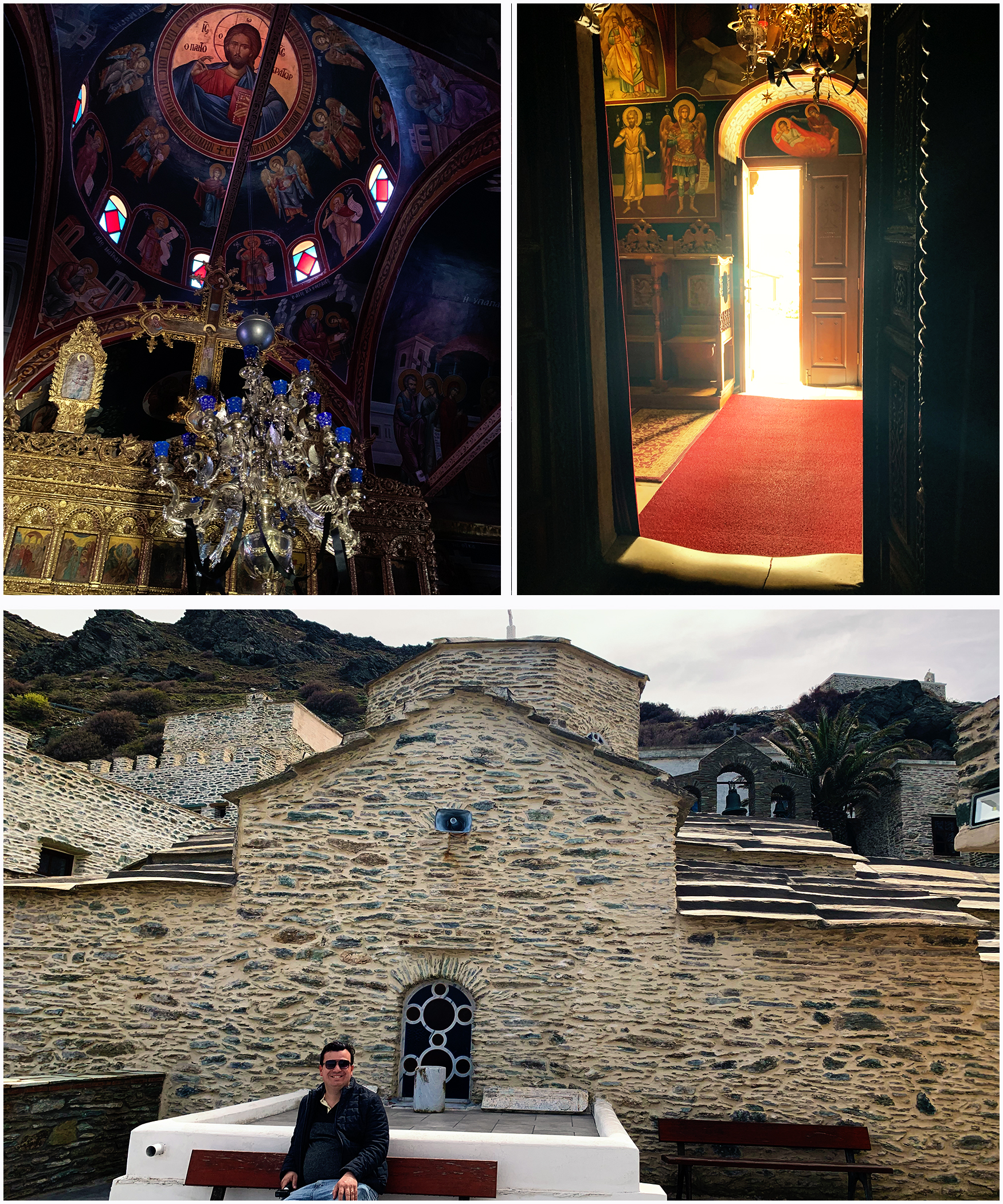 Tip: If you put Panachrantou Monastery into your phone's GPS, you might be directed along a path that eventually leads to a dirt road with winding switchbacks. Don't take that route! Our GPS directed us that way and we decided to turn around at the dirt road. Take the paved route, which we eventually found. You'll see a brown sign for Panachrantou Monastery driving along the road to Ormos Korthiou from Andros Chora.
Consider Booking a Tour in Andros
Visitors can book a variety of great tours in Andros. Guided tours with local experts offer an opportunity to gain deeper insight into a wide variety of things the island has to offer.
We took a fantastic private bespoke tour with Explore Andros, led by owner and operator Mr. Christos Balogiannis. He originally hails from Andros Chora, then spent 30 years working in telecommunications in Athens, before returning to the island he grew up in 2018. We enjoyed his tour of Andros Chora, Stenies, Spring of Menites and Pithara Waterfalls. He enjoys tailoring tours for couples, families and groups of friends.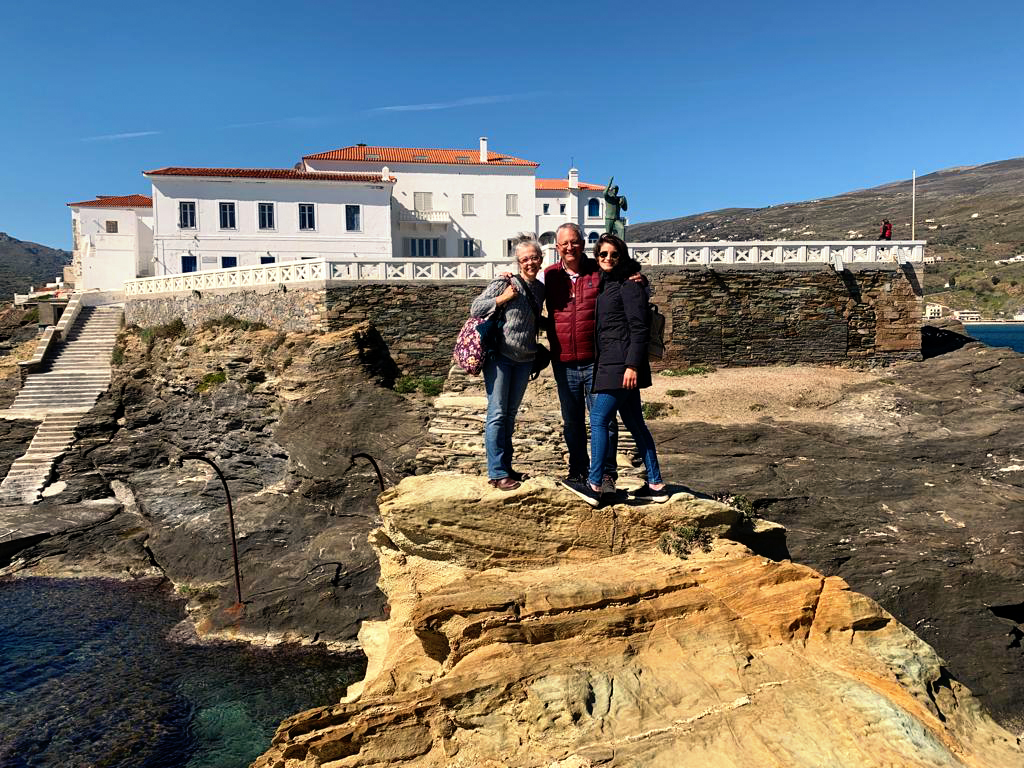 The tour started with a walking tour of Andros with Mr. Christos Balogiannis. We then hopped in his comfortable Mercedes van to tour neighboring Stenies, Spring of Menites where we were able to fill up our water bottles with fresh clean water and Pithara Waterfalls. His tours are packed with local history and fun facts. Among many things, he pointed out the impressive doorknobs around Andros Chora – some have rings on the finger and some do not. This previously signified if the residence was home to a single or married woman.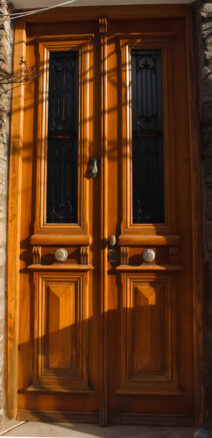 A Few Explore Andros Tour Options
Foodies can enjoy a cooking experience where you begin by picking seasonal vegetables from the garden, and making traditional Andros cuisine, "The Fourtalia", with a local cook. Depending on the season, you'll prepare a variety of appetizers like stuffed flowers from pumpkins and delicious lyra.
Explore Andros offers a variety of tour options. Thrill-seekers can enjoy a rock climbing and abseiling adventure for €50 ($53 USD) per person. You can also go out on a fishing boat tour for €52 ($55 USD) per person. Check out the Explore Andros website to see all their tour options!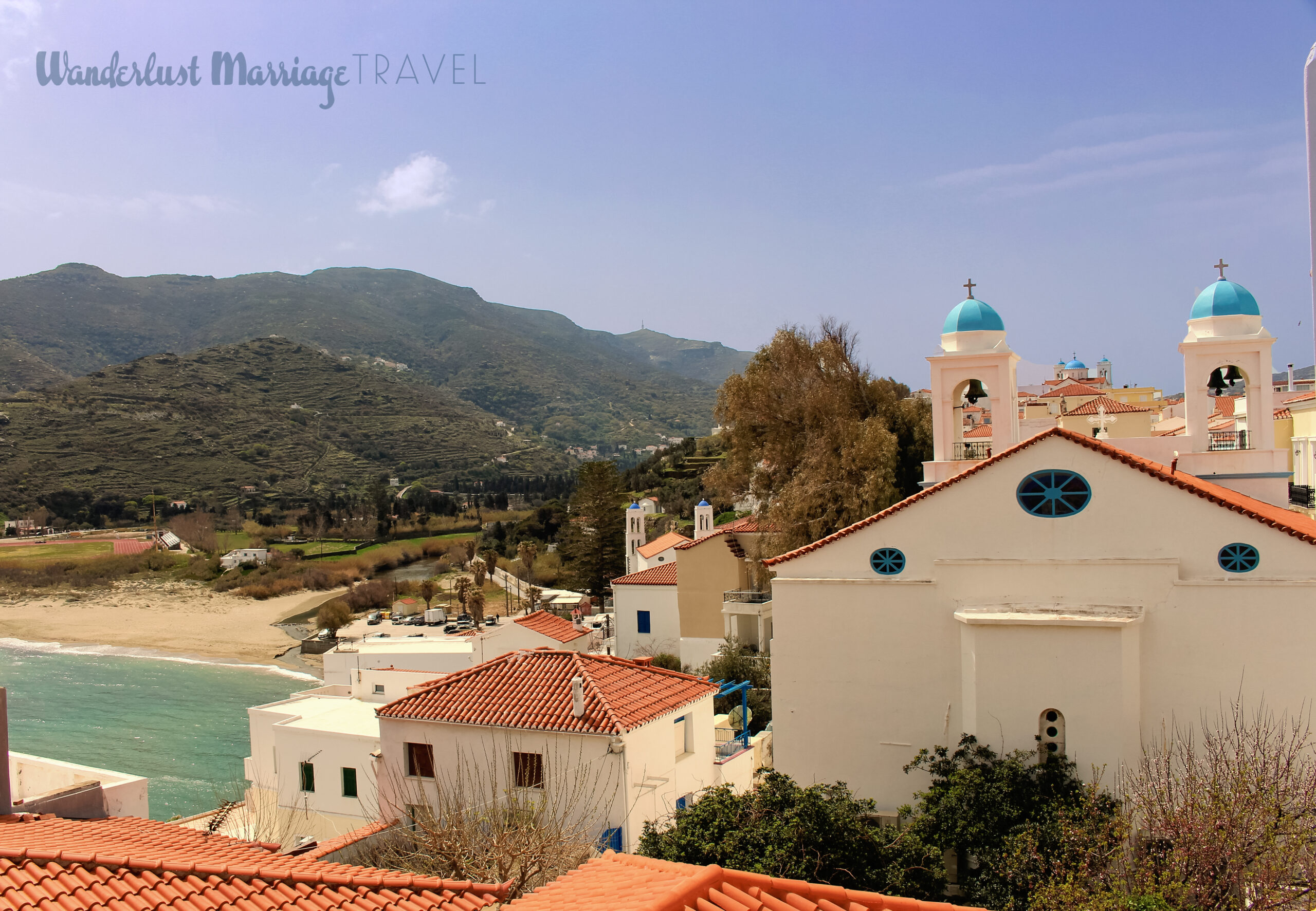 More Information on Planning a Trip to Andros
For more information on visiting Andros, check out the official Visit Andros website. You can also follow and connect with them on social media ahead of your trip!
Visit Andros Official Social Media Channels:
Disclosure: We were hosted by Visit Andros, allowing us to cover the island in-depth. A very special thanks to Deputy Mayor Mr. Nikos Moustakas for organizing our visit and spending time with us on the island, as well as the fantastic staff at Hotel Perrakis, Avance Car Rental, Mr. Christos Balogiannis of Explore Andros and Mr. Makis Bitzios along with many friendly members of CTN Andros.