With frequently frigid temperatures, there is no better time to visit Sweden than summer. Midsummer has just passed and currently you can see perpetual 24 hour light in the country. And if you're visiting one of the cleanest cities in the world, the best place to lay your head comes via sleeping on a boat in Stockholm.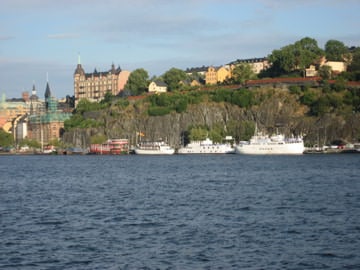 Because I have family in Sweden, I've visited 3 times over the past 12 years (Bell has been twice). I've stayed on a couple boats in the capital and really enjoyed the unique experience, despite a couple drawbacks. The first was a boat hostel across from the Royal Palace, the af Chapman. The af Chapman is great because it's budget boat accommodation in a fantastic central location. And how many places can you sleep, wake up and walk to the front of a ship and wave to the king? And also do it at an affordable price in an otherwise expensive country. I've noticed prices have gone up to stay there, but in a city where a pint of mediocre lager could easily set you back €8 ($10.50), few things come cheap in Sweden.
You'll generally find the best deals on Stockholm accommodation via booking.com. Booking.com is often significantly cheaper than sites like Expedia and others.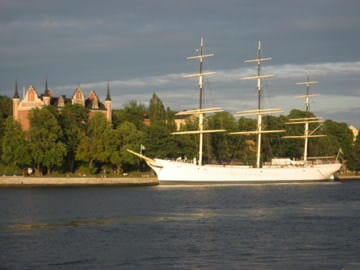 Another boat we stayed on was the
Red Boat Hotel and Hostel
 (also known as the Red Boat Mälaren). This boat is located in Stockholm's Södermalm district and has great views of the Gamla stan (Old Town). The room Bell and I stayed in a few years back was the tiniest private room I've ever slept in. And as an American who has lived in Europe for over 5 years this is saying a lot. My expectations of adequate space has decreased over the years. But I generally expect to have room to open my backpack or suitcase. The private en-suite we stayed was fitted with 1 bunk bed, barely room to walk around each other, and the tiniest private bathroom. But hey, you're sleeping ON A BOAT! (queue song).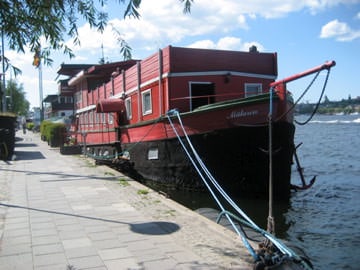 The drawbacks to visiting Sweden in summer are higher prices and generally needing to book accommodation in advance, diminishing any spontaneous changes to your itinerary. You'll certainly save money traveling there in the fall, spring or winter. But
do not
torture yourself going in winter unless you want to possibly see the
aurora borealis
 (and you'll have to go north of Stockholm to even have a chance to view it). You could get lucky visiting in spring or fall and have very pleasant day time highs (temperatures drop significantly at night). I spent a few weeks with my family in Kalmar a couple Aprils ago and was shocked by the day time sun and warmth. But the very long summer days afford extra time to sight see, so particularly for Americans who average less vacation time than Europeans, this has added value. Have you ever slept on a boat and did you enjoy the experience?