The world offers an abundance of epic beauty. It's also filled with annoying nonsense, often co-existing simultaneously. This is list of 10 cities in the world to love and hate. If you've been to any of these destinations, you'll probably find some issues you agree with!
10) Amsterdam
We lived in the Dutch capital for 3 and 1/2 years so we know the city well. It's the most beautiful city we've ever lived in. It can also be unfriendly and lacking in customer service. The bicycling capital of the world is cute on the surface, but get in their way and they may run you over!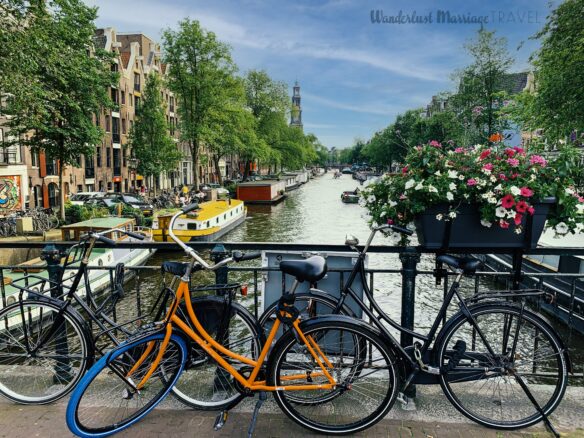 Amsterdam has one of the most well preserved city centers in Europe and was recently placed on the UNESCO World Heritage list. It's wonderful to rent a small boat and cruise the lovely canals over wine or beer and cheese and sausages.
Be careful of the steep death stairs in the old buildings though. Real estate has been at a premium for centuries in Amsterdam and that's why the Dutch built tall narrow houses. If you've had lots to drink (or something illegal in your country), hold on to those hand rails going up and down to avoid potentially breaking your neck.
Amsterdam is one of the world's greatest for sitting outside on a cafe terrace and enjoying a drink. Good luck finding a seat on a sunny day. And if you do, expect to wait an eternity to order anything.
Amsterdam's world class museums and charm draw cultured tourists. It's lax drug laws and legalized prostitution in the Red Light District attract zombified 18 year old American kids and wildly annoying British bachelor parties that can turn the city into a vomit filled pee party. As a port city Amsterdam has some seedy characters that will randomly offer to sell you "XTC, Coca?!" Just ignore those guys, they are generally harmless, albeit scary looking.
9) Orlando
I grew in Orlando and Bell has also lived there with me. Thanks to being the world's most visited city, it deserves to be on a love/hate cities list. Not only did I grow up in Orlando, I worked at Disney for over a year during high school.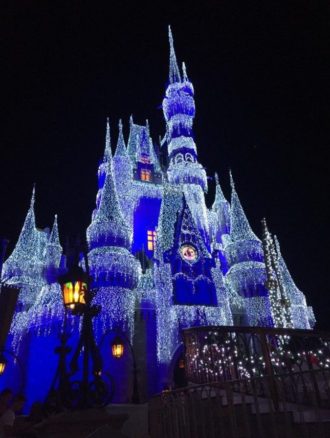 I slung food at the fast food restaurant Peco's Bill in Adventureland. I saw families who spent their life savings visit Disney wait in line for over half an hour just to overpay for a mediocre hamburger or hot dog. Never mind the 2 hours they waited for the overrated Thunder Mountain ride, in sweltering heat.
But with all the annoyances that come with visiting Disney, children love the characters and ambiance, and many parents want to share this experience with them. Of course, they often have no idea what they are fully getting into and how much "The Happiest Place on Earth" will drain their wallet.
8) Las Vegas
The bright beacon of overindulgence and wastefulness is the epitome of a large segment of America. It's the world's 2nd most visited city, trailing only my hometown of Orlando. Las Vegas is a city where dreams can come true, but are more often shattered with huge gambling losses.
But the bright lights, epic hotels, casinos, shows and night life are a huge draw for friends, couples, families and bachelor or bachelorette parties.  You can watch a free circus show at Circus Circus, even if you are not a paying guest. Bell and I spent zero dollars in that hotel/casino and enjoyed that. Las Vegas has something for everyone.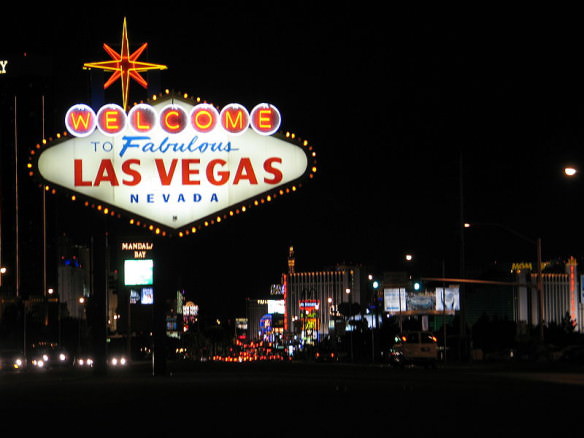 People's gambling losses subsidize hotel prices. So the city offers some of the best hotel value in the US. Some of the world's greatest monuments and highlights have been recreated in Las Vegas. The great Pyramid of Giza, Eiffel Tower, Venetian canals and New York skyline can all be found among the cities glitzy hotels. You can also dine at the world's largest buffet, with 1,000 seats, the Knights of the Round Table at the Excalibur hotel and casino.
As you walk along Las Vegas Boulevard, from ritzy hotel to ritzy hotel, with your snifter glass of courvoisier, you'll encounter many down and out Hispanics handing out raunchy sex cards for 1-900 numbers. That's Vegas baby, VEGAS!
Just be careful in Sin City – don't have any unnecessary police encounters!
7) Cairo
An African city should make this list and none is more famous or visited than the capital of Egypt. I visited the city over a decade ago and was blown away by the abundance of gigantic mosques, the relics at the national museum, crossing the Nile river and of course seeing the only remaining member of the 7 Ancient Wonders of the World, the Pyramids at Giza.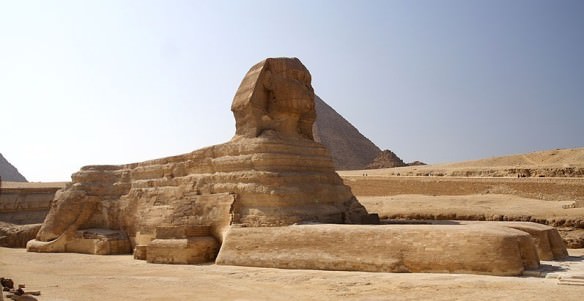 The Pyramids and nearby Sphinx are on many peoples bucket lists and they are certainly not a let down. But the annoying hawkers that fill the grounds selling massively overpriced trinkets and bloated camels rides who tug at your shirt to buy take away from the experience. A man insisted that I go for a camel ride but there was no time on my tour and I only wanted a photo. After my friend snapped a picture of me he asked for $10, a fortune in Egypt for a minute of his time, over a decade ago. I gave him $1 and said thanks. Cairo is also one of the worlds most polluted cities and not a place you really just want to stroll around, especially nowadays.
6) Bangkok
One of the world's most exciting…and annoying…and polluted…and sleazy cities in the world. The markets in Bangkok, particularly the Chatuchak Weekend Market are amazing and truly sensory overload. Bangkok is also wonderful for food, temples and taking a dodgy river boat cruise…where a wee bit of the world's most polluted water will splash on you.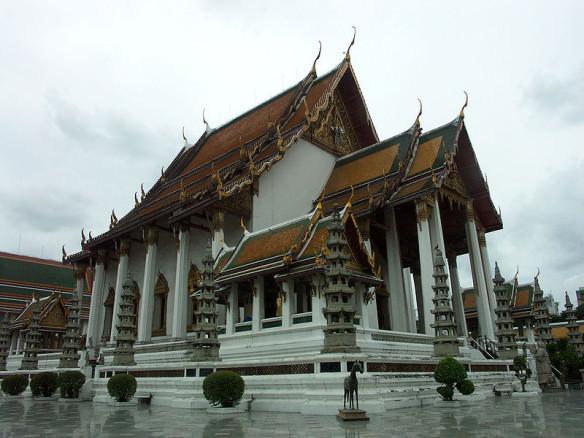 Bangkok holds a special place in our hearts as it's where we met again after not seeing each other for 2 and 1/2 years. Shortly afterwards we got engaged on the island of Koh Pha Ngan. Then I moved to her hometown of Melbourne, Australia, where we got married.
Bangkok can be an amazing city to just stroll around, but as a westerner you generally can't walk more than 2 minutes without tuks tuks constantly pestering to take you somewhere, like their uncle's carpet shop. Bangkok is also notorious for its sex trade, with many workers apparently under age…not cool.
5)Buenos Aires
Most famous for its elegantly seductive tango and succulent steaks, the Argentinian capital is definitely worth a visit. We certainly enjoyed the food, sites and strolling around…during the day.
But unlike most Asian cities where very strict laws generally make them safer, Buenos Aires can be a very dangerous place. A working class neighborhood like San Telmo, the disputed birthplace of Tango, and where Bell and I stayed, is perfectly fine during the day, but felt very uncomfortable to walk at night. And many places in Buenos Aires aren't meant to walk through at any time.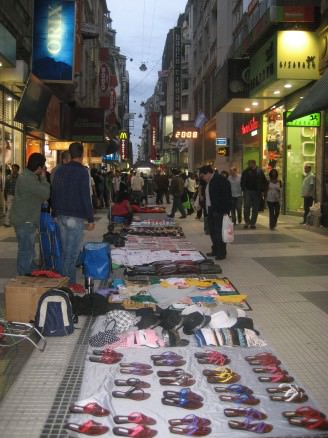 Random stuff galore on Avenue de Florida in Buenos Aires, Argentina.
4) Brussels
The capital of Belgium is loaded with delicious treasures of food and drink… amazing beer, chocolate, waffles, mussels and other awesome food (often cooked in beer) makes the city one of the culinary darlings of Europe. Brussels also boasts fantastic architecture and is the cartoon capital of Europe, with a museum dedicated to the Smurfs and Tin Tin which were founded there. It's a quirky city that even has a statue of a little boy peeing as one of its symbols.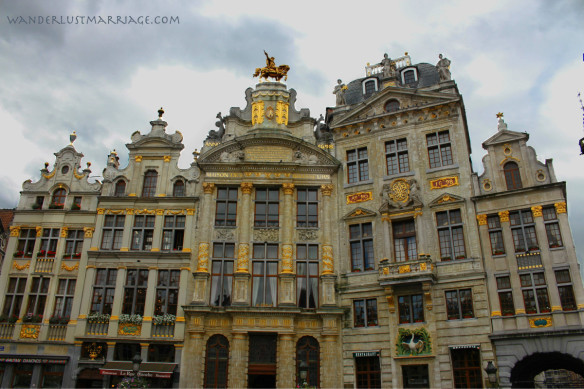 The European Parliament is also in Brussels and I enjoyed my visit there, but to many Europeans, this is where Brussels goes downhill. Many Europeans loathe the bureaucrats in the EU parliament who dictate rules on their individual sovereign nations.
Belgium, like many powerful European countries, also has a nasty colonial history. Even today the country is world's largest diamond trader, with many of the gems obtained under very suspect conditions. Residents of Brussels are also notorious for giving bad directions and even the maps have mistakes. Helping visitors get lost seems like a fun pass time for many Belgians!
3) Athens
Athens is a city most people generally love or hate. The birthplace of democracy contains some of the world's most famous ancient relics within the awe inspiring acropolis, like the Parthenon.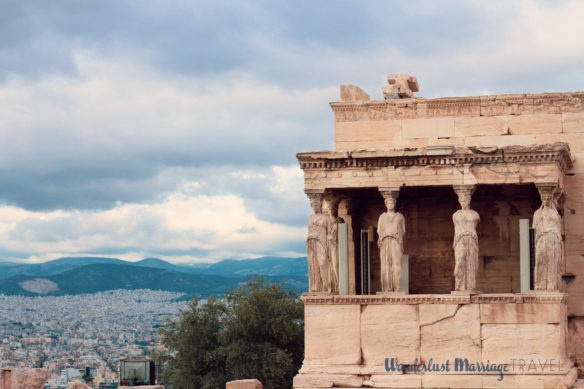 Outside the acropolis is a different story. Modern Athens has developed into an urban concrete jungle and is one of the most polluted cities in Europe.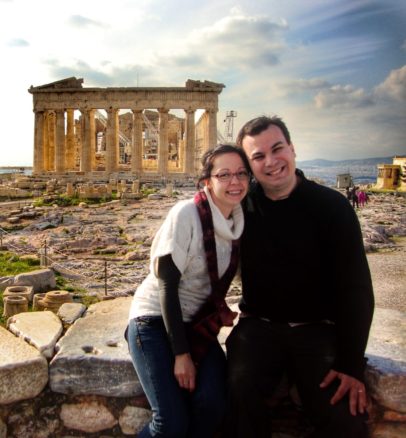 It's a great city to eat quality food cheap, especially now during tough economic times in Greece. Athens generally gets a thumbs up from us. Don't completely skip it for the Greek islands if you don't have to, it's worth a couple days at least.
2)Singapore
We recently visited Singapore and loved it. We also disliked enough of it to warrant ranking it this high. The rich cultural diversity of the small island nation is amazing. We saw fantastic Buddhist, Hindu and Muslim temples, along with several unique churches. This diversity is also well reflected in the abundance of fantastic food options. Singapore gets a bad rap for being expensive, but you can still eat very good food for cheap. You can also pay dearly for not very much.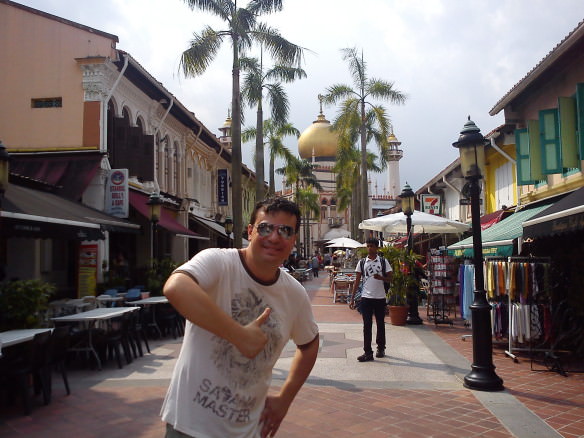 Singapore has a massive disparity of wealth and ritzy shopping plazas are everywhere. This is a draw for some people, the problem is that there is no minimum wage and many Malaysians cross the border to work for around $24 Singapore a day (about $20 USD) for a 16 hour day. In one of the fancy shopping centers we saw an all you can eat buffet for $35 Singapore… and the line was out the door. People pay heavy taxes and get very little in return: there is no retirement benefit.
Singapore also has extremely strict rules- the punishments for swearing in public can be 2 years in jail, fines and caning! Want a swig of water on the metro? It's best to wait, if an undercover police officer catches you, you will receive a $500 citation.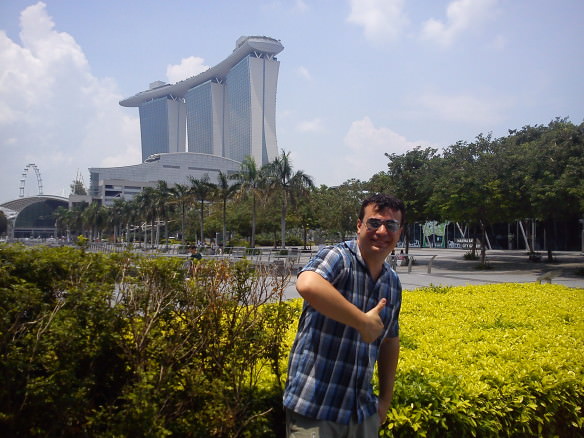 1) Paris
The city of lights, romance, rudeness and sticker shock prices. Probably no other city in the world strikes such praise, adoration and sheer loathing.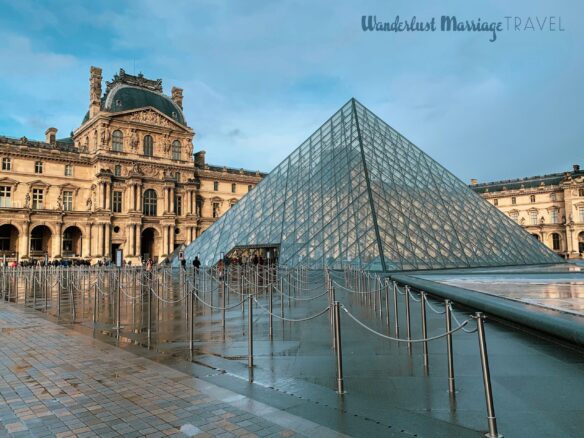 Paris was the first city in Europe I ever visited when I was 19. I got off the plane, and in the airport, asked an airport crew member for directions. "Do you speak English?" I said. "Do you speak French?" he replied. I'm sorry, I hadn't realized I was at the Parisian city hall asking for residency documents.
Paris has stunning museums and the famous Eiffel Tower, that you will most likely wait an eternity in line to see during high season. It has world-class food, that you will pay a small fortune to eat. This comes with the added bonus of tourist trap establishments with lousy food at premium prices.
This Paris night bike tour is one of the best tours I've ever taken! And if you're looking for a historic stay at an affordable price, read our article on Hotel de la Brettonerie in the central Les Marais district.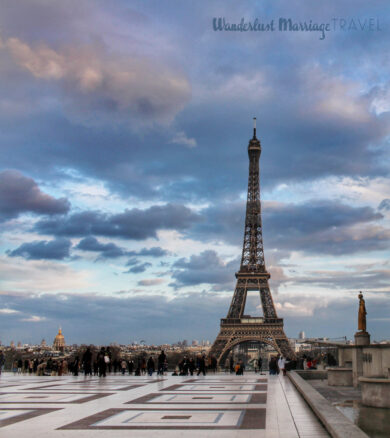 Speaking just a few words of French is Greatly Appreciated
Parisians like Paris for themselves and don't particularly like when throngs of tourists flood their streets, or we get in their way as we slowly stroll to the Louvre taking photos of everything we see. To give partial justification to the Parisians, because it's so famous, Paris draws some of the most ignorant American tourists to ever step foot outside US soil. They might not even like the French (certainly not after their visit) and the French never liked them before they even arrived and don't mind showing it.
With that said, if you try and speak a few words of French, Parisians will be much friendlier in general. And having dinner on the Eiffel Tower is one of my absolute favorite travel highlights.
Paris, London and Amsterdam are world class destinations to visit. Avoid visiting in summer for the best experience!