This is a guest post written by Alex's father, Alexander Kallimanis Sr. originally from Pyrgos Greece, who has dabbled in writing for many of the 86 years he's resided on the planet (55 of which he's spent in the United States). He's authored a book entitled 'Witness of my Time.' As Alex jr. has just arrived in Athens, for the European edition of the world's largest travel blogging conference, TBEX, I asked my father to write about the first time he returned to his childhood home near Olympia. Life for migrants was very different in the 1950's and my father would go 22 years before he would see his parents again, and he was lucky, because many who left were never re-united.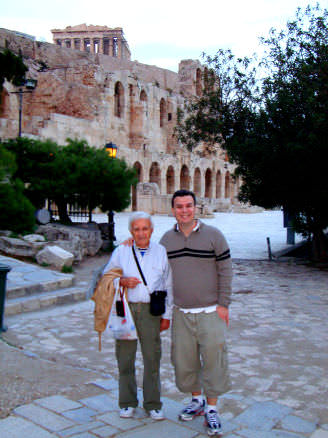 Pyrgos, on the southern peloponesus of mainland Greece, is the capital of Ilis and is built on seven hills over the ancient city of Letrina. There on a small farm surrounded by vineyards and fruit trees I was born in 1928. Ancient Olympia was just 6km away and we would sometimes walk as kids. A few times we took the train and mingled with tourists from other countries who came to visit the birthplace of the Olympic Games. While Olympia was well known to the world, for me it was just a place to have fun. It took many years for me to realize that I was privileged to have been born in this beautiful and historic land, where the wonder never stops. When I look back it seems as if it were yesterday, but yesterday was a long time ago and the little child of then is now an older man, who comes to Greece as a visitor, like those I mingled with many years ago.
I left Greece for America in 1953 and it was not until 1975 that I would see my homeland again. It was evening by the time we arrived in Pyrgos from Athens, and we witnessed a beautiful sunset over the port of Katakalo, a place that ferries many visitors from places near and far. We looked for my childhood farm but it was nowhere to be found, instead there stood a hospital and some new homes. My heart felt pain, because while it was a far cry from a palace, it was my humble childhood home filled with endless dreams and wishes for myself and 7 brothers and sisters.
We stayed in Pyrgos for the night and strolled the neoclassical buildings that housed the municipal market and the Apollo theater designed by the famous architect Schiller. Two blocks from there stood the cathedral of st. Nicholas where I was baptized. Later in the evening, we enjoyed a feast on the main square, that's always been lined with eateries and pastry shops.
The following day we departed early to tour Olympia, passing several villages virtually connected on the 6km journey. The towns of Varvassena, Koukoura, Strefi, Pelopion and Platanos gave way to us as we passed them for the ancient grounds. The villages were one painting after another, with residents calmly watching just a few more of the millions of visitors they've seen prior. We passed the two historical rivers of Lestnitsa and Alphios, where legend says nymphs used to dwell.
The unofficial ancient Olympic Games actually started around the year 1000 bc by King Oinomaus, who daughter Hippodameia married Pelops, from where the region of Peloponnesus came from. But it was in 776 BC that the leader of Letrina (present day Pyrgos) re- dedicated the Olympic Games to Zeus, and that year marks the first  Olympiad. Afterwards, every four years Panhellenic contests were held attracting athletes from all Greek city states. The victors prize was a crown made from an olive branch, called the kallistefano. While the games were taking place, the Olympic truce took effect and all hostilities were suspended. This is why at the start of every modern Olympics, the president of the international Olympic committees asks all nations to suspend their conflicts, but unfortunately falls on deaf ears.

At Olympia we visited the Gymnasium, palaistra (wrestling grounds), and also enjoyed the magnificent Olympia museum. Among many statues at the Olympia museum is the outstanding statue of the god Hermes, sculpted by Praxiteles, depicting the god holding the infant  Dionysus. It is one of the most perfect statues that has ever been created.
From Olympia we went to the Andritsena to visit the temple of Apollo in Bassae, and then to Nearby Leprio to visit the classical temple of the goddess Demeter. While my childhood home was gone, that night I slept well, feeling happy to be back where I began after so many years.
It was a welcome home for my father then and always has been in his subsequent visits in retirement. And as Ancient Greece provided the foundation for western civilization, it's no wonder Greece greets all of us today with a tourism book stating "welcome home." In the coming months we'll be featuring updated material on tourism and life in Greece in 2014, as I type these words during my first time in Athens in 4 years!