Some believe you have to travel far from Athens and the Parthenon to find the true beauty and relaxation Greece has to offer. But first time visitors to Greece shouldn't skip the Athenian capital all together. The beauty and essence of Greek life is everywhere, including Athens and many nearby destinations on the mainland too. Near Athens and doable via day trip is Greek island hopping!
On my recent trip to Athens I had the opportunity to set sail with Athens One Day Cruise out of the port of Piraeus, where our tour visited the beautiful islands of Hydra, Poros, and Aegina all in one day. As part of Greece hosting the world's largest conference for travel bloggers, TBEX, there were 10 other bloggers aboard the ship, carrying travelers from around the world, with a large percentage from China and Russia. Here's what to expect on Athens One Day Cruise.
Hydra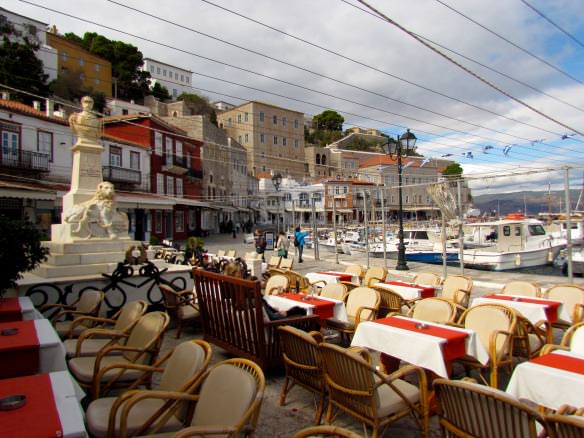 The first stop was famous Hydra, a pedestrian only island that doesn't even allows bicycles. Aside from your feet, donkeys are the only alternative form of transport permitted. As we were part of a media trip, our group of 12 were invited into the lovely office of Dr. George Koukoudakis, mayor of Hydra. Hydra has previously been rated by UNESCO as the best preserved Mediterranean island.
In the late 90's, Hydra turned down an offer from Virgin Atlantic owner Richard Branson to build a mega resort which would have changed the 2,200 residents entire way of life. Mayor Koukoudakis was welcoming, informative and treated us to delicious fresh baked sweets after speaking to us for over an hour.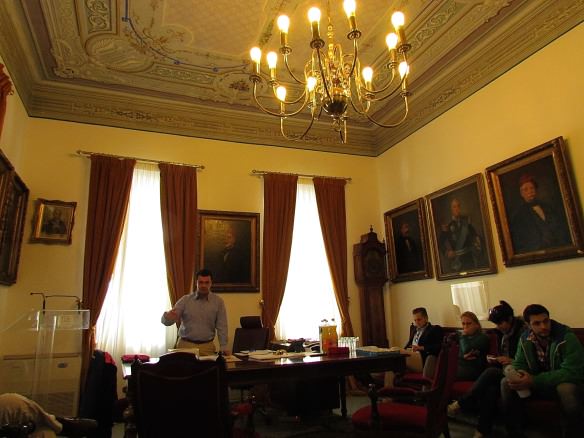 As we spent an hour in the mayors office, this only left our media group with 30 minutes to essentially just snap photos of Hydra. Had we been apart of the regular tour we would have enjoyed more time discovering Hydra's beautiful courtyards and winding white washed alleys, with lovely seaside views. There are a lot of restaurants and cafes along the water to enjoy a nice meal and drinks, and some of the streets of the island reminded me of Mykonos' beautiful main town. Hydra is definitely a worthwhile island to visit, even if you don't make it into the mayors office for a chat.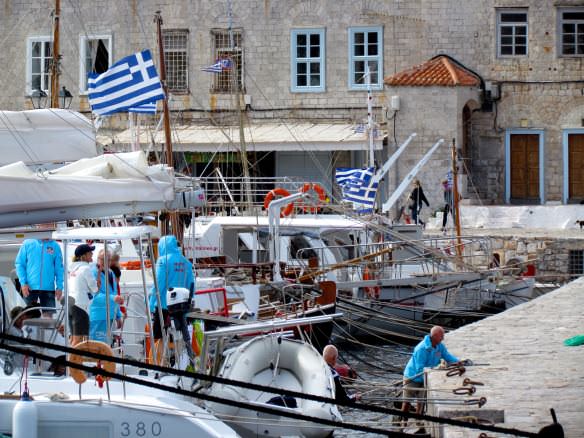 Athens One Day Cruise Amenities
Since it's just a day cruise, you won't find any swimming pools, movie theaters, or on board massages, but there's plenty of seating to enjoy drinks and food while sailing through pristine waters and picturesque islands. Between Hydra and Poros, a delicious buffet lunch was included for all passengers on the cruise, offering many Greek favorites like dolmades, feta and moussaka, along with a nice offering of fish, meat and vegetarian dishes. Our group enjoyed the food and the welcoming hospitality of the majority of the crew.
Poros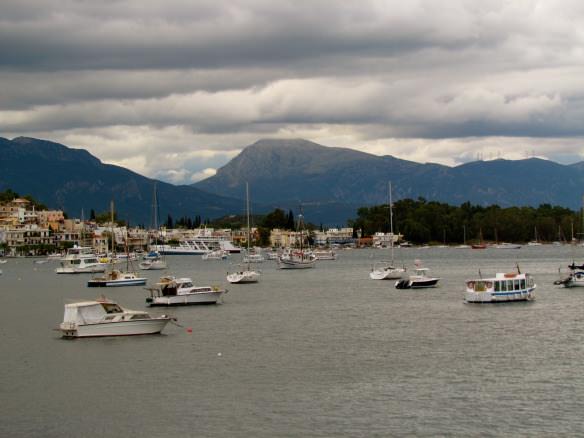 Poros was the island we spent the least amount of time on. We only had an hour to roam and it was afternoon, siesta time in much of Greece. This did however make for a tranquil stroll along the esplanade, taking in the town and the picturesque surrounding mountains. And despite being siesta, there were still cafes and restaurants open if I'd wanted a drink. An additional half an hour on Poros would have been nice. But time is tight when you're squeezing three Greek islands in one day!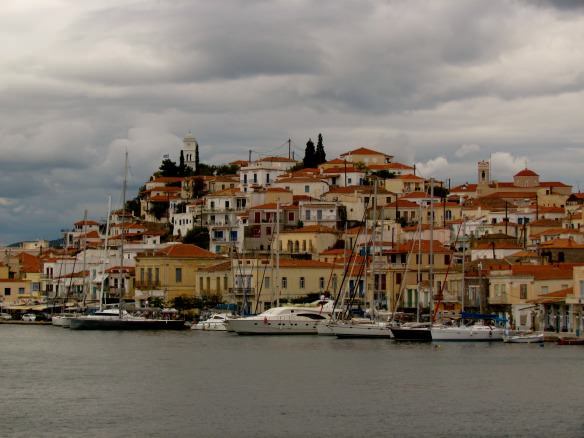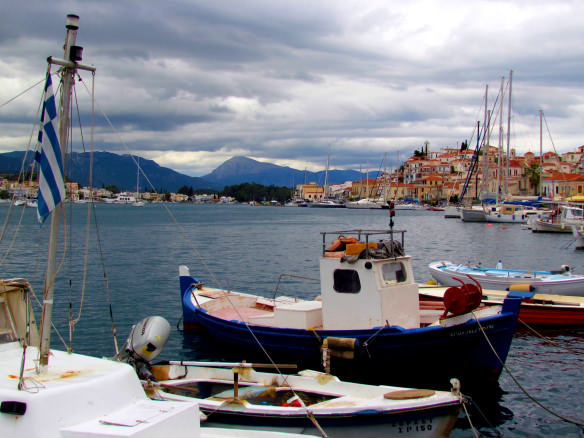 Aegina
Temple of Aphaia
On the island of Aegina we boarded a bus that drove up the mountain. We passed through villages and pistachio and olive groves before reaching the beautiful ancient Temple of Aphaia. It dates to 500 BC and is dedicated to the goddess of Aphaia, who was worshipped exclusively on the island at the time. It's a stunning temple, especially since you have a panoramic view of the Saronic Gulf, Salamis Island and the port of Piraeus.
Across from the temple I purchased deliciously creamy pistachio ice cream made from goats milk from a local vendor, a wonderful treat for someone allergic to cows milk. Aegina is one of the largest pistachio producing areas in the world, exporting tasty nuts beyond Greece's border.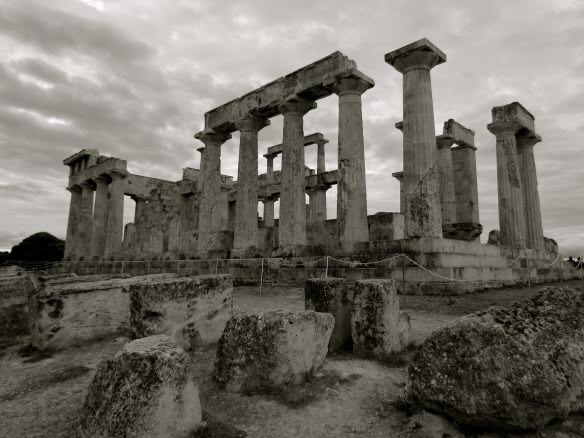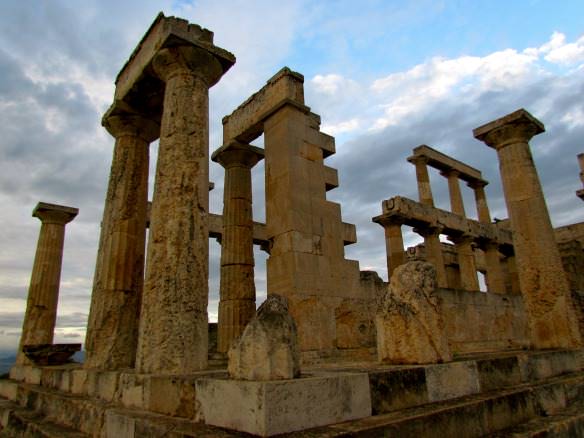 Church of Saint Nectarios
After the Temple of Aphaia we visited one of the largest Greek Byzantine churches in the world, the Church of Saint Nectarios (Agios Nektarios). Saint Nectarios lived from 1826-1920 and was said to be a miracle worker who could heal sick people. In 1961 he was proclaimed a saint by the head of the Orthodox church in Istanbul (still Constantinople to Greeks). The mausoleum of Saint Nectarios is within the gigantic church, which is still not fully completed, though 14 nuns currently take residence there. After visiting this amazing church, I purchased some pistachios from a friendly older man from the back of his van. They were probably the best pistachios I've eaten in my life, so fresh they melted in my mouth.
Entertainment on Athens One Day Cruise
Greek dancing and bouzouki music
On our return from Aegina back to Athens we were treated to lively entertainment that included traditional Greek bouzouki music and dancing. Volunteers were pulled from the crowd (including yours truly) to dance and either show off or embarrass ourselves a little. While I was initially hesitant to get out and dance myself, I wound up laughing harder than I had in days. Looking around the crowd, there were a lot of laughs to conclude what was a very picturesque day.
Recap of Athens One Day Cruise
Overall, this is a good cruise for those with limited time in Greece and want to see several beautiful islands. The ship is comfortable, the sites are stunning and you'll be hard pressed not to laugh at the entertainment. The biggest drawback for some is the limited amount of time you have on each island. It might be better if the cruise only visited two of the islands and allowed more time on each one. This was a sentiment shared by a few of the other travel writers I spoke with. I'm not sure which island I'd skip though as they were all beautiful with their own unique aspects. I'm glad I experienced all three.
Book Athens One Day Cruise
Book Athens One Day Cruise using that link. Prices start at $116.42 per person for the cruise. Upgrades are also available that include transfers and VIP amenities, along with shore excursions.
To read the review of another travel writer about Athens One Day Cruise, read Rachel Heller's post about the experience.
Most people only think of visiting the Greek islands in summer, but check out our article on why Syros is a great island to ring in the New Year!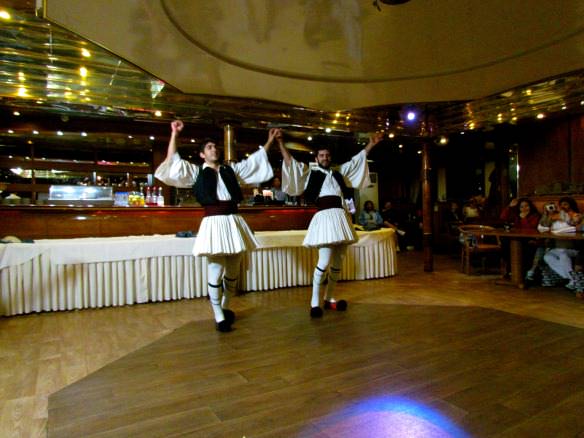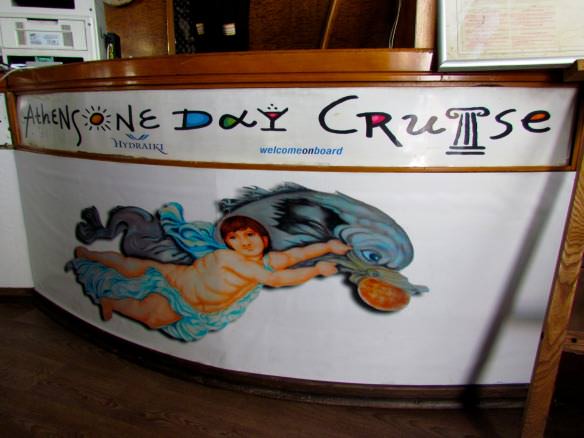 Where to Stay in Athens?
Book well reviewed accommodation with free cancellation as soon as you can given how busy Athens currently is. Then if plans change, you can always cancel your booking!
Luxury
The Grand Bretagne is a historic 5 star hotel in Athens with history dating over a century. Rooms have marble bathrooms and some have balconies facing the Acropolis and the daily changing of the guard at the Parliament. From their Roof Garden Restaurant, you can see the original Olympic Stadium and Acropolis. The Grande Bretagne Spa offers a thermal suite, complete with herbal bath, grotto, ice fountain, couples retreat and indoor pool. Guests can even pamper themselves with ouzo oil massages.
Mid Range
Athenaeum Grand Hotel is a modern hotel offering a comfortable stay at a good price. Rooms and suites are fitted with hardwood floors, nice furnishings and a modern bathroom. All rooms include use of a smartphone that's programmed with a guide to Athens. Beds are really comfortable and the breakfast buffet is great quality. We enjoyed our stay there!
Budget
Delphi Art Hotel is a nice budget choice housed in a neoclassical building dating back to 1930. Some rooms even have balconies overlooking the lovely National Theatre of Greece!
Families and groups of friends will generally find the best value on Airbnb. If you've never used the service, sign up here to receive a discount off your first stay! Book apartments with consistently good reviews for the best experience.
Athens Seaside Hotels
Athens is one of the few capitals in Europe to have beaches. You can even catch the Athens coastal tram to the beaches from Syntagma Square (home of the Greek parliament) going towards the seaside town of Voula. If you want to stay on the beach in Athens, consider the Poseidon Hotel in nearby Faliro Beach or London Hotel in Glyfada Beach. It's also not so far of an Uber or taxi ride to go into Athens to visit the Acropolis and other attractions from the beaches, especially from Faliro, which is closer to the center of Athens compared to Glyfada.
Disclosure: While this cruise was provided complimentary of Athens One Day Cruise, all photos and opinions expressed here are my own. Also, this article contains some affiliate links.