Nuremberg is the second largest city in Bavaria after Munich. Its historical center, punctuated by Kaiserberg Castle, where German kings were once crowned by the Holy Roman Emperor, resembles setting foot in a fairy tale. Grab a table at a beer garden and enjoy traditional Nuremberg bratwurst. Their hometown pork sausages have maintained the same recipe since 1313. It's easy to see why Albrecht Durer, one of Germany's most famous Renaissance painters, was inspired by the picturesque setting of his hometown from 1471-1528.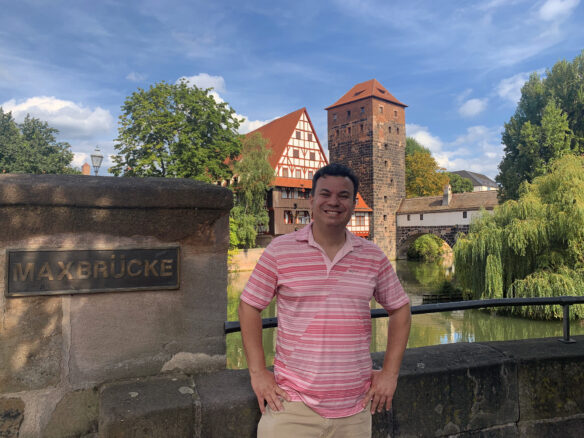 I recently re-visited old college friends in Nuremberg, before covering a two day Frankfurt itinerary, in collaboration with Frankfurt Tourism, and was re-kindled with the medieval city's charm. A Medieval castle on a hill, a picturesque old town with a fortified wall, a diverse culinary scene and a wealth of delicious traditional beer make it an interesting and fun city to spend a few days in. Hell, they even butter their soft pretzels there. Here are great places to visit in Nuremberg, Germany.
Nuremberg Castle (Kaiserberg Castle)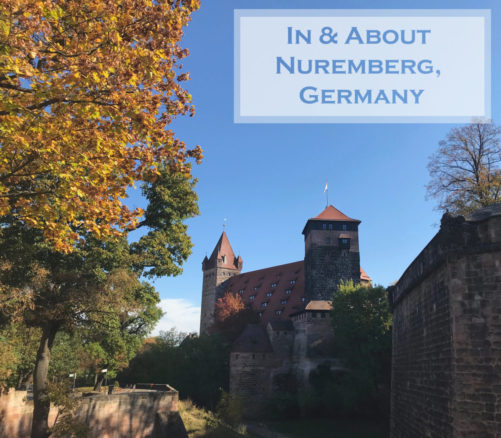 Kaiserberg Castle is a collection of medieval fortified buildings on a hill above the historical center of Nuremberg. The castle and city walls are considered to be one of Europe's most impressive medieval fortifications. Nuremberg Castle once represented the power and importance of Europe's Holy Roman Empire.
During the Middle Ages, German kings became Holy Roman Emperors after they were coronated by the Pope. They did not have a capital, but traveled between their castles (kind of like posh nomads). Nürnberg Castle became an important imperial castle, and in subsequent centuries, all German kings and emperors stayed at the castle.
There is a lot of impressive art and medieval armament at Nuremberg Castle. A visit to Kaiserberg Castle only costs 7 euro (around $8 US). And you won't get a better view of Nuremberg (and the view is actually free since it's outside the museum).
Albrecht Durer House
The Albrecht Durer House is the only surviving 15th century artist's house in Northern Europe. Albrecht Durer is one of Germany's most famous painters, and Nuremberg Airport is named in his honor. Durer lived his entire life in Nuremberg from 1471-1528. While the museum doesn't feature much of Durer's original work, the house is a real throwback. I love the picture-perfect postcard view of Nuremberg Castle and Tiergärtnertorplatz from the windows of Durer's former artist studio.
Right across the street from the Durer House, is the Museumsladen am Albrecht-Dürer-Haus, which offers wonderful insight into Nuremberg's storied past. The building dates back to 1480 and was a former butcher shop. If you swing by, say hello to our good friend Felix Oettner. He's the friendly proprietor who owns and operates the Albrecht Durer House Gift Shop.
Memoriam Nuremberg Trials
Nuremberg is infamous for its Nazi history. Adolph Hitler held huge annual rallies there, and you can visit the old Nazi rally grounds. There's little left today as it was mostly destroyed. Following World War II, many of the most prominent members of the Nazi party were brought to justice at the Nuremberg Trials, from 1945-1948. Under Nazi rule, an estimated 10 million people were systematically killed, including 6 million Jews, along with other ethnic minorities, disabled people and political prisoners.
The Memoriam Nuremberg Trials includes a museum above courtroom 600. Courtroom 600 was where war crimes charges were brought against high ranking Nazi officials. Hitler committed suicide and avoided trial in Nuremberg. But powerful leaders like Hermann Göring (Hitler's heir-designate) were among the 24 Nazi leaders tried (10 of whom were sentenced to death by hanging). Göring was convicted of war crimes, crimes against peace, conspiracy and crimes against humanity at the Nuremberg Trials. He was sentenced to death, but committed suicide by taking cyanide the night before the hanging took place.
Courtroom 600 is still an active courtroom so check the schedule before visiting the museum if you want to see that. You can see the museum and courtroom in around 90 minutes. The museum is an important reminder of the darkness that lurks in humanity, the importance in learning from major mistakes and why the United Nations is important.
Enjoy a Tasty Beer in Tiergärtnertorplatz
I was extremely lucky with the weather mid-October, so it was still a great time to drink tasty Bavarian beers outside. One of the best places to grab a beer is in Tiergärtnertorplatz. This is one of the most picturesque squares in town, featuring centuries old wood frame houses. It's also lovely to look up at Nuremberg Castle.
Great Nuremberg Restaurants
Nuremberg has some fantastic restaurants. I've been fortunate that my friends Steffi and Felix have helped showcase the town's wonderful and diverse culinary scene. We've also eaten in several traditional places too. Below are several gems I've enjoyed with them.
Bratwursthausle
Nuremberg is famous for bratwurst, and for sausages, go to Bratwursthausle as the food is good, and it's centrally located. Their outdoor terrace is nice during warmer months too.
Boogies BBQ
One of my favorite American style barbecue meals I've ever eaten can be found at Boogie's BBQ. It's a little outside the city center, but absolutely worth going a little out of your way for if you love great barbecue. If you're an American expat or US military craving American style barbecue, you'll be in heaven there. The owners used to live in Memphis and even imported their smoker from there. The Memphis style ribs are phenomenal, so I especially recommend those.
Ha Long
I've fallen in love with yellow curry with duck, which often appears on the menus of Asian restaurants in Germany. At Ha Long, the curry is rich and perfectly spicy and the duck was cooked perfectly crispy on the outside and tender inside. I tried this same dish in the town of Mainz and it wasn't nearly as good as the one from Ha Long Vietnamese restaurant in Nuremberg. It's one of the best Asian dishes I've ever eaten, and I've traveled around Asia, including Vietnam.
Gregor Samsa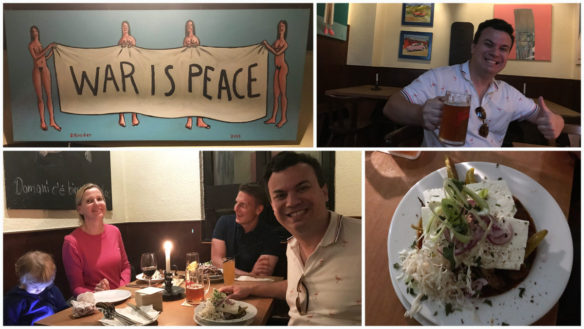 Gregor Samsa serves perhaps the best Czech goulash I've ever eaten. If you want a very local Nuremberg experience, go there. It's a small establishment tucked away in a residential neighborhood that attracts local artists. It's walking distance from central Nuremberg. You can also jump on the metro and get off at the Maxfeld stop. They pretty much only serve goulash and you can have it a variety of ways. I chose the Mediterranean fusion option which included a generous portion of feta.
Where to Stay in Nuremberg
Nuremberg offers a good variety of quality accommodation within its old city walls, and just outside of them. There's even a hostel built inside Nuremberg Castle! Anywhere in the historic center of Nuremberg is a good area because you're walking distance to most things of interest. Consider booking accommodation in advance that offers free cancellation.
Higher End
Park Plaza Nuremberg
Budget
Jugendherberge Nürnberg
How often do you get to stay in a castle? And how often do you get to stay in a castle if you're on a tight budget? Jugendherberge Nürnberg is a hostel packed with character and history for budget travelers, within Kaiserburg Castle, that dates to the 1100's. Kaiserberg Castle offers great views of Nuremberg's old town. Rooms at Jugendherberge Nuremberg are clean and comfortable, as one should expect from a castle.
What Time of the Year Should You Visit Nuremberg?
This past visit was my third time visiting our friends in Nuremberg over the past decade. We've visited in winter for the Nuremberg Christkindlesmarkt, Germany's oldest Christmas market, which is a major highlight of a December visit, but it's also very busy. We also visited in summer for our friends wedding, which is a great time to enjoy Nuremberg's beer gardens and restaurant terraces. This time I traveled in fall, and the autumn foliage offered another lovely perspective to a magical town with a haunted past. All four seasons are a good time to visit Nuremberg because the city is also picturesque with snow-capped rooftops.
How Long Should You Spend in Nuremberg?
It depends how long you're traveling in Germany and what your interests are. If you're really into World War II history or medieval history, you may want to spend three days discovering the city. If you're on a very quick trip to Germany and just want to see a few highlights, you can stroll around the old town in a day.
There's several great towns to see within an hour train ride of Nuremberg like Rothenburg, Bamberg, Regensberg and Wurzburg. If you don't want to move your stuff, you can base yourself in Nuremberg for longer and explore the region.
How to Get to Nuremberg:
Nuremberg's Airport has flights from major airports around Europe. You can also fly into Munich or Frankfurt, which are two of Europe's biggest airports and catch the Deutsche Bahn train. On this most recent trip, I flew to Frankfurt from Washington, DC and scheduled a train stop in Wurzburg, which is also very picturesque.
The ICE train from Munich to Nuremberg will get you there in just over an hour. But if you're in a group and want to save some money, the regional intercity train is cheaper and takes around 2 hours. You can also get a group discount train pass when traveling in a party up to 5 people called a Bayern Ticket.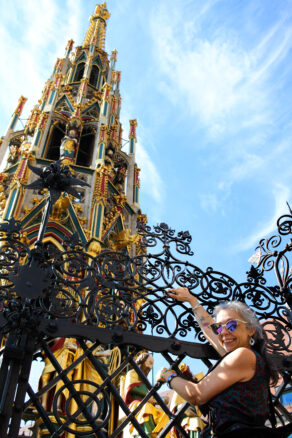 Consider Stopping in Würzburg if You're Traveling Between Nuremberg and Frankfurt
If you're traveling from Nuremberg to Frankfurt by train, or visa versa, Wurzburg is a pretty place to stop. Wurzburg is in the wine region of Bavaria, so you'll see more locals sipping on wine compared to Nuremberg, which like Munich, is more of a beer town. There are a lot of vineyards around Wurzburg, whereas Nuremberg and Munich reside in the hops region of Bavaria.
Highlights of Wurzburg include the opulent Wurzburg Residence, a massive 18th-century palace with a lovely garden. There's also the Old Main Bridge and the Marienberg Fortress, which are strikingly beautiful. There's a stall right on the bridge to buy wine, which offers such a lovely view of the hilltop fortress and picturesque surrounding town.
If you want to stop in Wurzburg you'll want to purchase a regional train ticket or separate ICE tickets. If you have a reserved ICE ticket between Nuremberg and Frankfurt, you'll need another train ticket if you get off the train.
I previously wrote about Nurnberg in a past article, Nuremberg, What to See. Have questions about travel in Nuremberg, Germany or Europe in general? Leave a comment below and we can help!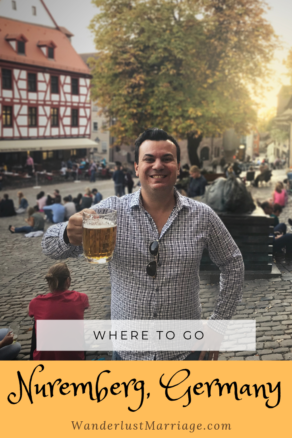 Disclosure: This article contains some affiliate links. We receive a small commission when you book or sign up through certain links and it costs you nothing extra. Thank you for using them!